In a move not really all that surprising, the Washington Football Team and their 2019 first-round pick, quarterback Dwayne Haskins Jr have parted ways.
In a week marred by him breaking COVID-19 protocol (2nd Offense) following a 20-15 loss to the Seahawks and it being broadcast all over social media, to his dreadful performance Sunday which saw him benched for the second time, this ending was bound to happen.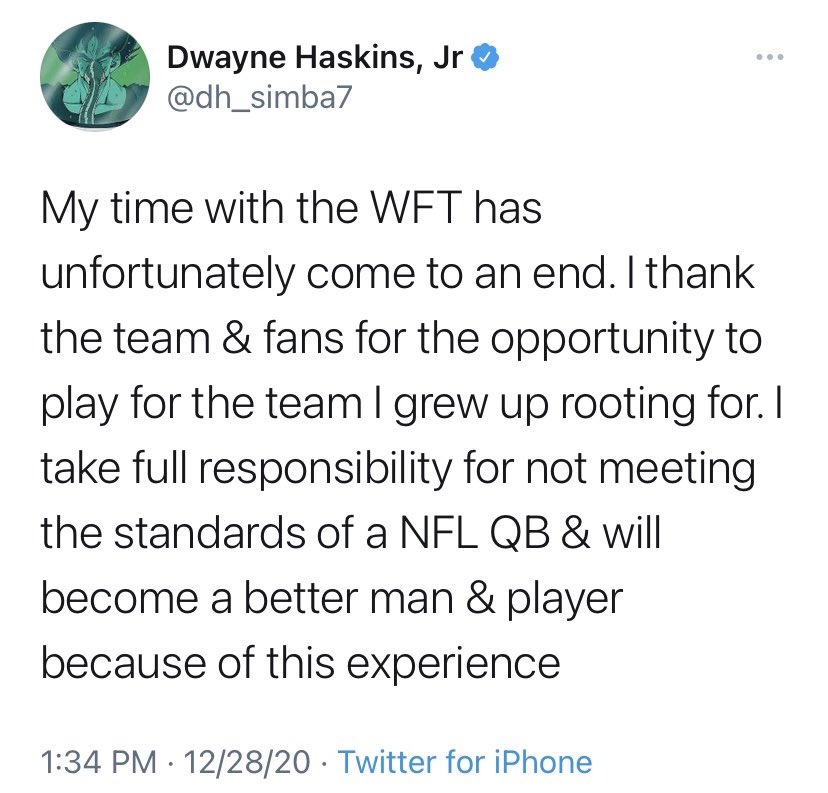 RECIPE FOR DISASTER
The crazy thing is this was marriage was doomed from the jump.
In 2019, owner Daniel Snyder was the one who wanted the strong-armed QB from Ohio State by way of Bullis HS located in Potomac MD, who finished third in the 2018 Heisman Trophy race. Anything Snyder wants personnel-wise, fans and media treat it like the plague. You'd think the support of your owner would be a good thing for a quarterback. Except in the case of Dan Synder, whose own fanbase would rather he not own the team anymore.
 Both are Potomac MD natives and Snyder's son even attended high school with Haskins. After sitting in just one interview with Haskins during the pre-draft process, Snyder as he did in 2012 when he overruled Mike Shanahan and chose RGIII, did the same exact thing as it pertains to Haskins.
 He chose the QB against the wishes of then-head coach Jay Gruden and team President Bruce Allen. He was basically giving up a ton of future draft capital to draft two BLACK quarterbacks who didn't stand a chance in a "TOXIC" environment that has engulfed Redskins Park since Snyder bought the team in 1999.
 READ MORE: Dan Snyder Should Go as the Redskins Disrespect Runs Deep
After being drafted 15th overall in the first round Haskins made this quote "The League Done Messed Up Now."
 A confident but borderline arrogant to delusional quote from a guy who'd just thrown 50 touchdowns in his line year starting in Columbus, but with some of the most elite talent in college football. That never came to fruition in DC though and it's not all his fault, but he's not innocent in it either.
 Gruden's staff never wanted Haskins and did all they could not to play him in his rookie season. They obviously didn't care to develop or nurture the young QB.
 Following the firing of Gruden, Haskins was given the opportunity to play and even showed some promise under interim coach Bill Callahan.
Callahan wasn't retained at the season's end and Washington was fighting PR nightmares on several fronts. From accusations of misogyny and mistreatment of female employees and exploitation of cheerleaders to team minority owners threatening to sell its stakes over Snyder's stubborn insistence to keep the offensive "Redskins" name and logo.
READ MORE: Washington Redskins Cheerleader Scandal Reveals Exploitative Culture
Summary of the allegations against Dan Snyder, Jay Gruden, and the Washington Redskins, Where is the report @washingtonpost pic.twitter.com/LWd65vn343

— Jake Rader (@jakeraderr) July 16, 2020
Looking to rebuild its tarnished reputation and culture, they hired the respected Ron Rivera. 
Rivera the former Panthers head coach, led them to the Super Bowl in 2015 and helped Cam Newton win MVP. He brings a disciplinarian approach, sort of military-style to the fold. Rivera's style was immiscible with Haskins — a guy who's never really had to work for much in life — from the jump.
 Although things got off to a good start with both men saying all the right things, Haskins failed to perform after a challenging COVID-19 ridden off-season in which he had to work out on his own more often than not and attend "ZOOM" meetings to learn the offense.
 I always felt this relationship would fail sooner than later.
Rivera brought in his own staff and didn't retain offensive coordinator Kevin O'Connell who had late-season success with Haskins in 2019. Rivera hired Scott Turner, who he's familiar with from his time in Carolina.
 And that's where this began to go south.
The fact that the current regime didn't really want Haskins to succeed off the rip also contributed to his downfall.
As the 2020 season began Haskins was named the unquestioned starter after his strong and focused off-season with no guidance from the team. That didn't translate to game day as the offensive scheme wasn't being catered to fit his strengths and in part due to his inexperience and immaturity.
Young quarterbacks need nurturing and a staff that believes in them and will build confidence in them by tailoring the offense to their strengths. See Josh Allen in Buffalo. See Tua in Miami, who is still recovering from an injury, but is being prepped for the future and worked into the offense as a starter (but kept out of harm's way) by HC Brian Flores. Tua also has a veteran in Ryan Fitzpatrick, who is supportive and embraces his job as a mentor.
 Instead, Haskins has gotten a lot of criticism.
Les Carpenter of the Washington Post published a story on Tuesday that highlighted many of the issues Haskins had during his two seasons with the Washington Football Team. 
According to Carpenter, coaches on both Ron Rivera's and former Washington head coach Jay Gruden's staffs were "stunned by (Haskins') constant late arrivals to meetings, failure to master the playbook and refusal to prepare for games as diligently as NFL quarterbacks must." Most who worked with Haskins did not find him to be rude or arrogant, but they were downright confused by why he failed to do the simple things that almost all NFL quarterbacks do when it comes to studying and outworking their teammates.

After being drafted 15th overall in the first round Haskins made this quote "The Leegue Done Messed Up Now".
Some commentators like Booga MacFarland are mad at Haskins for "squandering" the opportunity to be one of 32 starting quarterbacks in the NFL. He's even painted this situation as an indictment on Black NFL players and their ability to approach the job professionally.
 WATCH BOOGA MCFARLAND CRITICIZE WORK ETHIC & "ME" MENTALITY OF BLACK NFL PLAYERS
 It's hard to be a pro when the vets are trying to take you out too. Those are the guys that usually take young franchise players under their wings. Haskins struggled mightily the first 4 weeks of the season and was benched following a loss to the Ravens. Per reports, the benching occurred following some of the team's vets relaying a message to Rivera that Haskins was bragging about passing for over 300 yards in a two-touchdown loss.
Bad business.
The team had signed Kyle Allen as his backup in the off-season. Allen was a starter in Carolina in 2019, so his familiarity with Rivera's system made this a no-brainer of sorts. While being benched, Haskins was also found to be in violation of COVID-19 protocol. He was fined and sent home for roughly ten days.
Upon returning, he found himself as the third-string QB behind Allen and Alex Smith — yes that Alex Smith, seventeen leg surgeries later. When Allen was lost for the season and Smith ascending to starter, Haskins was thrust into the backup role.
Following a 4-game win streak under Smith, that put the team in the thick of the NFC East division race, Haskins was given the start against the Seahawks and he fell flat on his face.
Again, it wasn't all his fault, but his antics following the loss were and it wained what little trust the organization and his teammates had in him.
The difference between me and Dwayne Haskins is that I'm known for going long and I wear protection when I'm with strippers pic.twitter.com/tQzrrLE1h5

— Not Todd Baucher (@ToddBaucher) December 29, 2020
He wasn't suspended but fined and later apologized for his lapse in judgment, but we went through this earlier this season.
In what he called "the toughest week of his life" and with a chance for his team to clinch a playoff spot by winning the division, he was downright awful and was once again benched. Following the game, he blew off his league-mandated presser by the starting QB and went home.
That showed a complete disregard for his teammates at a time they were trying to deal with having blown a chance to clinch a playoff berth with an ugly (20-13) loss to the Panthers on Sunday. 
In the end, as I stated, this marriage was bound to fail no matter who the coach was. The WFT drafted a kid who wasn't ready to assume the role of leadership required to be a starting NFL QB and the staff stubbornly failed to adjust their scheme to put him in a position to be successful. He was nothing more than a pawn in a game being played where his failure was the mission.  
Maybe my article, Washington, Where NFL Quarterbacks Come To Die is a real thing and until this franchise shows me otherwise, it will more than likely continue to hover around the below-average to downright putrid level.