Here are some of the greatest Thanksgiving Day NFL games in recent memory. Without further ado, heeere we go!
1. Barry Sanders Obliterates Bears Defense On Turkey Day
Barry Sanders probably the most elusive running back to ever grace the gridiron. The human video game could stop on a dime and change direction with such precision it almost defied the laws of physics.
On November 27th, 1997, Sanders made the rival Chicago Bears look like teddy bears, scampering for 167 yards and three TDs as the Detroit Lions destroyed the Chicago Bears 55-20.
"Thanksgiving Day Barry Sanders on a Breakaway" shot of nostalgia straight to the vein https://t.co/N4203PdHC6

— John BenGamin 🐞🐝 (@unclebengi) November 20, 2021
2. Tony Romo Makes His Official Introduction On Thanksgiving (2006)
Tony Romo and his "What? Did I do that?" face also had some great moments. In his fifth career start, Romo welcomed the Tampa Bay Buccaneers to Texas Stadium on Thanksgiving. It was his introduction to the football world as one of the most elusive pocket passers in NFL history.
He might not be starting today, but in 2006, Tony Romo tied a team record and scored 5 TDs against the Bucs on Thanksgiving #TBT pic.twitter.com/dVqxviLSas

— Bleacher Report (@BleacherReport) November 24, 2016
Romo put up 306 yards and five TDs in his first Thanksgiving Day game ever versus the Tampa Bay Buccaneers.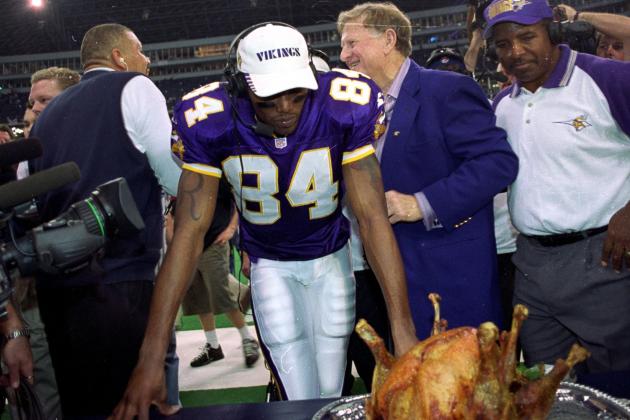 (Photo Credit: Bleacher Report)
3. Randy Moss Gashes Dallas
When Randy Moss first came into the league, he was almost like a comic book character. After every game we expected him to say 'I'm Barry Allen, and I am the fastest person alive.' Tripping? Okay, that's your right. But peep the ruggedness.
Randy Moss on the slate? 😂 Have a great Thanksgiving bro! pic.twitter.com/G7fZSFDeyj

— Ryan Schnabel (@TheSchnabs) November 23, 2021
On November 26, 1998, Moss played against the Dallas Cowboys, the team he wished had drafted him in the first place. He only caught three passes, but each was for over 50 yards and each went for a touchdown. He finished with 163 yards and three TDs. Monstrous!
4. Peyton Manning Scorches The NFL
The Detroit Lions were in a bit of a flux when the Indianapolis Colts played them at Ford Field on Thanksgiving in 2004. Peyton Manning wasn't going to let anything ruin the taste of his turkey and corn bread. We gotta sing this to the rhythm of the State Farm commercial. "Pey-ton Man-ning beat they ass….'
The last time Peyton Manning played at Detroit on Thanksgiving he threw six touchdown passes and won by 32.

— Chris Burke (@ChrisBurkeNFL) April 21, 2015
He was 23-for-28 passing and only had 236 yards, but the six touchdowns and no interceptions, as well as the 141.4 passer rating, were as delicious as yams and baked macaroni mixed together. The only other quarterback to accomplish that feat on Thanksgiving Day is Bob Griese.
5. Sterling Sharpe's Final Thanksgiving Game Slapped Like Mamas Mac-N-Cheese
Green Bay Packers Hall of Fame wide receiver Sterling Sharpe – the brother of Hall of Famer and talking head Shannon Sharpe — put an emphatic cherry on a career that preceeded his brother's but was cut short by a neck injury. Sharpe owned the Dallas Cowboys on Thanksgiving Day of 1994.
Dallas Cowboys QB Jason Garrett (current NY Giants Offensive Coordinator) replaced an injured Troy Aikman and had a career game with 311 yards passing and two touchdowns in the Thanksgiving win.
But Sharpe's magnificance captivated the day, hauling in nine passes for 122 yards and scored all four of Green Bay's touchdowns in the loss.
---
More news from our partners:
"It's The Dumbest Comparison"| Joe Rogan Comes For Kaep's NFL Combine And Slave Auction Comparison | Calls Colin "Th-Rosa Parks"
Black Beauty Entrepreneur Goes From Working at Target to Making $5,000 a Month
Breonna Taylor All Over Again: Jury Acquits Black Man of Second-Degree Murder Charge In Connection With Botched Police Raid That Left His Girlfriend Dead
---