It wasnt six in a row, but the U.S. Mens basketball team took its third straight Olympic Gold medal at these Rio Games.
Team USAs 96-66 win against Serbia on Sunday was predictable and unexceptional, but emphatic.
Team USA was led by Kevin Durant, Olympic veteran Carmelo Anthony, Kyrie Irving and the rest of USA's band of All-Star pill spillers. The program has won 52 consecutive games in FIBA play (24 in the Olympics).
The national team that was in so much turmoil after a bronze finish in the Athens Games in 2004 and a decade after an embarrassing bronze finish in the FIBA World Championship in Japan, has strengthened and reconstructed itself under the leadership of Mike Krzyzewski.
The country recommitted to the national program and making it representative of the USAs overall world dominance in basketball by securing the biggest brands in the NBA to practice, participate and sacrifice for the team and the country.
(Photo Credit: newsday.com)
Krzyzewski, the Duke legend who was hired by program head Jerry Colangelo in 2005, is now officially retired from the national team and will be replaced by NBA legend Gregg Popovich in 2020. He finishes with a 59-1 mark overall, his lone loss coming against Greece in 2006. Carmelo Anthony, Team USA 's all-time scoring king, becomes the first American player to win a third gold.
"I know there was a lot of buzz about us not playing well (for) a couple gamesin the early rounds, but the way that we locked in, and the way we focused in, to be able to have these gold medals around our necks was special," said Anthony, who had seven points and seven rebounds in the finale. "Behind closed doors, we really locked in. It was just a matter of us putting that focus level."
For the sake of suspense and marketability, people need to fabricate, create stories and interesting narratives around a competition that was basically decided a few years back when the U.S. Team was announced. Therefore, this particular team was criticized because it had a couple of close games against international teams that were laden with NBA talent and had much more cohesive units competing.
"We came here, and despite what people are saying about this group, being less talented and not blowing teams out, we did a good job of bottling all that up and unleashed it on Serbia," forward Paul George told ESPN.
Durant, who led the team in scoring during the Olympics, finished with 30 points. The Sacramento Kings DeMarcus Cousins had 13 points and 15 rebounds, and the Golden State Warriors Klay Thompson added 12 points.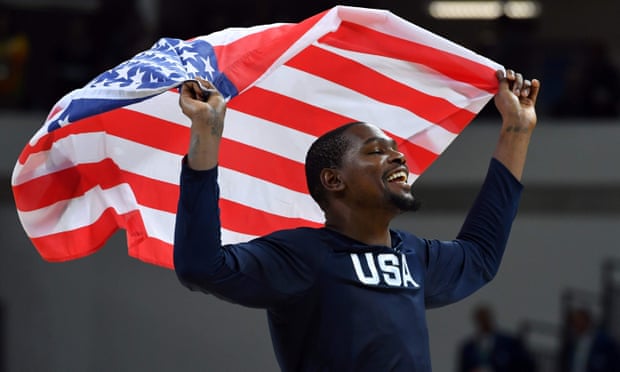 (Photo Credit: teamusa.org)
Entering the Gold medal game, this Team USA squad was pushed by Australia (98-88), Serbia (94-91) and France (100-97) before busting out against Argentina (105-76) in the quarterfinals.
They nipped Pau Gasol and Ricky Rubios Spain team 82-76 in the semis and then saved their best performance for last. In the end, they won their eight games by an average of 22.5 points.
It might not have been acceptable for flag-waving fans who dont really know how hard international basketball is. Especially if the only standard we measure Olympic basketball teams by is the '92 Dream Team, a squad that cant be duplicated for any number of reasons, from performance to social impact.
That killer squad, led by all-time greats Magic Johnson, MJ, Larry Bird and Patrick Ewing just to name a few, won by an average of 43.8 points a game and never won by less than 32.
But any time the mens team snatches a Gold, its a feat to be cherished and celebrated. Just ask the 1988 and 2004 Olympic teams what a gold medal would have meant to them.