In the immortal words of Digital Underground and the late great Tupac Shakur, All Around The (NFL) World, its just the same ole song every training camp and preseason.
The previous season ends with a blitzing carousel of wannabe coaching kings getting fired and hired. Despite an increasing amount of qualified African-American head coaches, when the smoke clears, usually no new black blood has been infused into the limited, plush leadership gigs.
Weve continuously seen white coaches with no experience hired to lead pro franchises while minority candidates, who have more than paid their dues, don't get a shot. If they are fortunate enough to get hired for the first time, the tenure is usually short-lived and they are gone before they ever get a chance to impact and impress the program.The first HC job is often the last for most of these black head coaching aberrations. One hiccup and their stock plummets.
(Photo Credit: rantsports.com)
After getting bounced from Oakland after one season as the Raiders head coach in 2011, Hue Jackson had to sit out five years and grind as a coordinator for Marvin Lewis' Bengals squad before his prowess as an offensive coordinator last season got him the Cleveland Browns head coaching gig. At least he's back in the loop.
(Photo Credit: si.com)
NFL teams have taken a chance on 21 first-time white head coaches and only one first-time minority head coach, Todd Bowles, over the past five hiring cycles from 2012-16. The gap was an identical 21-1 when the New York Jets made Herm Edwards the only first-time minority hire from 1997 to 2001.
Ive spoken with Fritz Pollard Alliance chairman John Wooten on numerous occasions over the past few years. Hes the head of the organization that promotes diversity and equality in NFL coaching searches for leadership positions. They have done everything from send ultimatums to the owners to compiling their own extensive list of ready for hire minority candidates, only to see incremental progress in minority hires.
(Photo Credit: espn.go.com)
Last time I spoke with Wooten, he was still pushing to expand the Rooney Rule, but said he was "ecstatic" with the recent progress made by the hiring of Bowles, Jim Caldwell and Lovie Smith last season. Wooten's philosophy has always been that if they are getting in the room, it's a step in the right direction.
However, Tony Dungys latest call for reforming the Rooney Rule, which requires teams to interview at least one minority candidate when searching for a new head coach, falls right in line with the short-lived public outrage about the low numbers of minority HCs in the NFL every year around this time.
The Rooney Rule was implemented in 2003 to promote diversity in high-ranking NFL gigs. It ignored the coordinator positions, which is problematic in itself, considering the OC gig is fertile ground for the recruitment of aspiring head coaches. However, it has at least held the illusion of making an impact.
There were only six minority head coaches in more than 80 years before the rule was created. At first, it seemed to be working as Herm was eventually joined by three new minority coaches hired between 2003 and 2006 (Marvin Lewis, Lovie Smith, Romeo Crennel).
Unfortunately, in recent years the league's been regressing in its hiring of minority candidates to coaching positions and disrespecting the essence of the Rooney Rule. Hiring in the NFL has turned back into a racially-humiliating dog and pony show.
Dungy blames the league's teams for addressing the symptoms and fronting on the underlying issues.
The good thing about the Rooney Rule was not that you had to interview a minority candidate but that it slowed the process down and made you do some research," the former Colts Super Bowl HC said in a recent ESPN article, "but now it seems like in the last few years, people haven't really done what the rule was designed for. It has become, 'Just let me talk to a couple minority coaches very quickly so I can go about the business of hiring the person I really want to hire anyway."
In January of 2013, I wrote a piece called, In The NFL, Offensive Play Calling Is A White Man's Job. It explained that brothers dont get plush coaching gigs in the NFL because they arent hired to the positions that are springboards to those gigs.
These numbers dont lie. No matter how anyone tries to candy coat it:
** 80 of the NFL's current 85 offensive coordinators, quarterbacks coaches and offensive quality control coaches are white, including all 37 with the word "quarterback" in their titles.
** 23 of 32 defensive coordinators are white.
(Photo Credit: fansided.com)
Why are those numbers so important? It all comes down to the talent pipeline leading to these distinguished positions. You know..gotta be in it to win it? Be up in them spots to catch the blessings.
According to ESPN, (African-Americans) dominate coaching positions for running backs and, to a lesser degree, the defensive secondary, but whites fill the most upwardly mobile spots."
When 94 percent of head coaches hired over the past 20 years (133 of 141) have been NFL coordinators, pro head coaches (including interim) or college head coaches previously, being a backfield or secondary coach just isnt going to cut it.
As of March 2016, only 13 of the NFLs 64 coordinators were minorities. Let's be real. How can teams be expected to fairly choose candidates from such a small talent pool?
As early as 2013, Dungy and fellow former NFL head coach Herm Edwards called for reforms to the Rooney Rule. It was obvious that NFL owners were missing some vital attributes possessed by a bunch of overlooked black coaching candidates. Hiring often comes down to a matter of familiarity and comfortability with the candidate.
That is an aspect of hiring that cant be legislated, so some owners still refuse to step outside of the box and just settle on what they know. Therefore, it has crippled the effectiveness of the Rooney Rule.
"Too frequently, we don't look at leadership, we don't look at getting the most out of people, we don't look at bringing people together and staffs together — all those things that you need to be a head coach," Dungy said. "It is an inexact science. It is done in an inexact way. Look how long it took (Arizona Cardinals HC) Bruce Arians to get a head-coaching job; it is not just with minorities.
"But I think when you are a minority coach, you have even that added burden, or added handicap, of not always being highly publicized. For owners who do not know what they are looking for, it is much easier to say, 'Well, I'll take Candidate A because at least everybody knows him and everybody will say this is a good hire.'
Pittsburgh Steelers chairman Dan Rooney (the man the rule is named after) has even publicly said that there needs to be better training to create better candidates.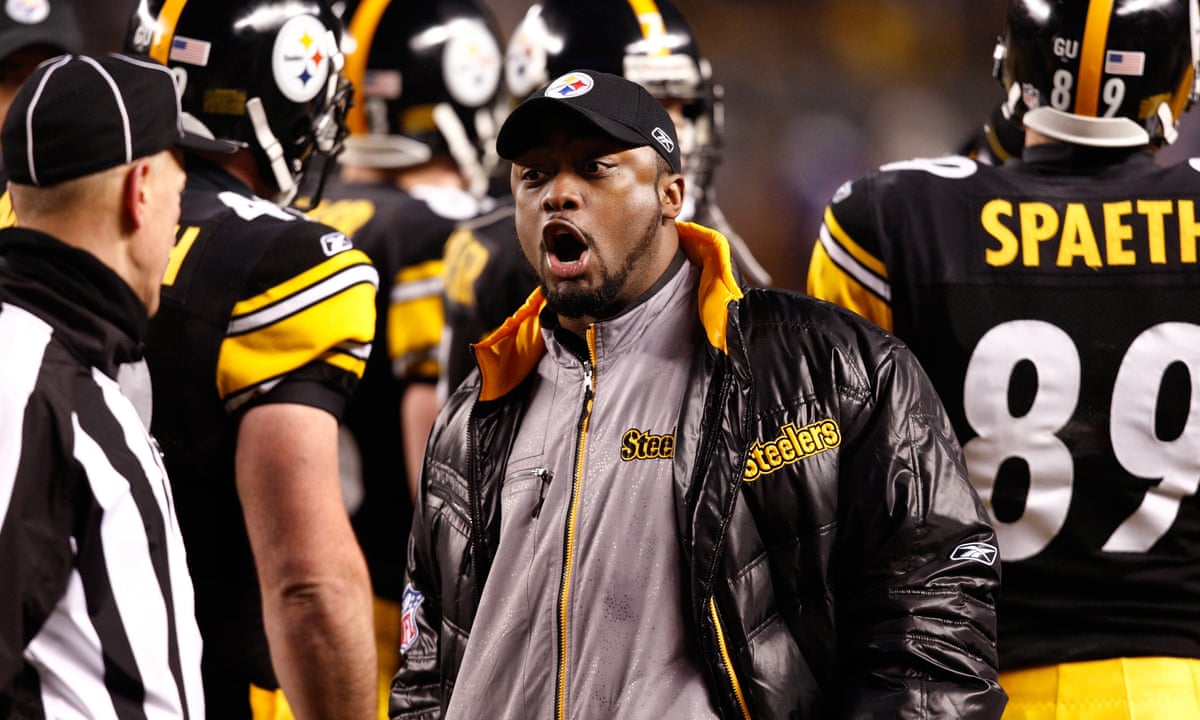 (Photo Credit: the guardian.com)
The issues of diversity and race and athlete empowerment have resonated in the social media mill, television and news headlines. Our country is becoming increasingly diversified and as a race of people who have lived in this country as long as any, people of color can no longer sit back and justify systematic racism and an attempt for certain parties to exclude other races from enjoying Americas fruits.
The NFL, like all of the major sports, still has a ton of work to do with creating a fair system for candidates of all ethnicities to get an honest shot at being an executive, head coach or any other position of leadership within a franchise.
When we continue to limit one groups ability to provide for their families and compete and achieve and prove their worth, ultimately they will get fed up. If things dont change, you may see the first work stoppage that has nothing to do with players salaries and the division of huge amounts of TV and marketing cash.
It will be an issue like head coaches in the NFL. It will require a few superstars to galvanize their fellow players and stop balling until they come up with a solution to a problem that the NFL itself has blatantly refused to rectify.