The LaVar Ball Celebrity Media DissTape Tour made another stop on Thursday, this time with Stephen A. Smith and Max Kellerman on First Take. Putting the mighty mouths of Smith and Ball together was predictably entertaining, crazy and reminiscent of a conversation between two uncles at Thanksgiving as the the liquor cabinet is being emptied out.
Meeting for the first time, the two boisterous brothers went back and forth on a number of topics concerning The Ball Brothers and the over-the-top braggadocious statements LaVar has been making as he builds the Ball brand. It was hard for Max Kellerman, a host never at a loss for words, to get a sentence in edge wise. There was a cultural fusion between Smith and Ball that only two brothers with a nose for greenbacks and talking smack can appreciate,
"Can I get a word in?"

LaVar and @stephenasmith are COMEDY! Did you expect anything less? pic.twitter.com/0BeOfVZF50

First Take (@FirstTake) March 23, 2017
After the interview Stephen A was interviewed by Cari Champion about his one-on-one with Mr. Money Ball and Smith flat out said LaVar, is crazy. But thats a large part of his appeal right now.
Smith respects Ball and likes him as a person, but said there are few things he wanted to set straight.
1. Lavar Ball would not have beaten MJ or Charles Barkley and his guarantee that Lonzo and UCLA are a lock for the Final Four and will beat Kentucky tonight isnt a guarantee at all. It is a 50-50 prediction that puts added pressure on his son to deliver.
It doesnt negate the fact that Lonzo is under pressure because his Dad has been chirping too much, Smith said. His son has got to show up.
2. LaVar Ball is a great Dad and obviously loves his sons.
The issue people have with him has nothing to do with his children, Smith said, but he makes people believe that its all about him more than his kids.
Smith went on to say that theres no question that some of this is for LaVar.."But is he wrong? The NCAA makes money off the kids… the NBA does, why shouldnt he?
Smith commends Ball for being very transparent and unapologetic about his goals and his monetary desires and his confidence in his children and their character as people.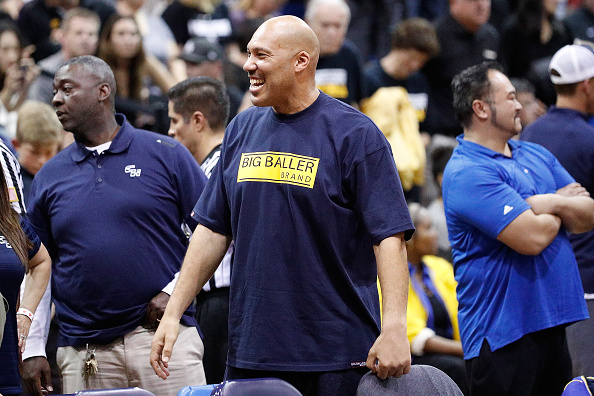 However, he stressed several times that the way LaVar Ball moves isnt his style and the more you talk in life, the more pressure you put on everyone involved backing up that big talk.
Ball still has his detractors and people who take exception to his bold comments. Former NCAA coach Seth Greenberg, now an ESPN analyst says he doesnt agree with the philosophy that the NCAA is going to use all of his kids to make money and offers them nothing in return. Theres no guarantee that the other boys will even be worth the price of admission,
UCLAs giving Lonzo a stage, Greenberg said. UCLAs giving him a platform. LaVar Ball is Kris Jenner. Hes a reality show waiting to happen. Lonzo Ball is a big-time player. The other kids, they are high school players who didnt win a state championship. Let's not fast forward and put all three of them in the same category. Hes using the system and hes a brilliant marketeer. Thank goodness the kids is grounded.
Theres no doubt that LaVar Ball is moving all his chips to the middle of the table and while his boys continue to do their job hes all in. Hes willing to win all his haters over one media outlet at a time.