It wasnt that long ago when Paul George was writhing in pain on the court in Las Vegas, the result of a catastrophic leg injury suffered during an intra-squad scrimmage with Team USA back in the summer of 2014.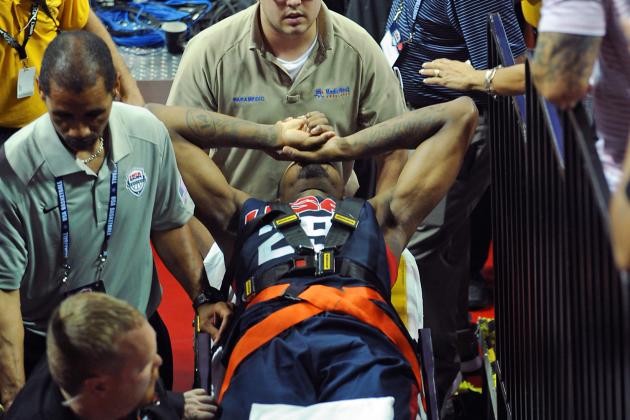 (Photo Credit: USA Today)
His current resurgence as an NBA superstar has been one of the league's pleasant surprises, given how nasty that injury was. Many people doubted that he would be able to return to the form, and regain the confidence, that once earmarked him as one of the brightest young talents in the game.
George returned for the final six games of the 2014-2015 season and the early indications were not promising. Zero explosiveness, zero timing and poor conditioning resulted in his comeback attempt falling short, just like Indianas playoff push last year.
Some wondered if he would ever be the player he once was.
During the offseason, Pacers GM Larry Bird allowed Roy Hibbert and David West to depart. Small ball has been on the verge of supplanting traditional basketball for years and recent coaching innovators like Paul Westphal, Don Nelson and Mike D'Antoni each implemented smaller lineups and sped up the pace.
However, none won an NBA title with that style. But with the recent championship success of the Golden State Warriors and their small-ball lineups, today's offensive philosophies are moving away from plodding 300-pound centers or muscle-bound, snarling power forwards.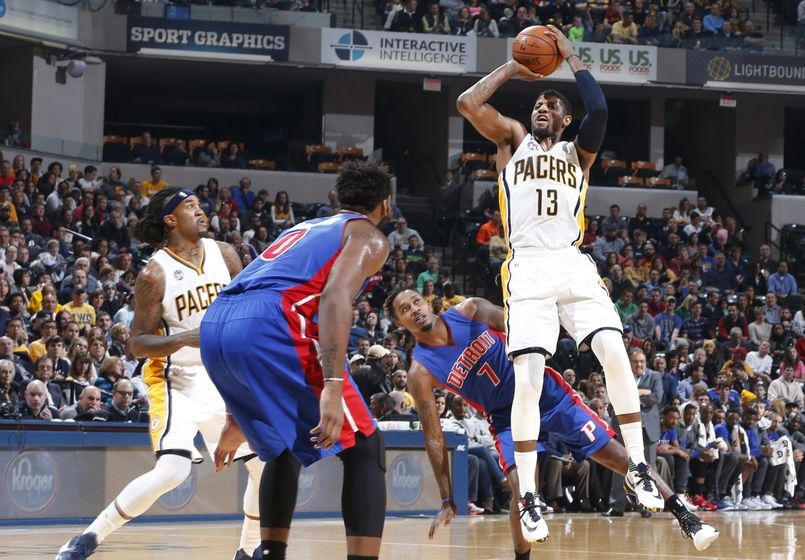 (Photo Credit: USA Today)
The first team to score 100 usually wins. Western Conference teams have been playing at a faster pace for decades, but the East is starting to follow suit. This year, seven of the top ten scoring teams in the league are Western Conference team while three are from the east; Boston is 7th, Indiana is 9th and Atlanta is 10th.
That may not sound like a lot, but there were no Eastern Conference teams in the top 10 in scoring in 2013-2014, one in 2012-2013 (Miami) and only one in 2014-2015, the Cleveland Cavaliers. You would have to go all the way back to the 2008-2009 for the last time three Eastern Conference teams were in the top 10 in scoring.
Clearly, buckets over brawn is trending east of the Mississippi..
In Paul George, the Indiana Pacers have one of those rare game-changing players who, barring his time spent recuperating from what some thought might be a career-ending injury, has steadily improved since being drafted in 2010.
Although not as nationally fawned over like players such as Steph Curry, Russell Westbrook, Kevin Durant, LeBron James or Carmelo Anthony, his peers know that George resides in that upper echelon.
33 games into this season, He is on track for career highs in points (24.2), rebounds (7.7) and near career highs in assists (4) and three-point field goal percentage (.408). In addition to providing all that petrol for the Pacers offense, George is versatile enough to defend his counterpart at small forward, shooting guard, point guard and stretch-four as well.
Though George had been in something of a brief shooting slump over a four-game stretch in late December that included games of 7 points and 9 points, he recently turned in back-to-back 30-plus point games.
The Indiana Pacers are currently in the 6th spot in the Eastern Conference with a respectable 19-14 record thanks in large part to George being 4th in the league in scoring and 2nd to Stephen Curry in three-point field goals made this season.
Two days ago, he went off on the road against Detroit, scoring his team's final 21 points en route to a dominant 32-point, 14-rebound performance in the Pacers 92-84 victory.
There were a lot of questions surrounding George prior to the start of the season, but he has answered each one.
So, just in case youre still wondering if Paul can still ball, the answer is Yes, yes yall!