Size doesn't matter as much as talent and technical skills in the sport of baseball.
Baseball is a sport that requires great technical skill in several areas. While mammoth-sized players are viewed as more intimidating and appealing to the eyes, being a huge dude doesn't automatically give you an edge in MLB.  Look no further than the two guys leading the American League in batting average as All-Star weekend in Miami approaches.
Yankees rookie sensation Aaron Judge is leading the AL with a .327 batting average. Two-time batting champion Jose Altuve is on his heels hitting .326. They'll meet each other at the All-Star game in Miami too.  While their plate prowess is similar, physically the two players couldn't be more different.
Best of Jose Altuve!
Judge is an imposing 6-foot-7 slugger who weighs in at 282 pounds. The diminutive Altuve is one of MLBs shortest and fastest players, measuring in at 5-foot-6 — over a foot shorter than Judge.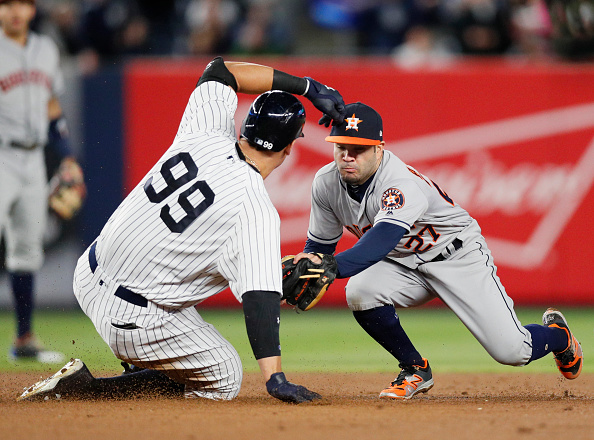 The players went at it this weekend in a three-game series. Houston came through flexing its crop of young All-Stars; Carlos Correa, George Springer, Dallas Keuchel and Lance McCullers. And Altuve of course, who saw a nine-game hitting streak end as Houston took two-of-three from NY. Judge is still gunning to become the first player to win the Triple Crown since Miguel Cabrera became the first player in 45 years to win it in 2012.
Welcome to 27 Films! Remember to leave a like and subscribe for more baseball highlight videos! Enjoy the video! ~~~~~~~~~~~~~~~~~~~~~~~~~~~~~~~~~~~~~ Music : "Written in the Stars" – Tinie Tempah ~~~~~~~~~~~~~~~~~~~~~~~~~~~~~~~~~~~~~ I do not own the rights to the video clips and music used in this video.
That photo says it all. Chicks dig the long ball, but in baseball size just doesn't matter.