Miami — There are seven African-American players participating in this years MLB All-Star Game. While black players comprised just 7.73% of opening day rosters, African-American diamond miners comprise 10.9375 % of the All-Stars that will participate in Tuesday nights 88th MLB Midsummers Classic.
The lack of black talent in MLB is often the elephant in the clubhouse because white players certainly dont discuss it. Latin players are plentiful and have no reason to worry about it, and the few brothers in the mix choose to stay away from issues that they really cant affect directly.
However, I got an opportunity to speak to four of the Black Knights that will undoubtedly inspire future generations of brothers balling on the diamond and tried to pick their brain about a topic that is written about often, but is never really discussed by MLB players.
George Springer on the six combined Black Knights of baseball on the NL and AL All-star teams:
I think it's awesome," said the Houston Astros' 27-year-old basher, who is making his All-Star debut and trails only Aaron Judge (30 dingers) in first-half homers with 27. "Obviously this is a tough game to be played and it's a dying game in some tough inner-city places, and just to see the diversity on both rosters is special and it shows that the game is going in the right direction.
I asked Springer if lack of diversity is ever discussed among the black players in the league.
Obviously you know who you are playing against and with, and we are all friends, family and part of the same league," Springer insisted. "Nobody sees the color of one's skin for the most part, we are all baseball players playing the same game.
Nobody playing the game sees color, but the millions watching can't help but notice.
Springer was open to discussing the subject. The Cleveland Indians' Michael Brantley, making his second All-star appearance, wasnt as forthcoming with his opinion on the topic.
This is my first video on this channel. Please subscribe and stay active. Enjoy my video! I do not own these clips. All rights belong to MLB. Song: The Waiting Game – Luke Christopher
"I really dont know how to answer that question, " Brantley told me. "I know theres a lot of inner city kids that come to Cleveland and I love talking to them and being a part of what may inspire them to pick up the sport and I hope they enjoy baseball as much as I do."
Justin Upton and his brother BJ are the only tandem of African-American brothers in my lifetime that I can remember that played on the same team and had some superstar seasons throughout their careers. The brothers were known as the Soul Patrol when they roamed the outfield together for the Atlanta Braves along with Jason Heyward for a brief stretch in 2013.
While BJs career has tailed off over the years, Justin is still going strong and will be appearing in his fourth All-Star game on Tuesday night. I asked Justin to list the African-American players who inspired him and his brother to play the game.
"Ken Griffey Jr and Derek Jeter were my two favorite players growing up, as well as Barry Bonds," Upton said during today's MLB All-Star media press availability, "and those are the guys we watched. If the Yankees were on, we watched the Yankees, if Griffey was on we watched the team he played on."
How does Justin feel about the percentage of Black Knights in this All-Star Game?
There's a lot of African-American players playing at an elite level and the ones we do have tend to stay around a while and play at a high level for a while, " Upton boasted, "So its good to see that we still have black guys that love the game and are still playing.
For a span, Justin and BJ were actually torch bearers for the young, aspiring African-American baseball player. They were promising ballers existing in between the Bonds and Griffey era, right before baseballs push to diversify the game at the grassroots level resulted in the future African-American stars and high draft picks we have seen in recent years.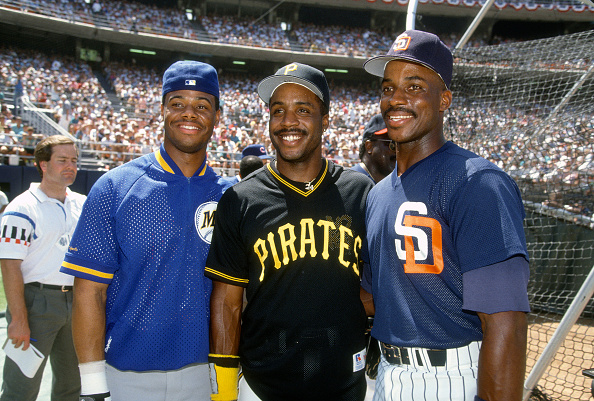 It was fun, having us both on the same team for a while was special. Every night that we went out there we enjoyed it."
Ironically, Upton says the game of baseball with its ups and downs should be a perfect match for an inner city kid who has been dealt some tough economic, educational and social blows in his life, because after the tears always comes the laughter. Its like life.
"The game is tough man and you have to be tough to play it," Upton explained. "When it's going rough you just have to keep going. You see guys go on slumps throughout the year but that's just part of the game. Those things happen. To be able to keep grinding it out and continue to be productive makes it that much more important."
In 2016, Mookie Betts should have been the first African-American player to win an American League MVP award since Ken Griffey Jr. in 1997, but Mike Trout had the voters' sympathy and Betts finished second. Yes, its been two whole decades since a brother got MVP props in the American League. MLB hasnt had a black MVP for both leagues in the same season since 1995 when Barry Larkin took the NL MVP and slugger Mo Vaughn won it for Boston.
Betts thinks any progress is a step in the right direction. He brought up a great point about how many black athletes participate in sports where they are very confrontational and are paid to inflict pain on one another. He sees stronger black participation in baseball as an inevitable rise.
Hope You Enjoy! No Copyright intended Entertainment Purposes Only Song- Xo Tour Lif3 – Lil Uzi Vert Will Mookie Win MVP? Will the Red Sox win the World Series? Tell me what you think in the comments!
I see the All-Star game and even this year's MLB Draft as a huge positive," Betts told TSL. "The more that African-Americans can get into a sport where we are not trying to hurt each other like football, the better. And not everyone is blessed with being 6-foot-8 and can go to the NBA.
"Baseball is a sport where size doesnt matter," said Betts who is barely 5-foot-9 and making his second Midsummer's Classic appearance. "Star athletic ability matters and it's something that can keep us out of the streets and help us understand that this is a good, safe avenue to explore your athleticism. It's not boring, it's fun and all they have to do is give it a chance and we can all play it."