The question is often asked; "What does it take to be a legend?"
Among the best athletes on earth, even while plying their wares on the collegiate level, most NFL players simply do not have what it takes to do something legendary.
Though average for them is far above the physical attributes of the average person, NFL players who are able to accomplish seemingly insurmountable feats is rare. That goes especially so for guys who seemingly come out of nowhere like Miami Dolphins running back Jay Ajayi.
The American of Nigerian parentage was drafted with the 149th overall pick in the fifth round out of Boise State University. He started his career off slowly, and you may not have noticed him unless you were a diehard Miami Dolphins fan, as he only ran for 187 yards and 1 TD in his rookie season behind RB Lamar Miller. With Miller's departure to Houston, Ajayi was thrust into the starting lineup.
(Photo Credit: Sports Illustrated)
Ajayi put up less than average numbers in limited carries over the first three games of this season. He had five carries for 14 yards, seven carries for 28 yards, an six carries for 33 yards in games versus New England, Cleveland and Cincinnati respectively. The results for the Dolphins were a 1-2 record to open the season.
In his fifth game, a loss to the Tennessee Titans, the team upped Ajayi's workload and he responded with 42 yards on 13 carries and a TD. That was good for 3.5 yards per carry.
Nobody knows what happened in practice or behind the scenes, but Miami's coaching staff appeared to be in agreement that running the ball more, thus relying less on QB Ryan Tannehill's arm, gave the team a better shot at success. They could have gone with Arian Foster, a man who has a hefty reputation in the National Football League, but they rolled the dice on Ajayi.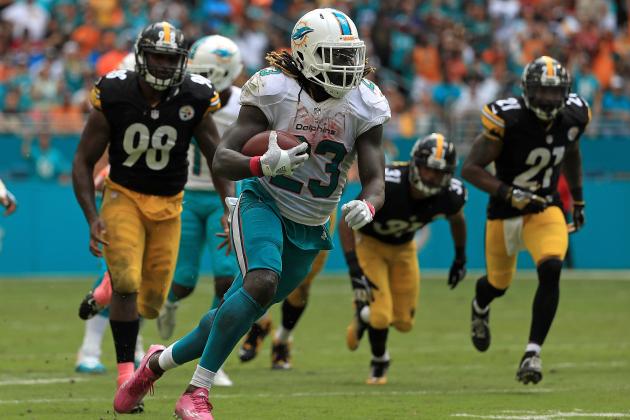 (Photo Credit: USA Today)
Paraphrasing the immortal words of Hannibal of A-Team, and at the risk of sounding older than graffiti on a project staircase, the Dolphins coaching staff must love it when a plan comes together – and boy did this one come together! The "hated" Pittsburgh Steelers came to town two weeks ago and Ajayi exposed them like a nudist colony in Siberia. 25 carries, 204 yards and two TDs is nice. Really nice, but could he do it twice? Indeed!
He followed that up with 29 carries, 214 yards and a touchdown versus the Buffalo Bills on Sunday. So, the question posed at the beginning of this piece has its answer. To be legendary you have to do what legends do. Ajayi's back-to-back 200 yard rushing games for an NFL running back is Herculean by any measure.
Would-be RB great Ricky Williams did it for the Dolphins in 2002, Earl Campbell did it in 1980, and O.J. Simpson did it twice; in 1973 and 1976.
Whenever you're mentioned in the same sentence as O.J. for things other than alleged homicide and armed memorabilia acquisition, you're cooking with propane. Ajayi is definitely on fire.