To much fanfare, Jay-Z released an uninteresting album.
Before the comments turn into a war zone, let's be clear: Magna Carta… Holy Grail, Jay's 12th solo LP and the greatest cell phone promotion ever, is very good. The rhymes are effortlessly precise, and Timbaland et al provided some of the best and most consistent production on any Jay-Z album.
He's well past the typical tropes of commercial rap, and that's made his best work of the 21st century so compelling. The Blueprint gave the glimpse at his soul we waited so long for. American Gangster showed the "hustler at odds with the monster" that was New York in the '80s, how the dope man won both in spite of and because of the Reagan era's contempt for poor black people. And Watch The Throne, the most daring album Jay has ever been a part of, was a 12-track redefinition of blackness, Jay-Z and Kanye West subversively raging against racism without critics seeing what they were doing. There was the conscious irony of "Ni**az in Paris," the duality of "Murder to Excellence," and the embrace of fatherhood in "New Day." It was "luxury rap," but still unvarnished enough to feel exciting.
That subversiveness, the feeling that Jay-Z is thriving in a place he's not supposed to be and indifferent to whether he fits in, is missing on Magna Carta… Holy Grail. It's not just because Jay is rich; his pockets were straight before his first album. It's that Jay sounds more and more like a card-carrying member of the elite.
Forget about Frank Ocean singing about his blackness staining a white tuxedo on "Oceans." Jigga has made the cover of Time, and his ability to make the rich even richer has made them embrace him. Jay's true level of power is up for debate, but he has a seat at the table with power brokers, and the chair is mighty cushy. So cushy that, on "Nickel and Dimes," he says everyone around him is rich, or will be. That's hard to relate to and, even worse, it doesn't sound like he cares.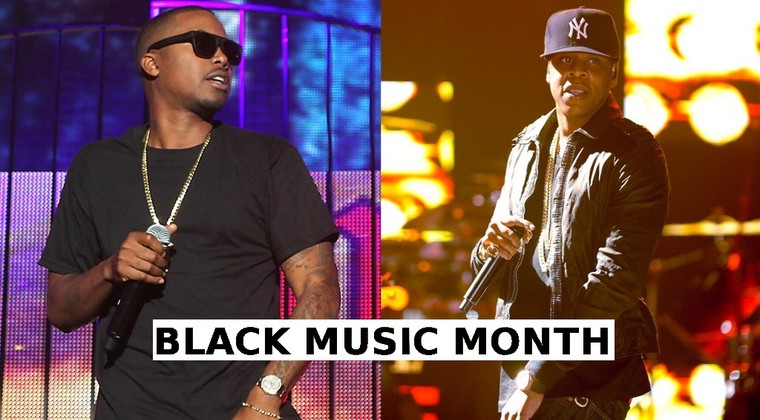 "Ether" vs. "Takeover"
Khalid and Bomani break down the last hip-hop beef to really matter.
He has won the game of life, but that doesn't make for very interesting music. While Jay's best quality as a musician is making it sound easy, his best music makes clear that it's not. Now? There are no more rival drug dealers to stave off, no court cases to beat. There may be rappers of his caliber, but none in his class. The only woman with a hand in his pocket doesn't need his money.
Music in general is best when rooted in struggle and/or defiance, but Jigga has few worries left. The dude from Brooklyn's Marcy Projects raps about Picasso, and the idea of him buying "Les Demoiselles d'Avignon" isn't hyperbole. He married Beyoncé – Marilyn Monroe to his Joe DiMaggio – and managed to have a private, seemingly traditional nuclear family. And rap? The man who made it sound so easy 17 years ago when "Reasonable Doubt" hit the streets, has only gotten better.
So what's left for Jay to fight? Survival is no longer his concern, but it remains for so many. He's got the eyes and ears of those who make life hard for the children in Marcy today, the types who made life hard for him. It was his buddy, New York City Mayor Michael Bloomberg, who said blacks are stopped and frisked too little. Trust, there's plenty of room for the tension that makes for great music. Sadly, it sounds like he's above it.
Being rich is old hat, and it's become a stale topic for a man who's reached such magnificent heights. His ascent was a victory for a generation and a culture that, so often, was treated as second class. But what good is having one of our own at the top if he becomes one of them? What does Jay-Z mean to us if he dogs Harry Belafonte – a soldier in the fight for the dignity of the oppressed who didn't compromise himself to get paid – without using his perspective and maturity to explain why such a legendary figure deserves the respect of being listened to?
Before its release, MCHG seemed an ironic title for Jay to choose. The Magna Carta, at the behest of British lords, famously limited the power of the king. Jay-Z is still the king, and he should be treated as such.
But the title fit too well. Magna Carta… Holy Grail sounds great, but it's not powerful. That's what Jay's music should be now – powerful – and the fact that MCHG was not is impossible to ignore.
This is the part where angry fans would say I'm "hating," or where Jay-Z – as he has many times on record – would rail against those who want him to rap about crack again. It's neither. No one who remembers the days when hearing a rap song on a commercial was foreign thinks what Jay has accomplished is anything less than incredible. It's past simply being unprecedented and approaching miraculous. He's nouveau riche, but he's tres riche. It's put him in places rappers have rarely gone, and anyone with any affection and respect for hustle has to applaud. But now the man who called himself "Che Guevara with bling on" just sounds like someone selling Che Guevara T-shirts.