The San Antonio Spurs' first four titles was perceived as the Duncan Dynasty's triumph. Conversely, Gregg Popovich was portrayed as a savvy coach that got the most out of Tony Parker, Manu Ginobili and Tim Duncan. However, the aura and genius labels thrown around coaching peers such as Pat Riley or Phil Jackson aren't attributed to Pop as casually. Of the coaches perpetual residing in the upper echelon high cotton fields of championship nirvana aka coaching's Mount Rushmore, Pop has been the most overlooked of them all.
The Popovich coaching tree has been much more fruitful than Phil Jackson's, yet the attention given to Steve Kerr during his coaching free agency far surpassed the love shown to Mike Brown, Mike Budenholzer and Brett Brown. Kerr's connection to Jackson and the triangle has been documented incessantly. His roots on Popovich's tree have been swept under the rug. If the Spurs continue rolling through the postseason and avenge their Finals loss, Popovich should get his due for pulling more strings than ever.
Popovich should become the first head coach to be showcased in his own Beats by Dre spot. Parker, Duncan and now Leonard get the adulation, but Popovich is the studio producer that generated the track, fans bob their heads to.
Maybe not. After all, the Spurs offense doesn't inspire many club bangers. They're the fundamentally sound team your dad loves and they deserve a brand of music he'd enjoy. These Spurs are a metaphor for the jazz records your dads and granddads would play and the San Antonio Spurs rotation is one of the most mellifluous instruments in all of professional basketball.
The temperamental keys Popovich's fingers selectively stroke on a nightly basis seem to always emit the desired result on his 94 x 50 rectangular stage while he barks out orders from his vocal horn on the sidelines.
Tempo, pacing and rhythm is important. Pop has a better ear for it than Quincy Jones during the zenith of the Motown era. There's no sheet music to replicate the dulcet produced by the Spurs bench.
While other coaches are playing flashier instruments like the sax, drums and trumpet Pop is Yo-Yo Ma on the cello.
Indiana's bench was 29th in offensive efficacy during the regular season and has been an albatross on the Pacers success for consecutive postseasons. A complete offseason bench renovation including the acquisitions of Luis Scola, Chris Copeland and C.J. Watson, plus Danny Granger's return to health was supposed to provide much needed bench scoring, but all that bark proved to have no bite. The high profile midseason signing of Andrew Bynum proved to be the most counterproductive move of all.
The fairly talented B-Team they trotted out against Miami only mustered nine bench points in a Game 2 loss at home.
The trade for Evan Turner was even more disastrous for the Pacers. With George possibly out for Game 3 in Miami after being concussed by hitman Dwyane Wade's armored knees during a loose ball scramble, the Pacers bench may be called upon to play an even bigger role.
In San Antonio, former bench mainstay Tiago Splitter has ascended from punchline to starting power forward and expert screener.
In his stead, Boris Diaw occupies the pine as the long, cumbersome bassoon. Not many have the acumen to play him, but Pop is a rare virtuoso who has mastered how to play his dumpy bench piece.
Not only is he getting burn whenever they need a lengthy big who can stretch the four and pass like a guard, Diaw is producing after scoring 20 points in two games.
However, the Spurs need points from their backcourt as well.
There is no singular figure that looms larger than any other on the bench. Each body is of similar importance depending on the moment.
At his peak, Ginobili was a freestyling, loose cannon with a pesky penchant for making courageous plays when the stakes are at their highest. The former Sixth Man of the Year is no longer the gold medal Olympian who could create his own offense at will.
The 2013 playoffs was the epitome of Ginobili's developing basketball dementia. Most of the time, the old Ginobili fades out while Gin-old-ili checks in, but when the clock's winding down, he summons the strength or hand-eye coordination to stun opponents.
Somehow, Pop found a way to fit Ginobili into his prudent system despite his risk-taking qualities.
The mane on Ginobili's dome may have thinned like Jennifer Hudson, but he remains a follicle for big plays in crunchtime. His urgency in big moments was never more pronounced than his game-winning three with little more than ome second left in a 129-127 win over Golden State in the 2013 Western Conference semis. Prior to his ice-cold trey, Ginobili was 4-of-19 from the field.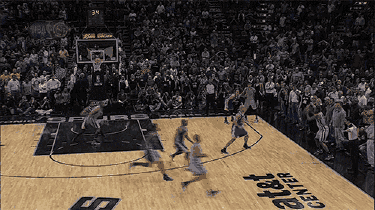 Ginobili is Dwyane Wade's Ghost of Christmas future. He and Duncan are able to play at a high level in the later days of May because of how well Pop preserved them throughout the regular season. Given this new reality, RC Buford and Pop have scoured every corner of the vast basketball universe to find a few fillers. They've seen Ginobili slowly trend downwards for years and in their wisdom have invested in pieces that are panning out at a remarkable rate.
It hasn't been a quick fix because of the improbable odds of finding an individual to replace a talent like Ginobili without a high lottery pick or salary cap space.
However, the individuals they've plugged in have coalesced into a single unit that has engineered a similar tune whenever Ginobili is resting his calcified bones on the bench or when he has senior moments on the floor.
Danny Green was discarded by Cleveland, but has engraved his footprints behind the arc as one of the league's top downtown shooters in the Spurs starting lineup.
Green's postseason shooting prowess has now become legendary after he set an NBA Finals record for three-pointers made in a single series. However, he's probably not even the best shooter on the Spurs bench.
Fellow reserve Marco Belinelli finished the regular season seventh in three-point shooting percentage and has been a matchbox scorer off the bench.
Their next star up may be playmaking Australian point guard Patty Mills. Mills has flashed talent for years, but during Parker's midseason absence Mills was a maestro showing out for his first pro scouting gig.
In addition to being the league's ninth most accurate three-point shooter, he's just now entering his prime at 26 and may leave in free agency if a general manager who watched him effortlessly fill in for Parker during his absence due to a Grade 2 ankle sprain.
With Pop managing the minutes, his bench players pulled off the trifecta of ranking first in points per game, points per 100 possessions and points allowed per 100 possessions. Duncan, Parker and Sugar K. Leonard are making the loudest noises, but when Pop turns to his well-trained backups, San Antonio's lineup doesn't skip a beat.