The Miami Heat closed out the Chicago Bulls in five games, winning the final in Miami, 94-91. Dwyane Wade was rumored to be sitting out Game 5, but showed signs that his knee might be better than we thought, scoring 18 with 6 assists.
And Craig Sager photobombed Will and Jaden.
Kevin Durant missed the game tying shot against the Memphis Grizzlies and lost without Russell Westbrook, 88-84. After taking on a hefty burden all series long, he was just 5-21 in the finale, as Memphis moves on to the Western Conference Finals.
Former Falcon and Viking Ray Edwards says boxing is safer than football, because you know what's coming and you aren't injury prone on all parts of your body.
Nate McMillan had a job interview with the Atlanta Hawks.
The competition for the New York Jets starting quarterback position just got a little lighter: David Garrard will retire due to knee problems.
David Price left his start against the Red Sox in the third inning with an undisclosed injury, and the Sox hammered the Rays, 9-2.
Geno Smith, seen here with Jay-Z, is fueling rumors that he is set to sign with Roc Nation Sports.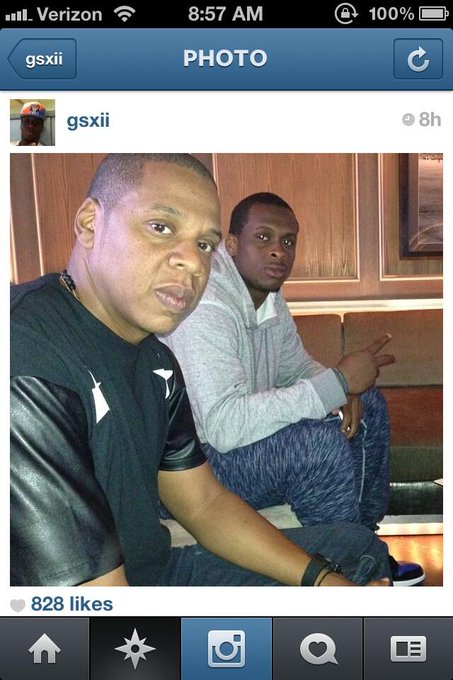 It looks more and more likely that there won't be an NBA team in Seattle for a long time. The Board of Governers rejected a move from Sacramento to Seattle 22-8 in a vote on Wednesday.
Warrick Dunn went back to school and earned his MBA from Emory in Atlanta.
Sources say the Clippers may bring back Vinny Del Negro. May bring back their current coach from a "source?" Sounds like they're gauging reaction.
Landon Donovan wasn't selected to play for the USMNT, but played a role in all four goals as the LA Galaxy beat the Philadelphia Union 4-1.
FLASHING LIGHTS
Mannie Fresh speaks on the possibility of a Big Tymers album without him.
I'm too old to be making dis songs. I'm too wise to be making shots at anybody, but my thing is I'm a business man at the end of it. You can call it whatever you want to call it, but you can't call it a Big Tymers album."
Elijah Blake drops a video for X.O.X. with Common, who's getting as much love for his acting as his music these days.
Jaden Smith says he won't be emancipated from his parents anytime soon.
Drake, Frank Ocean and James Blake will perform at the 4th annual OVO fest.
Kanye West debuts some more new music when he dropped by Adult Swim's event in New York.
DID YOU REALIZE?
Attorney General Eric Holder insists the AP investigation was for a worthy cause.
A jury voted to put the death penalty on the table for Jody Arias.
Acting IRS Chief Steven Miller has resigned.
The Joint Chiefs say their troops are losing confidence that the problem of sexual abuse within the military can be solved.
The White House is pushing for a new bill to protect journalists. They also released the Benghazi emails.
EVERYTHING I AM
The Google Wallet will soon allow you to send money via email.
GOTTA HAVE IT
360 has a new video with Jadakiss and Freddie Gibbs for "Own Thing."