The King James-Jordan narrative was pushed but the in the end the might of the Golden State Warriors and controversial free agent superstar Kevin Durant was the story.
The 2017 NBA Finals MVP came to Golden State with a mission amidst criticism and vicious attacks on his character. He endured those shots and made way more on the court as he dropped 39 points in an NBA championship-clinching Game 5 win over Cleveland. The 129-120 final score appropriately reflected Golden States dominance and Clevelands refusal to concede victory until Durant dribbled out the clock and embraced his mother in front of a sold out Oracle Arena.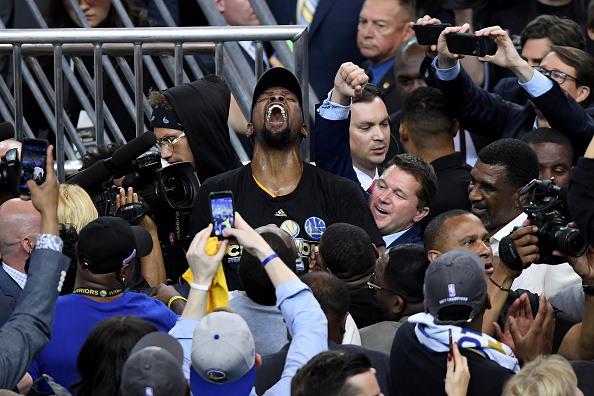 "I'm so happy to be a part of it," Durant said on the court after the game. " I can't wait to celebrate with my teammates in the locker room."
KD became the first baller to have five-straight 30 point games in the NBA finals since Shaquille ONeal in 2000. He proved to be the best player in the series and ran through a two-time champion considered to be the unstoppable force of his generation in Bron. Golden State puts a nice bow on a 16-1 playoffs and Dub Nation will always be the place where KD finally got the upper-hand against a living legend that hes been chasing since he came into the league winning scoring titles and further revolutionizing the game.
LeBron and the Miami Heat got the best of Durant in 2012, when he was part of a young triumvirate with Russell Westbrook and James Harden. By bringing home the 2017 NBA chip, Durant vindicated that loss and solidified his legacy as an all-time great.
(LeBron) is the only person that I was looking at since 2012 and…the only guy that can look me eye to eye, an elated Durant said after the game. I knew it would be a battle and we challenged him.
The Golden State Warriors are the 2017 Western Conference Champions! They won the series 4-0 against the San Antonio Spurs. Check out their celebration!
Unfortunately Cleveland wasnt much of a challenge in this series and the talk will undoubtedly turn to next season for this Golden State dynasty in the making, whether LeBron will return to Cleveland and which free agents will try to form a Super Team of their own in 2018.