The NBA playoffs are an exciting time of year for many reasons. Some get hyped over the prospects of seeing how well their favorite superstar navigates the turbulent winds of the postseason, while others root for their hometown teams to persevere in the role of giant or a giant killer.
For me, the playoffs are about monitoring certain trends. And right now, I'm paying close attention to those players, coaches and teams that have failed to perform up to expectations thus far. Yes, two games is entirely too short of a window to make any definitive judgments, but these five selections, if they don't turn things around quickly, will soon be pushing the panic button.
No. 5: Boston Celtics
Sometimes we get caught up in the antiquated traditions of a teams name and logo to the point that we endow them with certain invisible properties that they may not have otherwise been granted if it werent for their mystique and historical significance.
I feel like I may have been a victim of this phenomenon as far as the Boston Celtics were concerned. Finishing 2nd in the Atlantic Division, the Celtics were in the running for a high seed in the Eastern Conference before falling to the No. 5 seed in the waning days of the regular seasons.
That classic basketball leprechaun logo had me gassed liked helium as the nostalgia of those white on green unis took the floor against the battle-tested Atlanta Hawks. I thought this was supposed to be a signature moment for coach Brad Stevens and company. I thought it was going to be a coming out party for PG Isaiah Thomas, but I thought wrong.
The Atlanta Hawks have been embarrassingly better in all aspects of the game while the Celtics suddenly cant hit shots or play defense. Theyre currently down 0-2 in a their best of seven series.
No. 4: Toronto Raptors SG Demar DeRozen and PG Kyle Lowry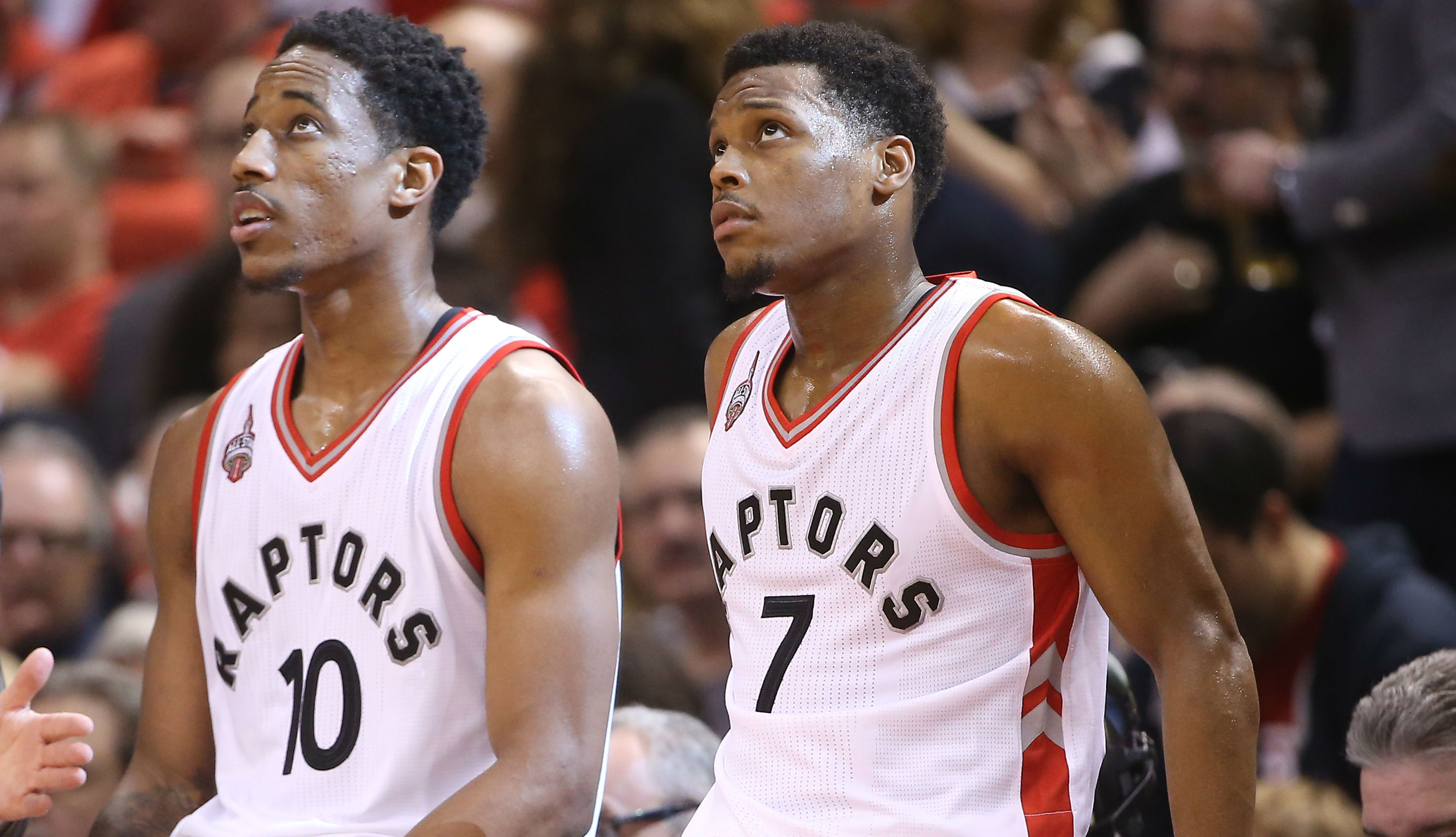 (Photo Credit: Perform Group)
The Toronto Raptors are the No. 2 seed in the Eastern Conference and finished atop the Atlantic Division once again this season. Indeed, they seemed primed for a deep playoff run. With a Cadillac backcourt in Demar DeRozen and Kyle Lowry being among the best in the NBA, it seemed like the Raptors could control pace and easily dominate the Indiana Pacers backcourt of George Hill, Ty Lawson and Monta Ellis.
However, both DeRozen and Lowry have failed to answer the call to duty. The Raptors are lucky to be tied 1-1 in their series rather than down 0-2.
No. 3: Oklahoma City Thunder Duo SF Kevin Durant and PG Russell Westbrook
(Photo Credit: Cachefly.net)
People have been looking at Durant and Westbrook sideways all season long. With all the speculation going on as to their chemistry and inability to lead reverberating from every sports talk medium, it seemed like these guys were going to come out like gangbusters and run Dallas right out of the gym, which is exactly what happened in their first game.
However, a historically bad game by Kevin Durant and a poor shooting performance by Westbrook allowed the seemingly overmatched Dallas Mavericks to tie the series 1-1. Durant shot 7-33 from the field and missed the most shots in an NBA postseason game since Michael Jordan.
No. 2: Charlotte Hornets (Photo Credit: Fansided.com)
The Charlotte Hornets are still neophytes relative to the veteran-laden Miami Heat, but I expected them to put up a much better fight than they have thus far. Supposed go-to-guy Kemba Walker hasnt taken anywhere near enough shots to make a difference in both games and most of the rest of the team appears to be going through the motions.
No. 1: SG James Harden of the Houston Rockets
(Photo Credit: Korkedbats.com)
James Hardens regular season numbers have fallen like a rock off a cliff in the playoffs. His 29 points, six assists and seven rebounds and.439 shooting percentage have dropped to 22 points, 6.5 assists and 2.5 rebounds on .368 percent from the field in two games versus the Golden State Warriorsnuff said.