Dak Does Dallas swept the awards for greatest NFL show on earth over the first 14 weeks of the season. While the ratings soared thanks to the exceptional play of quarterback Dak Prescott and his co-star and fellow rookie Zeke Elliot, a sequel for the long-running hit (and miss) show Tony Romo Returns (This is like Part 5) was in the works.
The success of Dallas rookies prolonged the inevitable, as Romo was ready to play several weeks ago but everybody on the planet that had been waiting decades for Dallas to return to dominance, knew that the best thing to do was let the rooks rock and keep Romo sharp and on deck for emergency situations.
Most logical fans and analysts were calling the idea of bringing Romo back ridiculous, firmly asserting that Prescott was the new sheriff in town. Prescott may be that future QB, but you werent going to erase a decade of deep emotional connection between Cowboys Nation and their charismatic, Hollywood-packaged golden boy in just 13 games.
The only thing that was going to help Dak keep the job in the first place was the kind of improbable shutdown, historical performance he has produced so far in 2016.
We know that Dallas fans swear by Romo, the four-time Pro Bowler and team passing record-obliterator.
Romo has exhibited brilliance, guts, glory and inconceivable failure since taking over the starting QB position for Americas Team 11 seasons ago. He's an icon, from his passing savvy to the long list of starlets he has courted and conquered.
Despite Daks success, we also knew that this moment would come – when the exemplary play, poise and leadership hes displayed in leading Dallas to arguably the greatest start in team history wouldnt be worth a thing.
One bad game against the hated Giants in December and Jerry Jones, once adamant in his support of Dak, has at least shown some cracks in the armor when asked for the umpteenth time if he would consider going to Romo.
"I don't have a definition for it, but you'll know it when you see it," the Cowboys owner and general manager told KRLD-FM on Tuesday, per The Dallas Morning News. "It's kind of like the definition I heard one time or another issue, trying to define a negative topic, and they said: 'I don't know how to say it, but it's just something that when you see it, you know it's there.' We'll see it."
Jones insisted that Sundays complimentary Giants smackdown doesnt affect Daks job security, but he has to say that. Anyone can hear and see that the rumblings for Romo to swoop in and finish off a magical Super Bowl run for Dallas, are becoming more boisterous.
And the media wouldnt have it any other way. So believe it or not, we have the beginnings of a QB controversy and social media feasts on opportunities like these.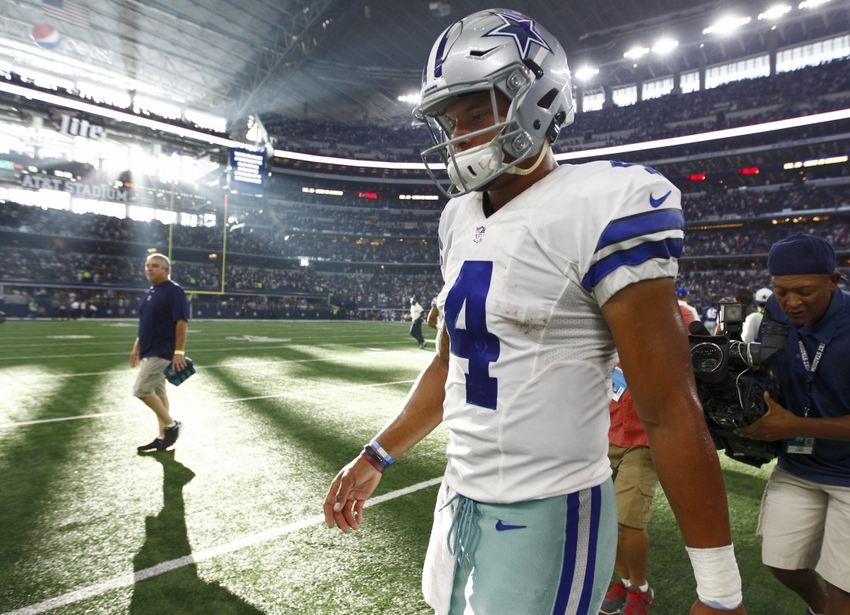 Daks leash was always a short one . We all know that its hard to dominate at the QB position week in and week out. Even the greatest QB's of our time lay eggs. Dak had been nearly flawless before Sunday. And Dallas already clinched a playoff berth, which didnt exactly give the team much incentive other than staying healthy.
Still, publications as astute as NFL.com ripped into the rookie and threw fire on the notion of a QB switch in Dallas.
… that ineffectiveness…on Sunday night, revealed a more tentative, less confident, far less efficient quarterback than we have seen in Dallas this season. Prescott completed just 17 of 37 passes for 165 yards. He was sacked three times and intercepted twice. The Cowboys converted just 1 of 15 third-down opportunities — alarming, because it followed a victory over the Vikings in which the Cowboys converted just 1 of 9 third downs. This was also Prescott's first game in which he threw multiple interceptions, and the team hit its season low in points and yards (260).
After the game on Sunday, Twitter trolls went in on Dak, saying he got exposed and pleading for Romos return.
You see the stuff brothers got to deal with at the QB position?
OK. He had one bad game against a desperate Giants team in the unfriendly confines of New Jeru. It happens, but I guess you must remain flawless when you are an unheralded fourth-round draft pick who wasnt expected to be this awesome in the first place. Prescott was supposed to be a stop gap for an injured Romo, but instead he put a full court press on the job and hasn't relinquished it.
Dak shocked the world and there are some who believe hes still too good to be true. Some of the Cowboys most devoted fans are waiting for the other shoe to drop on this Dak and Zeke show.
For now, hes winning and his owner still has his back.
"Outstanding," Jones said. "He's got 13 NFL ballgames at a high level under his belt, and what's he got, four interceptions now? Four? So, four interceptions. I feel good about our quarterback, and I like where we are at the quarterback position. We should have asked and wanted him to make the drive that might have won this thing for us tonight. I don't want to make excuses. Most of what happened to us tonight was a well-coached New York Giants defense."
Its obvious, however, that Dak hasnt totally connected with the Cowboys community in the way Romo has. Theres still a ton of fans pulling for Tony to be the guy with the rock in his hands if the confetti drops in February.
Prescott can do a lot to silence any cat calls for Romo to replace him by giving a feisty Tampa Bay squad the business on Sunday. He has to re-establish his dominance at the position or watch all of the good will and stardom he has created begin to dwindle away as if he accomplished nothing.
Don't feel sorry for the young gunner. Tony Romo sure doesnt. In Romo's mind, if he's healthy, he sees the best team hes ever had in Dallas and a chance to lead HIS team to the promised land — one last time. Theres no debating Dak is the future, but the present always requires immediate attention
Competition builds character any day of the week. Dak couldnt have thought his ascension would be this easy. The NFL is a humbling entity. Ask Romo.
May the best man win.