Its free agent frenzy time in the NBA. The scorching hot weather this weekend was proof that summertime is officially here. The Draft is three days away, teams will be pursuing the elite free agents and the social media mill will be filled with rumors and potential trades about the formation of Super Teams and the fans' wish lists of unattainable players.
Indiana Pacers star Paul George will be a free agent after this season, but hes already the most talked-about superstar in this years free agent frenzy.
Since he informed the Pacers that he wouldnt be returning after this season, Lakers fans are getting really hyped about the possibility of George joining future draft pick Lonzo Ball and a crop of young talent with hopes of bringing respectability back to a mythical Lakers franchise, which hasnt won more than 27 games in a season the past four years.
Stephen A. Smith says the Lakers shouldnt give up the No. 2 pick to get George, but should relinquish any young asset that they have in order to acquire him, including DAngelo Russell, who Smith is not impressed with, comparing the Lakers guard's value to a box of cookies or biscuits or something very demeaning along those lines.
George to the Lakers would be a great fit for a franchise that hasnt been able to locate a lockdown star since Black Mamba made his exit to the tune of 60 points.
Mix of the Pacers Superstar Paul George ! The possible last season of Paul George to Indiana Pacers ! Check out my channel for more video ! LIKE, SHARE and FOLLOW ME if you like it ! Enjoy !
Paul George is one of the elite players in the game. He can defend the 1, 2, 3 and play the 2 or 3 as a guard.
Hes averaged more than 23 points per game over last two seasons and more than six assists. Hes only 26 years old and has at least 10 years of ball left, barring injury.
The word coming out of Cleveland however, is Hold your horses Hollywood. Reports emanating from NBA sources say the Cleveland Cavs may be in the running to acquire Paul George via a trade involving Kevin Love, who has become one of the games more underrated players since settling into a reduced role in Cleveland.
You put George and Lebron together and you have several two-way forces on the floor. A trade like that wouldnt make much sense for the Pacers and its a risk for Cleveland, but it is not as far-fetched as it seems.
Smith also added that he doesn't think George would be the difference for the Cavs against the Golden State Warriors, but they'd have a "better chance" than they do now.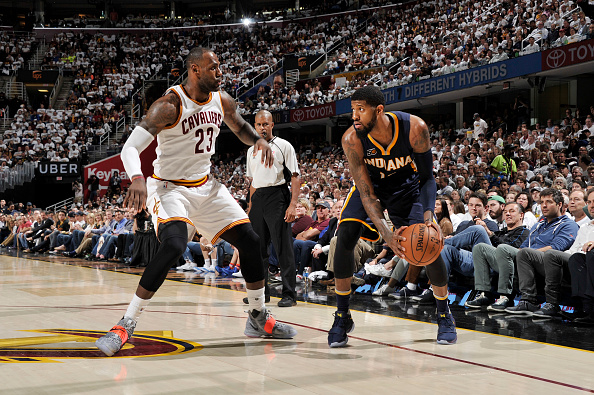 The Pacers are going to want some young players to pair with Myles Turner or some draft picks, so maybe there would be a three-way trade. Also, its no guarantee that George would resign with Cleveland after a year. He may still end up signing with LA as a free agent in 2018.
Kevin Love is locked up for a couple of more seasons, so you dont want to lose him for a rental.
I know they would take that risk, said one ESPN hoops analyst. Talking with different league sources throughout the weekend, the Cavs are really the only team that would say we don't need the assurance from Paul George. We think he comes here and he loves it. Loves being that No.2 to LeBron and winning. Hey… we're going to go play in the NBA finals. You want to join?
The way it was explained to me was if you think that the Kevin Love piece is moving out…as maybe part of a three-way trade…but Love is only under contract for two more years. The Cavs could look at it, say sure we don't need the assurance because what can we really say we have. LeBrons contract is up in a year..this team in Cleveland is about trying to figure out a way, just at least for a year, to get better and compete with Golden State. They feel like they match up better with the Warriors having someone like George."
Also, there are $45 million reasons why George would stay in Cleveland if traded there before this season begins. He can sign a five-year deal as opposed to a four-year deal with the Lakers as a free agent and that fifth year is a $45 million year.
So going to Cleveland and re-signing guaranteed him a trip to the NBA Finals and $45 million more dollars in hard cold, cash.
LA just might be Hollywood dreaming on this one.