The "Vapors" are being caught amid the greater number of basketball talking heads after Golden State Warriors SG Klay Thompson went for a career-high 60 points against the hapless-looking Indiana Pacers.
What are the vapors?
As posed by the diabolical Biz Markie with his 1988 song of the same name, the vapors are what people, generally doubters, catch from the success of one they once dissed.
Indeed, it is a most satisfying occurrence to behold, honestly.
Regarding the quality of the team the Warriors just defeated, this is the same Pacers squad that downed the Los Angeles Clippers twice in a week. But, the LA Clippers ain't the Golden State Warriors. And Klay Thompson is in need of a better basketball nickname.
Something that stands out on its own. Klay-K-47? KT-11? The Splash Brothers is somewhat passe to describe such a scintillating individual output. Klay is often mentioned in the same breath as his teammates, while both Curry and Durant are one-time MVPs. But his performance has multiple meanings. When he finally went to the bench in the 3rd quarter, it became apparent that he wasn't just anybody's third wheel. He is an independent source of lightning and sound, with a flash and thunder that are wholly his. All is revealed in time. It is by this cosmic mechanism that truths are revealed, and miscalculations also.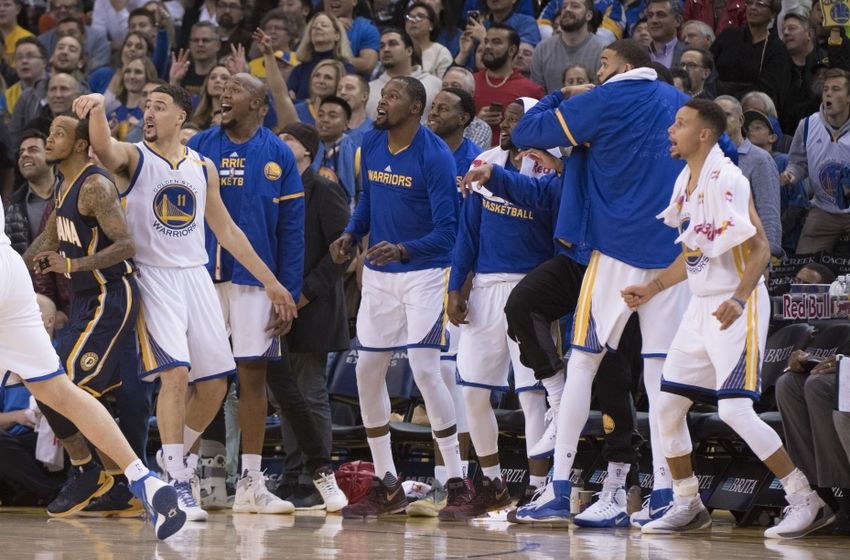 (Photo Credit: Fan Sided)
When it was first announced that SF Kevin Durant was coming to the Bay Area to team up with NBA MVP Stephen Curry, the media treated Klay like he was Stella from How Stella Got Her Groove Back. They implied that he was the odd man out.
As a matter of fact, even after this scorching performance, Googling "Klay Thompson, odd man out" will give you dozens of results dating all the way back to July. Just a few weeks ago there was word floating in the ether that had Thompson headed to the Boston Celtics.
Admittedly, initially, it was hard to imagine just how a team with three offensive weapons of the caliber of Steph Curry, Kevin Durant and Klay Thompson could co-exist. But here's where you have to give props to Steve Kerr, especially if you were one of those people who doubted his coaching acumen after last year's NBA Finals meltdown. The Golden State Warriors are leading the NBA in assists with 32 per game. Last year the Warriors were leading the NBA in assists as well, but at only 28.9 assists per game.
(Photo Credit: Gannett)
So, the solution to the artificial crisis of riches that many accused the Golden State Warriors of having was quite simple; pass the ball even more! But it took awhile for things to shape up for the novice basketball observer. The news machine is a ravenous beast and gives little time for a situation to work itself out before finding ways to denounce it.
Early in the season, as Thompson's shot volume and percentage dropped, reporters immediately assumed it was the result of team chemistry and not leftover rust. Like, nine games into the season, and people were talking about chemistry? Clearly, they overreacted.
For his part, Thompson was indignant as all heck when questioned about it. And rightfully so. How does a player who is an all-star, NBA champion and arguably one of the greatest standstill shooters of all-time go from all that glory to being concerned about touches?
Even if the other scoring option was Kevin Durant, Klay couldn't waiver in his confidence. He's too ill for that. His NBA pedigree is also too strong. Currently, Thompson's 22.5 points per game ( third on the team behind Durant and Curry) is a bit higher than the 22.1 he averaged last season and he's shooting a higher field goal percentage than last year.
People will certainly try to quantify his feat beyond the numbers. They'll point to the competition, or mention Kobe's retirement 60 in his farewell barrage, but none of that matters in the contemporary sense. This explosion is also proof positive that Steve Kerr's offensive strategy is working. With Draymond Green and Curry racking up assists with ease, the points are piling up and Klay Thompson is getting his fair share.
Who knows whether any of these trade rumors ever had any credence to them, but anybody looking to trade a player who is capable and confident enough to score 60 points alongside such apex scorers as Durant and Curry will never get equal value.
Not even close.
Those players be damned, Klay Thompson will get his props.