Yankees newjack standouts Aaron Judge and Jordan Montgomery were named among the 11 MLB players selected to the Topps All-Star Rookie Team on Tuesday.
As seen exclusively on @MLBNetwork, the 2017 Topps MLB All-Star Rookie Team!
The outfielder Judge, the presumptive candidate for A.L. Rookie of the Year and a finalist for league MVP, slashed .284/.422/.627 with a rookie record 52 home runs and 114 RBI in his first full season in the big leagues. The 25-year-old slugger also stole the show during the Home Run Derby in Miami and was selected to the All-Star Game.
This is Judges second special Topps card of the season. The Topps NOW card commemorating his 49th and 50th home runs of the season was available to fans for 24 hours back in September and sold 16,138 pieces, the most ever for Topps NOW, the joint venture between Topps and MLB that provides the best images to fans on a daily basis.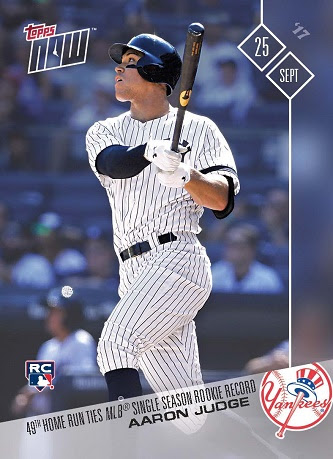 Judge had this success under the leadership and guidance of former manager Joe Girardi, who was let go after the Yankees lost the ALCS in seven games. General Manager Brian Cashman has recently said that Girardi, couldnt connect with the players.
Judge was asked his opinion on the situation during a Tuesday morning interview with First Takes Joy Taylor.
Its a tough situation, Judge said. Joe was my first manager. He had 10 great years with the Yankees. (This season) he took a team that was supposed to be rebuilding to one game from the World Series. I have a lot of love and respect for Joe and what hes done for not only me but the organization. But we moved on and we have decided to see what happens next.
As the Yankees move on to another manager, the team is in great hands and looks poised to make another run at it next year, especially if new, young talent keeps advancing ahead of schedule.
Subscribe to our YouTube channel for the best, exclusive content: http://youtube.com/yankees and check out http://yankees.com/video for our full archive of videos Join the Yankees Universe! Twitter: http://twitter.com/yankees Facebook: http://facebook.com/yankees Instagram: http://instagram.com/yankees Google+: https://plus.google.com/+yankees Tumblr: http://yankees.tumblr.com Pinterest: http://pinterest.com/yankeesbaseball Jordan Montgomery has bolstered the rotation with consistent performances throughout the 2017 season.
Montgomery, at age 24, was a surprise addition to the rotation out of spring training. He compiled a 9-7 record and 3.88 ERA, starting 29 games and tossing 155 1/3 innings, both third on the squad.
This is one of the most impressive Topps MLB All-Star Rookie Team classes I have seen, said David Leiner, Vice President and General Manager of Topps North American Sports & Entertainment. It shows how incredibly popular baseball was this year with its young breakout stars. They join an incredible group of players who have won the Topps Rookie Cup in the past and will have the special logo appear on their Topps trading cards next season.
Two other MLB teams had multiple players named to the Topps All-Star Rookie: the Boston Red Sox with outfielder Andrew Benintendi and third baseman Rafael Devers, and the Milwaukee Brewers with catcher Manny Pina and relief pitcher Josh Hader.