Andrew Hawkins never had anything handed to him. At 5-foot-6 and 180 pounds, he was an NFL long-shot that somehow stuck around the league for six years.
Coming out of the University of Toledo in 2008, his career numbers of 67 receptions for 1,107 yards and five touchdowns over four years were not overwhelming. But his 4.34 speed in the 40-yard dash raised some eyebrows, along with the fact that he was the school's first player to line up on both the offensive and defensive side of the ball, where he played defensive back, in over 40 years.
A guy that fast, that small, that plays two-ways is intriguing, because there's something there beneath the surface that speaks to his resolve, toughness and fortitude.
He wasn't selected in the 2008 NFL Draft. Hawkins had a workout with the Cleveland Browns, wasn't signed and spent the year out of football. Resurfacing in the Canadian Football League a year later, he was a part of back-to-back Grey Cup championship teams with the Montreal Alouettes.
The Bengals signed him in 2011. After three seasons in Cincinnati, the Browns offered him a multi-year deal. A few months ago, he was released and is technically a free agent in search of another team.
You might look at the fact that he's only scored nine touchdowns during his six years in the NFL and ask, 'Why are we even talking about him?'
Well, we're talking about him because sometimes you need to strip away the smoke, fireworks, highlight reels and bulbous-headed analysts to get at the style and substance behind the show.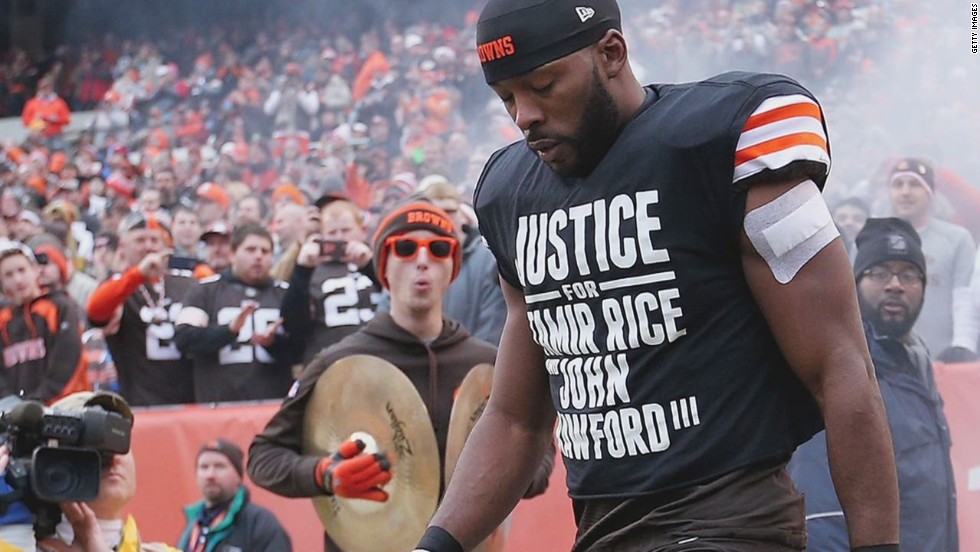 Football will never define Hawkins. He made that clear in December of 2014, when he wore a "Justice for Tamir Rice" shirt during warm-ups before the Browns' game against the Bengals.
"My wearing of the T-shirt wasn't a stance against every police officer or every police department," Hawkins said at the time. "My wearing of the T-shirt was a stance against wrong individuals doing the wrong thing for the wrong reason to innocent people."
His statement was in response to Cleveland police union president Jeff Follmer, who called Hawkins' shirt "pathetic" and said that he "should stick to playing football."
The 12-year-old Rice was killed on Nov. 22, 2014, by rookie Cleveland police officer Timothy Loehmann less than two seconds after he arrived to investigate a complaint about the boy carrying what turned out to be an airsoft pellet gun.
Despite the backlash he knew would ensue, Hawkins felt like he had to say something.
"If I was to run away from what I felt in my soul was the right thing to do, that would make me a coward and I couldn't live with that," Hawkins said. "A call for justice shouldn't warrant an apology."
Just looking at his journey thus far, the only thing Hawkins seems to run from is defenders on the football field. When his peers were shying away from voicing support for Colin Kaepernick last year, he had no such qualms, telling cleveland.com, "It's not so much about the kneeling as much as it is about the message. And it's a message that you guys all know I'm passionate about and we've kind of been through this before."
He just received his Master's Degree in Sports Management from Columbia University this weekend, graduating with a perfect 4.0 GPA.
Had he beaten a woman, been arrested for drug possession or gotten into an altercation at a strip club, you'd know all about it. But that's not how this generally works.
You see, most fans unfortunately agree with that moron Jeff Follmer, the Cleveland police union president. They want there athletes to stick to sports. God forbid, they have a brain and a conscience, and actually use them to guide their steps.
Well, here's a salute to Andrew Hawkins. He never lit up the highlight reels, but he's a guy that proved years ago that he's someone worth paying attention to.