Virtually every mock draft has the Cleveland Browns nabbing Texas A&M defensive end Myles Garrett, who racked up 31 sacks over three seasons in the SEC, with the No. 1 overall pick.
Cleveland has 11 picks in this upcoming NFL Draft. They will need to shrewdly use everyone of those picks in order to rebuild a franchise that has been an NFL doormat the past decade, having not won more than seven games since 2007.
LeBron James may have ended the overall city curse by winning an NBA Championship, but the football curse remains for Cleveland fans.
Browns head coach Hue Jackson and executive vice president of football operations Sashi Brown are on the hot seat. Two brothers in a rare position of power at leadership positions in the NFL who are tasked with rebuilding a franchise that has missed on more draft picks than we can mention in a 700-word story.
Garrett had an excellent showing in the combine and his stock soared. Projections are nothing more than that, but most experts feel that Garrett projects as a superstar edge rusher.
However, Hall of Fame defensive lineman Warren Sapp isnt impressed and according to cbssports.com, thinks picking Garrett would be a mistake.
"I don't see it from this kid," Sapp said Sunday about Garrett. "I see the splash plays; everybody gets those. Where's the game he took over? Where? Any defensive lineman who's the No. 1 pick, you turn up and you say, 'There it is!' This kid, no, I don't. I'm a pretty plain and frank guy, and I watch the tape and he disappears. I watch the tape, and he absolutely disappears."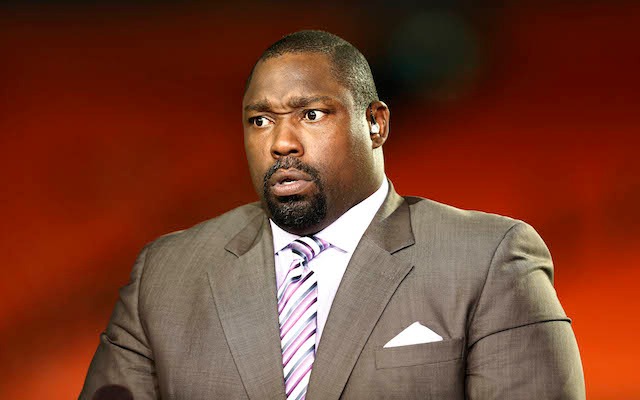 The one saving grace of their frustrating 1-15 season is that they got the first overall pick in the 2017 draft. Unfortunately, there isnt a sure shot franchise QB in this draft. And Cleveland HAS to find a starting QB, and this a tough year to do it in. I swear, God himself could throw a 24-hour good luck sale and Cleveland would get there two minutes after it closed.
With that being said, Cleveland cant afford to mismanage any picks. Jackson and Brown have a unique opportunity to put their personal stamp on a struggling, flagship franchise, replenish a talent-strapped program and prove that African-American coaches and front office personnel can rebuild a franchise and make the necessary decisions needed to succeed at the highest of NFL corporate levels.
Reports circulating for months say that Jackson and the front office are split on who the No. 1 pick should be. According to NFL Network, Jackson is leading towards Garrett, who has put the Browns on notice that he will make them pay if they pass on him.
NFL Network says the front office wants North Carolina QB Mitch Trubisky, but word on the streets is that Jackson thinks Trubinsky is too short and is not feeling him as the franchise QB the Browns so desperately need. He wants a tall, Cam Newton type with a slingshot arm to match.
If Hue Jackson and Sashi Brown work their magic correctly then they can possibly trade up and get both. They certainly have the ammunition and the resources. If they can duplicate the draft day mastery of Jimmy Johnson and Jerry Jones in 1989, then we could be looking at the beginning of great things in Cleveland.
Via ESPN: In 1989, Johnson took over a 3-13 team and used the first overall pick in the draft on UCLA quarterback Troy Aikman, passing on running back Barry Sanders and linebacker Derrick Thomas in the process. Three months later, Johnson used the first pick in the 1989 supplemental draft on Steve Walsh, his quarterback at Miami. In doing so, Johnson knew he was sacrificing Dallas' first-round pick in the 1990 draft as part of the equation; that pick would have been the first overall selection and given the Cowboys the opportunity to take Jeff George or perhaps Junior Seau.
It worked out alright for the Cowboys in the long run as Aikman won two Super Bowls, Cleveland needs a come up like that. There was some luck invoked as well with the moves the Cowboys made back in 89. From past Draft experiences, Cleveland shouldnt count on the luck.
But their professional acumen will be tested on Draft Day as the future of the franchise lies in the hands of two brothers who have a rare spotlight shining on them come April 28th.