Allen Iverson or Steph Curry? If you could only pick one to run your squad, who would it be?
We recently brought the argument out of the barbershop and into our Madison Avenue offices. Shadow League All-Stars J.R. Gamble and Alejandro Danois make their arguments and debate who'd get the nod if they could only have one of these amazing players on their team.
J.R. Gamble's Pick – Allen Iverson
"The NBA has given us the greatest basketball players in the history of the world.Those special, once-in-a-lifetime, rim-wreckers who were head and shoulders above the rest of the league, winning championships, doing the unthinkable, breaking barriers, obliterating stereotypes and playing with other top notch players to create juggernauts.
Basketball is a team sport, but sometimes a rare player transcends the game and influences culture with his ideologies, life experiences, esoteric presentation and captivating swag. He demands the keys to the franchise and the fans implore management to hand them to him. And with a band of brothers designed to pour his water and keep his forehead dry, that player manages to reach improbable goals.
Some of the most dirt-dog delicious players in the game never get the iconic and No. 1 stunner praise. Some of our greatest b-ball master craftsman have had to pick up the lunch pail and hand the mic off to a lead singer. Few players have served a given franchise as the body-n-soul, the Alpha and the Omega, the angel and the devil, the goat and the hero, the epitome of the theory that paper smothers rock, even boulders.
MJ had Chi-Town. Ewing was NY Knicks basketball. Isiah owned Detroit. Once Shaq left, Kobe owned LA. Tim Duncan owned the oil wells of basketball riches down in San Antonio and Iverson owned Philly and the 76ers. If Dr. J was an aerial appetizer, then Iverson was the main course.
There has never been a more charismatic, captivating, enigmatic, rebellious, polarizing, sympathetic and inspirational NBA performer than Allen Iverson. While Stephen Curry has ascended to a place Iverson once owned in the NBA, matching him in many areas a player: scoring explosiveness, flair, even killer instinct at times, the diminutive Iverson is something of a folk hero. The young, black, hardwood magician-millionaire on his Robin Hood hysterics.
He became the face of the anti-establishment and he had braids thick enough, chains long enough and game big enough to back up his unwillingness to relent to the suits. Young A.I. carried the entire city of Philadelphia on his back with two MACs and an AK-47 clip of acrobatic dunks, dishes, jumpers, drives and last minute death blows.
Curry has distanced himself from his peers — past and present — as a prolific shooter. Everything has come together at the right time for the kid from Davidson, who nobody gave a shot to ever become the NBAs best player. His work ethic, incomparable shooting skill and the deeply talented team he anchors as well as his crystal clean image and the media rush to crown him the games best, has lifted him to a visibility that Iverson once enjoyed, but hes not ever going to be recognized as the all-out titan and gladiator that A.I. was.
A.I. was the golden child of basketball and football growing up under impoverished conditions in the Newport News-Hampton Roads area. He survived the hood and a racist, old school Southern public lynching that would have him rot in prison rather than fulfill his star destiny. He became a symbol of black justice in this country when the only African-American Governor in Virginias rich confederate history pardoned his sentence. Georgetown and John Thompson stepped in and awarded him a scholarship and safe haven to pursue his inevitable NBA legend.
Currys story is compelling as well. He was a true underdog in that he didnt get the love A.I. got early in his basketball journey, but he did enjoy the benefits of having a father and not just any father, but a present dad who is one of the most prolific shooters in NBA history.
Two different type of pedigrees, driven by two different goals. Curry was inspired by the critics and the shadow of his pops. Hes changed the game in a sense. His success as a long-range bomber is inspiring a generation to abandon the paint and spray all day. If you equal it to a fight, A.I.s bull-to-the-hoop style is that of a warrior who engages, even with the bigger opponent. Currys style of balling is more like a sucker punch.
A.I. on the other hand. was inspired by survival and he became the mouthpiece and poetry in motion for a generation of ballers who came from nothing and overcame tremendous socio-economic odds to reach the land of wealth and health.
Iverson won four scoring titles and single-handedly led Philly to an NBA Finals against a dynasty Lakers team featuring Kobe and Shaq in the 2000-01 season and he gave the NBA 33 points per game in an entire 22-game playoff series.
Curry is making quite a name for himself in the NBA and the success of his team is boosting his visibility and props, however The Answer to any question about players having heart or elevating themselves to a place bigger than the game starts and ends with A.I.
Chef Currys rise to stardom was gradual and even shocking to some. He didnt average 20 points per game until his fourth year in the league. A.I. went for 23.5 his first season and never looked back. He never had a squad close to the talent-laden group Curry has.
At the end of the day, these two players held completely different responsibilities. A.I. had to do it by himself and almost accomplished the feat. Curry is the main scoring threat on his team and hes re-inventing how to shoot an NBA jumper, but hell never equal Iverson as a mic controller of NBA history no matter how weak an era he's balling in, and hell never match Iversons playoff feats or respect level from his peers. Hes just not that dude."
Alejandro Danois' Pick – Steph Curry
"You will not find another individual who appreciates Allen Iversons game more than me. Lets square that away off the bat.
As a basketball enthusiast and a long-time follower of the elite high school scene and player rankings, Id heard about him before the bowling alley incident in Hampton, Virginia, before the incarceration, before the governors pardon and before he took the country by storm as a freshman at Georgetown University during the 94-95 season.
If Allen Iversons teams were coming to New York back in the day, I was coming to Madison Square Garden to watch him play. If I wasn't within a subway ride and the game was televised, you knew where to find me. I'd be in the crib, jumping off the couch every time he did something amazing.
He made no apologies for who he was, and played with an unbridled hunger, joy and emotion that were so refreshing. The athleticism and fearlessness that was wrapped up in his diminutive physical package was extraordinary.
His spontaneous creativity on the floor, every time you witnessed it, was like letting the verbal gymnastics of Nas, Rakim, Kanye and KRS splash down your earlobes and into your ossicles for the very first time.
His swag alone, in comparison, made the Fab Fives flavor look about as sterile as J. Edgar Hoover. His pronounced bop, his impulsivity, his playground handles, his ability to explode in the vertical plane and spontaneously combust for 50 points on any given night was, stylistically, beyond compare.
Allen Iverson transcended basketball to become a counter-culture icon. His irresistible authenticity and hood sensibilities fused with perhaps the illest crossover ever to make him one of the most charismatic figures to ever cross the threshold of our national sporting consciousness.
Ill never forget the 21 points he dropped in the second half against Jerry Stackhouse, Rasheed Wallace and that crazy North Carolina Tar Heel squad in the 1995 Sweet 16, especially when he slithered along the baseline and elevated to grab a missed shot bouncing off the rim. He cuffed it with one hand and flushed it with the ferociousness of a man twice his size.
So what if they called goaltending!!! The refs could take those two points away, but they could never erase what Id seen.
Ill also always fondly think back to his 2000-2001 MVP year with the Sixers, when he averaged 31 points per game and dragged a subpar squad to the NBA Finals, or those last 10 games or so of his first year in Philly when he averaged about 40 points per game to put an exclamation point behind one of the most remarkable rookie seasons in league history.
But with all of that said, if I have to choose between either having The Answer as the alpha dog in my backcourt or Steph Curry, Im taking Curry all day, every day, and twice on Sunday!
As fantastic as Allen Iverson was, he never approached the level where people were using the M-words to describe him. Those words, for those that dont know, would be Michael Jordan. As much of an outlier as Iverson was, basketball has never seen anything quite like Chef Curry and the deliciousness thats hes been cooking up.
Hes already claimed this years MVP trophy about a quarter of the way into the season after grabbing it last year from LeBron with the slickness of a New York City subway pickpocket. The morons who continue to refer to him as simply a jump-shooter should have their basketball-discussion-card revoked.
The cat is a supreme floor general with exceptional handles, vision, intelligence, passing ability and hunger who also just happens to be the best long-range shooter the game of basketball has ever seen!!!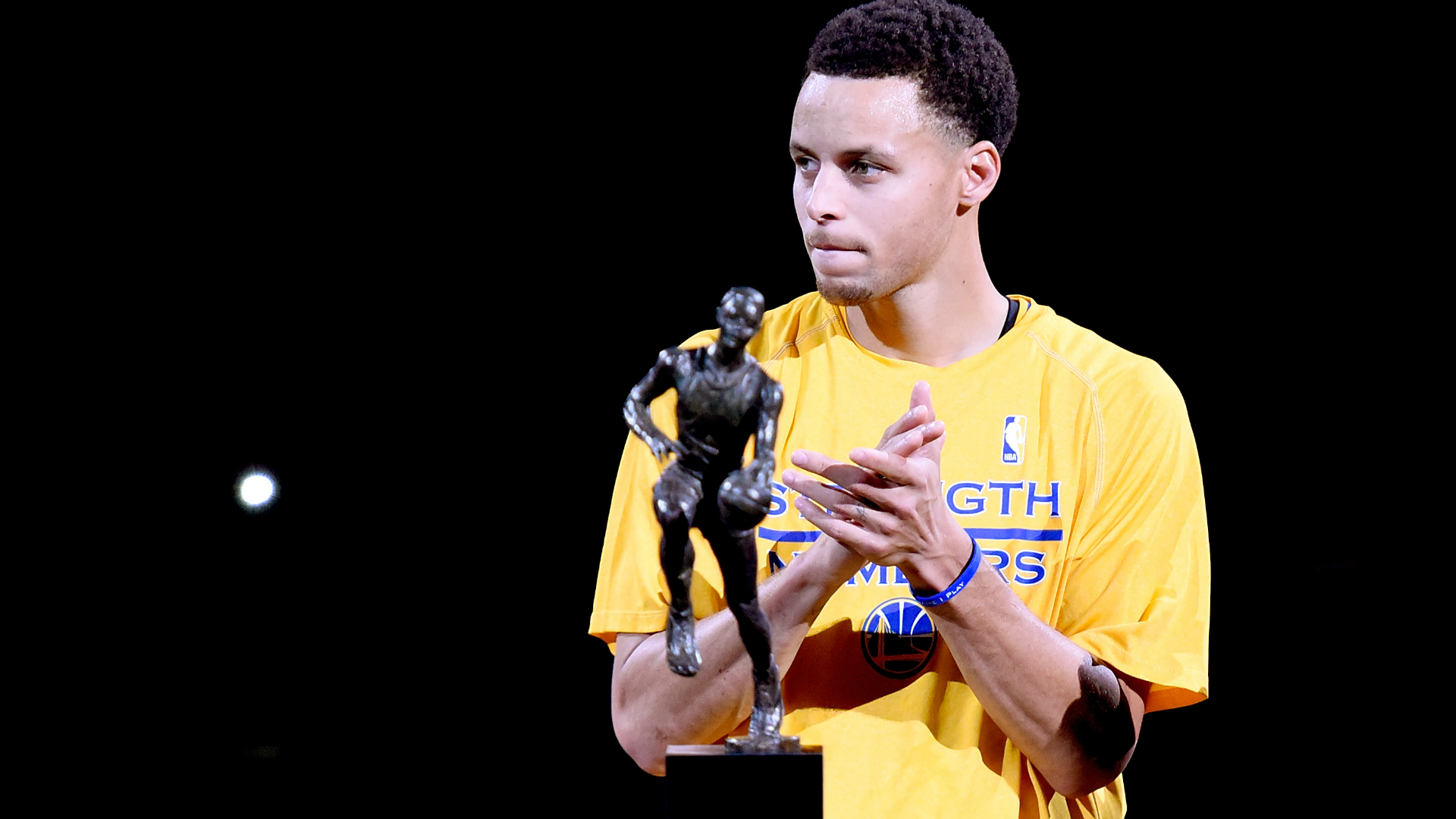 Hes averaging a ridiculous 32 points, six assists, five rebounds and two steals per game. In order to find the only other person to do that, you will have to use those M-words. And the remarkable thing about his robust scoring numbers is how efficient he is, by only taking about 20 shots per game.
Hes connecting on 53% of his overall shots, shooting 46 % from deep and connecting on 90% of his free throws. The average league shooting percentage is around 44%. Chef Curry is connecting on 46% of his shots from 25 feet and beyond!
My man aint in the zone, hes in the gosh dern Twighlight Zone!!!
Do you know who holds the NBA record for best Player Efficiency Rating? That would be the inimitable Wilt Chamberlain at 31.8. That has been the highest ranking in over 50 years.
You know what Stephs PER is right now? 34.7!
Thirty filth-flarn-filth four point seven!!!!
And to further amplify those numbers, hes accomplishing that while getting plenty of rest on the bench because the Warriors are smacking teams like Jack Nicholson did Faye Dunaway in Chinatown.
Thats crazier than the Ol Dirty Bastards lyrics on Brooklyn Zoo!
Like Wilt, Bill Russell and Oscar Roberston, Steph is challenging all our preconceived notions about what is possible on a basketball court.
And to top it all off, he owns a championship ring, something Iversons teams were never able to achieve.
Yall better get used to his bling, because theres plenty more coming his way. I love The Answer. But pick him ahead of Steph Curry to run my backcourt? No sir!"
So, who would you choose?