This is part of The Shadow League's Women's History Month In Focus series celebrating excellence in sports, entertainment and culture.
Womens History Month is a time to recognize the accomplishments of amazing women of today, pay tribute to the phenomenal women of the past, and foster greatness in the women of tomorrow.
The incredible stories of women in sports, arts, and politics, their challenges and their successes are inspiring and powerful. They provide insight and inspiration to all of us.
When we think about of powerhouse Muslim women fencers, we might think of American Olympian and athlete-activist Ibtihaj Muhammad. This Bronze medalist has been a source of pride to America. She has been steady with her sabre blade and consistent with her political opinions.
But before long Muhammad, there was another indomitable fencer who blazed a trail, challenged the norms for women in sport and stood up against fascism: Halet ambel.
(Photo Credit: paratripost.com)
Born in Berlin in 1916 to a Turkish Diplomat and his wife, ambel lived in Germany until 1924. She was a sickly child and was considered to be physically weak. Before her death in 2014, she told a BBC journalist that her family constantly worried about her health.
"I was very weak during the war [World War I] – they always looked at me as if my days were numbered, she explained. "They would dress me up in layers of jumpers and woolly socks. As I was not happy with this, without my family knowing, I removed these heavy clothes at school and decided to increase my strength. And I also began to exercise.
ambel was so determined and inspired by German stories of knights and battles that she took up fencing.
"There were other activities like folk dancing and other dances at school but I chose fencing. My trainer was white Russian, Mr Nadolsky."
The Turkish delegation to the Olympics was not well-prepared and athletes simply trained on their own time. But the presence of two women in the delegation was memorable. ambel and her teammate and fellow fencer Suat Fetgeri Aeni were the first two Muslim women to compete at the Olympic Games. Neither women medaled in their events but have secured notable positions in sport history.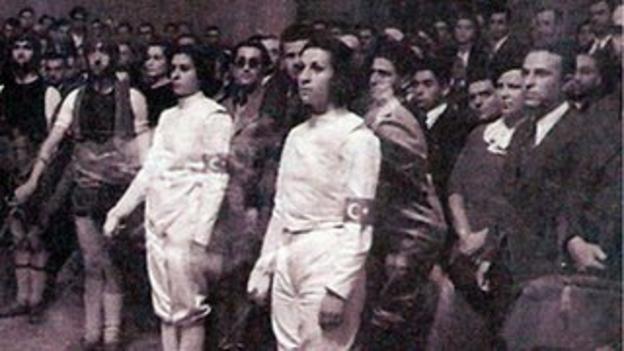 (Photo Credit of ambel (left) and Aeni (right) in uniform at the 1936 Olympics: BBC)
As a relatively new secular nation, its leader Kamal Ataturk wanted to highlight Turkeys progress. Showcasing women in sport was certainly a strong way to do it.
Perhaps even more poignant was ambel and Aenis refusal to meet the host of the Games, Adolf Hitler.
We did not approve of Hitlers regime, she said of their polite defiance. Initially the women did not want to go to Germany at all, but acquiesced at the request of their government. ambels father was a close ally and supporter of Ataturk.
"We said that we would never have come to Berlin if our government had not told us to do so, she said. When the official asked us to go up and introduce ourselves to Hitler, we firmly rejected her offer."
Not only were they trailblazers, but they stood their ground when it was expected of them to meet with the head of the host nation. Even as a 20-year-old student and amateur athlete, ambel would not entertain the idea of meeting with a man she despised.
After her return from the Olympics, she met a Communist poet and a fellow archeologist named Cakirkan. They married in secret because of her familys objections. ambel went on to study archeology at the Sorbonne in Paris. She returned to Turkey, served as a research assistant at Istanbul University and completed her Doctorate in 1944.
(Photo Credit of ambel (left) and a colleague at an archeological site: Aksam)
Her determination led her to success as a world-renown professor and Turkish pioneer in 20th century archeology. She devoted her life to researching and studying ruins of an Eighth-century Hittite city in the mountains of Turkey. Her work was recognized globally and she also became a fellow of the German Archeological Institute.
Earlier this month, ambel was recognized by Google and featured as a Doodle as part of a series of 13 women on March 8th for International Womens Day.
ambel is a bastion of determination, perseverance and success. And her place among the other incredible women in sports and political history should be revered.