With another exciting NBA Finals in the book, The Shadow League spoke with the man responsible for preserving and capturing all of the great NBA moments of the past four decades and every famous sports photo that is embedded in our minds. Andrew Bernstein is the Director of Photography for Staples Center and Nokia Live, is the official photographer for the LA Lakers, Clippers, Kings, (and formerly the Dodgers), and is the longest tenured photographer in the NBA. He is the Godfather of NBA photojournalism and the league's ultimate eye in the sky. Andy also has a series on the Lakers Network which he produces and stars in called Through the Lens.
To give you a sense of how much props Andy gets in the NBA hood, when Kobe was drafted to the Lakers, Andy went up an introduced himself as the team photographer, and Kobe immediately recognized Andy's name because "it was on all the posters [Kobe] had in [his] room growing up."
His works have appeared in thousands of magazines from Sports Illustrated to ESPN to The Sporting News and Newsweek. In addition to his work on the court, Bernstein has honed his craft commercially on advertising campaigns which include some of the world's most respected athletes such as Shaquille ONeal, Mia Hamm, LeBron James and many others for brands such as Nike, Reebok, Adidas, Pepsi, Coca-Cola and Icy Hot. He's been the official photographer for Team USA basketball since the epic 92′ Dream Team changed the game.
Andy has also ventured into books, co-authoring Journey to the Ring with former Lakers coach and current New York Knicks President of Basketball Operations Phil Jackson. Bernstein is like the energizer bunny on Red Bull. He has a non-stop schedule and last year he was the only photographer in America to cover the NHL and NBA Finals simultaneously. With a few moments to breath following Golden State's championship title run, Bernstein was gracious enough to chat about his illustrious career, greatest moments and the sports legends he's been fortunate enough to shoot and develop lasting friendships with along the way.
Gambler: Where did you grow up?
A. Bernstein: I grew up in Brooklyn, New York. I have an older brother, younger brother and older sister. I come from a family that had a genuine love for sports and photography. I got into photography when I was 14, my dad brought me a camera and at that point I was starting high school and started to shoot various things for my high school in Brooklyn. I was lucky enough to have a friend that had a dark room and taught me dark room techniques. I was brought up in a a very sports oriented home.
My dad was a big NY Rangers fan and a Mets fan so I learned pretty early that I could enjoy sports with my dad through my photography and that's pretty much how the two worlds met. I attended the University of Massachusetts at Amherst for college and my portfolio from UMass earned me a National Endowment for the Arts Fellowship and scholarship to attend the prestigious Art Center College of Design in Pasadena, California, where I earned a BFA in 1981. I later returned as an instructor of sports photography at Art Center
Gambler: You co-authored a book with Phil Jackson called Journey To The Ring. What was it like working with The Zen Master and picking his incomparable basketball mind ?
A. Bernstein: Collaborating with Phil was really the crowning point of my career. The project that I did with Phil, basically I was embedded with the Lakers team during the 2009-2010 championship season. The book is a documentation of the season from Day 1 of training camp in September through the championship parade in June. I had established a relationship with Phil very early in his first or second championship with the Bulls… to the point where I was the only photographer that he would have in his championship locker room for all 10 championships up until that point. And we were hopeful that the Lakers would win the championship that year but it wasn't a prerequisite in terms of getting the book published. I had a publisher that was committed to doing the book regardless. I'll always appreciate the fact that Phil was so giving and so willing to do this project with me. Hes a big fan of photography and we did the book in black and white which was something that's a passion of mine and his as well and the publisher was really excited about doing the book in that format. So it was a tremendous opportunity and probably one of the top two or three experiences of my career.
Gambler: You spent a lot of time with Phil. Do you honestly think he can turn the Knicks around ?
A. Bernstein: I think Phil has the capability to do anything that's (actually) possible with the Knicks. He has the basketball mind. He obviously has the experience. He has the cache that will attract players to want to play for the Knicks and I think if the fans are patient enough then he and Derek Fisher — who is also a proven winner — can turn that franchise around. I don't think Phil would have taken that job without the true belief that he could accomplish something there.
Gambler: When you work an NBA game, you are like the mad maestro of sports photography. Is it true you have 11 cameras running simultaneously? How do you handle that?
A. Bernstein: In the old days I was a one man band pretty much for the first four or five years of my career in the 80s. I would cover the Finals or the All-Star game by myself. Now we are NBA Photos which I helped to create in 1986. Now NBA Photos is a crew of about 25 people who go to the finals and we have 12 or 13 photographers, support staff, editors and all kinds of people…techs who help in the effort. I'm part of that effort and my three-man crew consists of myself the photographer, then I have my main camera assistant and my son is my digital tech and also helps with our setup.
Its takes about 3-5 hours to set up these cameras which are strategically place throughout the arena. The concept is that when I push a trigger button all of these remote cameras go off at the same moment and instant that the strobes fire in the ceiling. I basically only get one shot every four seconds. No motor drive. No sequence. I get one shot and have to wait four seconds because the strobes have to fire back up. I have to be very disciplined in counting in my head those four seconds and waiting before taking another shot.
A. Bernstein: There's stuff that happens in between that I might miss. For example if Stephen Curry takes a three-pointer, I'll shoot the three-pointer and he might miss it and then there's a rebound situation which happens within that four seconds which I really cant shoot because it will be a blank frame and I wont get any light. I have to pick my poison I guess. I have to pick the moments that work best and hope that I minimize what I miss.
Gambler: Folks say the NBA has gotten soft. Are NBA guys as competitive as they were 20 years ago ?
A. Bernstein: The game has changed a little bit in terms of the physicality of the game and its become more of an outside game when it used to be more of an inside game and they changed some of the rules to take some of the physicality out and make the game more fluid, which personally I think was a change for the better. But competitive wise they are just as competitive as when I started back in the 80s. I don't see any fall off with that at all in the entire time I've been shooting.
Gambler: Most memorable NBA Finals Moment?
A. Bernstein: If I had to pick one, when Michael Jordan won his first championship in 1991. He had waited seven years to get to that point and they finally beat the Lakers in 1991.
And there's that very iconic moment where he's in the visiting locker room in the forum and holding the trophy like a baby and crying and his dad is standing next to him and I happened to get a moment there to snap that shot. I was always very grateful for whatever force of nature got me to take that picture at that moment and time and it has stood the test of time. That is one of the more iconic moments in NBA history and the photo supports that.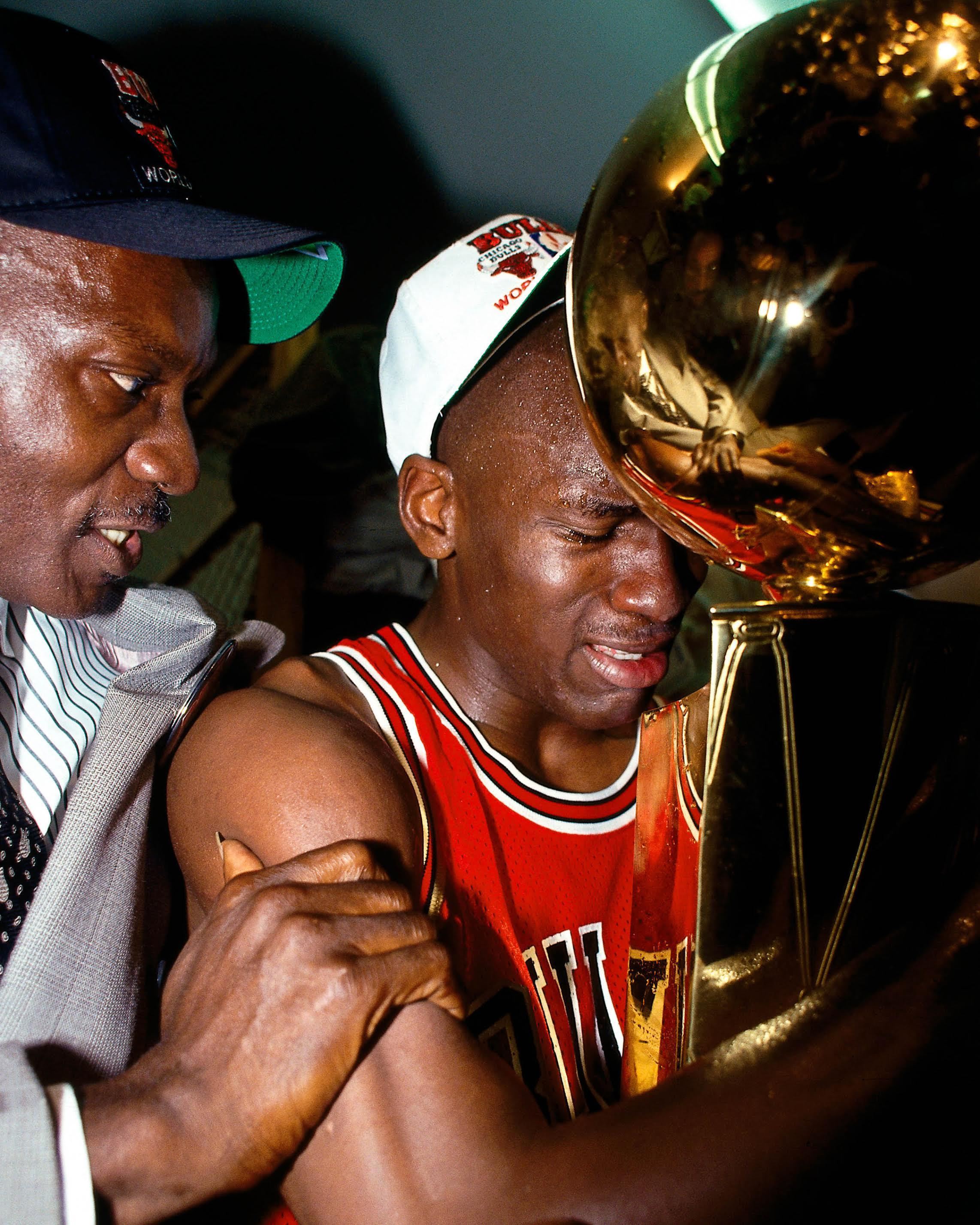 Gambler: What's your favorite sport to shoot?
A. Bernstein: I shoot mostly NBA in terms of volume of different sports I shoot. I have basically shot every sport know to man throughout my career. Coming up I had to build a portfolio of actions sports in order to get hired and make a name for myself. I literally sought out sports that I knew nothing about. If I was fascinated with that particular sport or just needed it to round out my portfolio then I would capture it…So I shot rugby and rhythmic gymnastics and horse racing and all kinds of stuff I was never exposed to. Soccer was actually my first job, I was team photographer for the local LA soccer team. I knew nothing about soccer. I didn't grow up knowing the rules of it.
I also spent a lot of time shooting college and pro football in LA. Obviously back then we had two great college teams in UCLA and USC and two football teams for a long time with the Raiders and Rams. My second passion next to basketball would definitely be hockey. Coming from a hockey-loving family, I actually started shooting hockey before I started shooting basketball when I was still in school back in 1978-79. I still love it and I've been the LA Kings team photographer for over 30 years and to see them win the Stanley Cup not once, but twice in three years was truly an amazing experience. It was so gratifying to see them win on our home ice twice, but the first time in 2012 was just a dream come true.
Gambler: What was The Gretzky Era Like?
A. Bernstein: It was such a gigantic news story not just in sports but news across the world. Gretzky was such a fixture in Edmonton and had won like five Stanley Cups there and everyone thought he was untouchable. Kind of like Mickey Mantle or somebody you'd never imagine playing for another team and here he was holding up a Kings jersey at a gigantic press conference and that was cool. It was a moment in time that will always stand up as a historic moment not just in LA or hockey history but in sports history and changed the landscape of the sport.
Gretzky significantly and single-handedly was responsible for bringing hockey to the West Coast and opening up the sport to people in geographic areas who had never been exposed to professional hockey at all. It's amazing to me that one person could of accomplished that but he did. Wayne is a tremendous guy with an incredible personality. The kind of guy that when your'e in the room with him or he's on the ice, all eyes go to him and he deserves it because his body of work speaks for itself to say the least. I'm just grateful and thrilled to have been able to chronicle his years in LA and that will always be a great memory and accomplishment for me.
Gambler: Magic, Michael or Kobe ?
A. Bernstein: Well those are three distinctly different personalities. Magic, his gregariousness and love for the game, the way he could light up a room or an arena and his competitive nature made him who he was and who he is. Michael had more of a killer instinct personality. All three are on the same level as far as competitiveness. I don't think you can say one guy was the more proven winner or wanted it more than the other guy. They are interchangeable there. But I think their singular personalities are so different. When Kobe came along people liked to compare him to Jordan because he's very much the same as Jordan in terms of his drive, ambition and killer instinct, but he established himself as an individual and did so early enough that…yes the comparisons will always be there because the media likes to compare one great to the other…It keeps the conversation going. But Kobe has always been his own man and of the three of them he probably stands out as the most competitively dynamic personality and I think he's proven that over the years.
Gambler: How has sports photography and photojournalism changed over the course of your four-decade career ? What's the key to your longevity?
A. Bernstein: The biggest change I've seen in the digital revolution has been basically the instant gratification of being able to see your photos as they happen. In the old days we would have to wait for the film to get processed and if it was an All-Star game or Finals we'd have to find a lab that would stay open for us all night and stay there at the lab and watch the film as it came out and it would be hours and hours after you took the picture that you actually see what you shot. Now, literally it happens in the moment.
For instance during this NBA Finals that we just shot, my cameras are tethered in by an internet wire to a network that enables my editor to actually see the photos as I shoot them. So he's able to then see them, edit them, make selections, crop, caption, whatever he has to do and those are sent immediately to Getty Images, which gets them up for the world to see in a matter of minutes. That's the biggest change. Technology wise of course cameras have changed quite a bit, but the creativity and way I approach my craft has not changed since Day 1 — film or digital.
Gambler: Talk about your new cable series on Lakers Network, Through The Lense
A. Bernstein: I'm fortunate to have this platform to discuss my 30 plus years of Lakers photography with a Lakers personality on a show that I host which is on Times Warner SportsNet. It's been really fun. I've never done any work in front of the camera before. Its basically a conversation. I sit with a Laker personality, whether it be Phil, Jeanie Buss, James Worthy, Byron Scott or trainer Gary Vitti… whoever it is…and we talk about Lakers history through my photos. The photos are used as more of a conversation piece rather than talking about a specific photo. It's more of a lead into a conversation about the era or that particular team or matchups, etc. The response has been great by the public. Its a very unique concept that isn't done anywhere else so I'm grateful to the Lakers and Time Warner network.
Therein lies the mastery and imaginative qualities of photography. SB Nation's Andrew Sharp explained the difference between video and photographs perfectly in his 2012 piece on Bernstein entitled, "Meet The Man Who Makes The NBA Look Cool":
"With old highlights, you can recall games or plays, but that's it. The video IS the memory. With photos, you get a snapshot, then create your memories around it. It's not certain plays that get us hooked; it's those memories that come with 'em and stick with us for years to come. Photos bring all those back."
The response has been great by the public. Its a very unique concept that isn't done anywhere else so I'm grateful to the Lakers and Time Warner network.
RAPID FIRE ROUND WITH THE G.O.A.T. OF NBA PHOTOJOURNALISM
Gambler: Athlete you most admire?
A. Bernstein: Magic and I basically started at the same time. He and I became very quick friends and I really got a lot of self confidence and was able to build my resume and my portfolio through working with him not only on the court but off the court with his family and various commercial things I shot with him. Magic and I are still great friends. I admire him as a person, as a father and as an entrepreneur. Hes one of the building blocks of the league as we know it now and a great ambassador across the board for baseball and basketball. I think w'ere lucky to have Magic. The fact that hes overcome so much and he's healthy…he's there as a real beacon and what an amazing person he is. I'm just happy to have lived in his world for a long time and i still admire him greatly.
Gambler: What did you do when you found out that Micheal Jordan was quitting basketball to play baseball in 1994?
A. Bernstein: The first thing I thought of was I needed to get photos of him playing baseball because that was going to be unique. So I went out to Scottsdale, Arizona and actually shot him in a winter league game which was interesting seeing Michael in a different world.
Gambler: The Donald Sterling situation?
A. Bernstein: Well I knew Mr. Sterling since the Clippers moved to LA in 1984. Mr. Sterling was a character and a unique kind of personality. It was unfortunate what came down, but the fact that the team and city was resilient and moved past it is a testament to not only Doc Rivers and his leadership but also to a lot of my friends who stayed with the Clippers and are still employees there. Its a new era in LA without a doubt with Mr. (Steve) Ballmer now owning the team. I think w'eve all come through that and its kind of in the rear view mirror now.
Gambler: Favorite subject to shoot?
A. Bernstein: Kareem Abdul-Jabbar was always one of my favorites and a most interesting subject. When it came to the artistry involved in photography, capturing Kareem in full mode of launching that hook shot was always a challenge.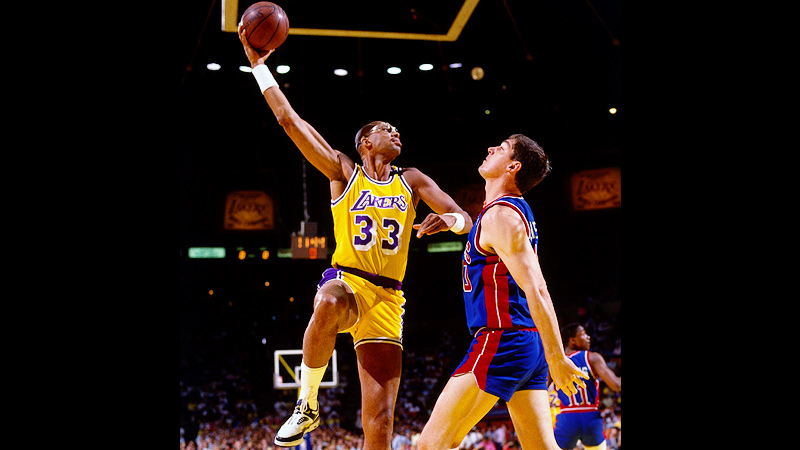 I had a lot of fun shooting Oscar De La Hoya outside of the ring. Early in his career, I met Oscar during the 92′ Olympics when some of the NBA guys would go watch him box on his way to winning a gold medal. Oscar was a great subject and I loved working with him in those days. I did his first professional fashion shoot outside the ring, where he was in street clothes and we did it in the studio. He was terrific. He got it. He took direction well. It was fun for him. He wasn't a primadonna in any way. I really didn't know what to expect when he came into the studio and I was pleasantly surprised when he was willing to do anything and try anything. Afterwards he was very gracious and appreciative and that's the kind of athlete I've always liked to work with.
**ALL PHOTOS BY ANDREW D. BERNSTEIN