As we celebrate Black Music Month here in our Madison Avenue offices at The Shadow League, we bring you the six key breakdowns to tonight's critical Game 6 of the NBA Finals between the Golden State Warriors and the Cleveland Cavaliers.
***
The Golden State Warriors, despite the otherworldly performances of LeBron James and Kyrie Irving in Game 5's 112-97 Cavs victory, still lead the 2016 NBA Finals 3-2, with a chance to close out the series and win the championship for the second consecutive year on Cleveland's home court.
If the Cavs needed any motivation heading into tonight's do-or-die Game 6, they got it in the form of Draymond Green's honesty. Suspended for the previous game after a tussle with LeBron that resulted in his fourth flagrant point of the postseason when he was assessed a retroactive Flagrant-1 for his swipe at King James' restricted area, Draymond said that had he played in Game 5, the Warriors would still be popping champagne.
We'll soon find out if he's about to learn a hard-earned lesson about not awakening a sleeping bear, or if he's speaking the truth, the whole truth and nothing but the truth.
While Golden State is trying to pull off the rare accomplishment of capturing back-to-back titles, Cleveland is trying to do something that's never been done before, and that's come back after being down three games to one and having to win three games in a row to close out an NBA Finals championship run.
Here are the six keys to watch in tonight's pivotal Game 6.
1. GET AT ME DOG!
Throughout his postseason career, LeBron has faced elimination 16 times. In each of those games, he's scored at least 20 points. The convenient, lazy narrative is that LeBron comes up small at the biggest moments.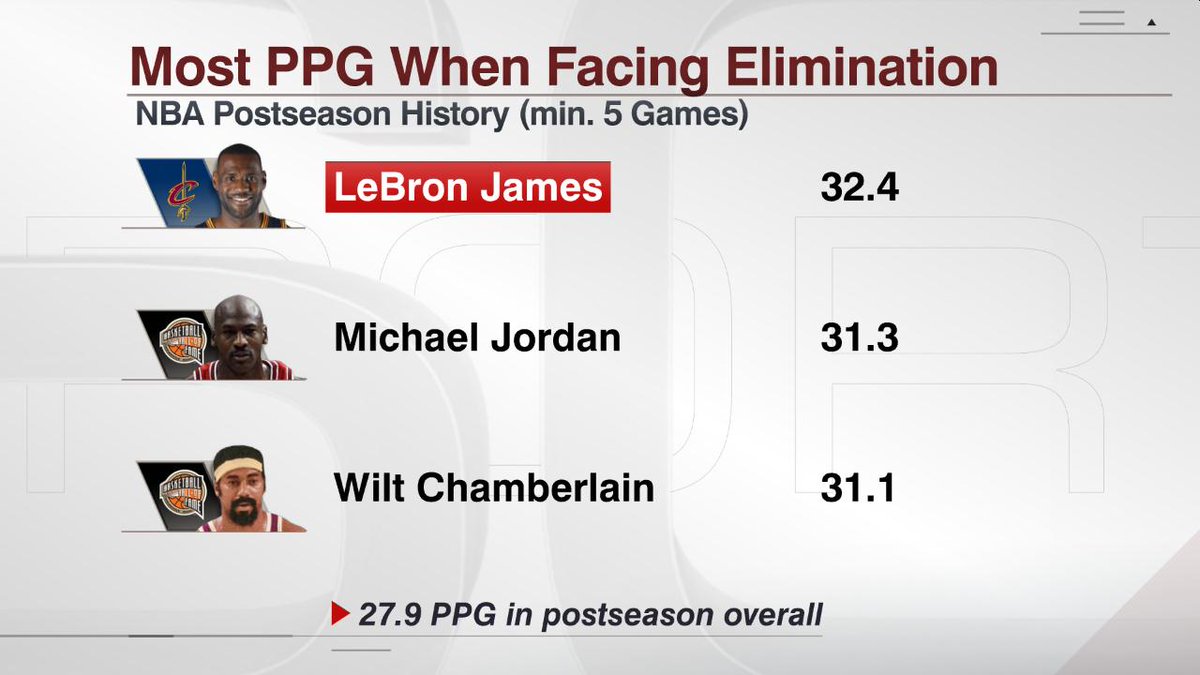 But a preponderance of the evidence proves that misinformed hypothesis to be sillier than O.J. Simpson thinking that he had transcended race.
Rather than shrink when his back is against the wall, LeBron is averaging 32.4 points, 11 rebounds and 6.6 assists in those moments while shooting nearly 47 percent.
The most recent addition to that resume was Game 5's win on the road, where he put up 41 points, 16 rebounds, seven assists, three steals and three blocks in the victory. And despite last year's loss in Game 6, he had 32 points, 18 rebounds and nine assists while fighting until the very end.
Your team might beat his, but when the chips are on the line, LeBron plays his best, walking into the tip-off circle, barking, "Get at me dog!"
2. I'LL BE GOOD!
For some reason, Steph Curry gets a pass for his sub-par Finals performances. If his name was, oh I don't know, let's say, LeBron Curry, his nickname would be something like "Curry Goat!" He has 22 turnovers in this series and only 23 assists.
Only three people in the illustrious history of the league – Bill Russell, Michael Jordan and, well yes, the inexplicably vilified LeBron James – have won NBA titles and regular-season MVP awards in consecutive seasons. Curry has a chance to be the fourth.
(Photo Credit: USA Today)
We're still waiting for his signature Finals moment, though. He woke up and played some decent ball in the last two games, but in Games 1-3 of this series, he looked more like Ronald Curry than the most unguardable player in the league over the last two years.
Kyrie Irving has taken his lunch money, and the title as the most unguardable player in the 2016 Finals thus far, though.
Steph needs to let everybody in his locker room know tonight, "I'll be good." And then he needs to come out blazing.
3. LOVE IS THE MESSAGE!
My esteemed Shadow League colleague J.R. Gamble lays it all out in today's column: Kevin Love Needs To Show Out In Game 6 of the NBA Finals.
(Photo Credit: USA Today)
"With all the talk about LeBron James and his ever-evolving legacy," Gamble writes, "Kyrie Irving and his ascension to greatness and the recent struggles of Draymond Green and The Splash Brothers, if Cleveland is to come back from 3-2 to win this NBA Finals, Kevin Love will have to get his head out of the clouds of mediocrity, get on his Kyrie Irving and have an impactful Game 6. By impact I mean a career game at the most crucial moments. A performance that dispels any criticism about Loves heart and clutch ability…"
4. PUT YOUR HANDS WHERE MY EYES CAN SEE!
Draymond Green will be back from suspension, but if his hands continue to veer toward the smash and grab, he'll be around shorter than Luniz after "I Got 5 On It." Despite having to miss Game 5, his suspension did not reset the clock of his flagrant foul points total.
(Photo Credit: USA Today)
If Green commits a Flagrant 1 foul tonight, he'll automatically be suspended for the winner-take-all Game 7. He also has five technical fouls for the playoffs and if he has a mental breakdown and gets two tonight, he's gone for the rest of the series as well.
5. YOU ARE IN MY SYSTEM!
The Cavs have been exceptional within the friendly confines of their home system, playing their best ball while in Cleveland during these playoffs. They are 8-1 at The Q during the 2016 postseason, outscoring opponents by an average of 18.4 points while hitting 50% of their shots, including a Warriors-like 44% from deep.
(Photo Credit: USA Today)
On the defensive side of the ball, they have limited the opposition to a combined field goal percentage of 42%.
6. BOUNCE, ROCK, SKATE!
Kyrie Irving, aka Uncle Drew, has been skating through and around the Warriors exceptional defense ever since his underwhelming performances in the opening two games of this series. Since then, he's eclipsed the 30-point plateau three straight games. No one in this series has a higher scoring average in this years NBA Finals than Kyrie, who's pumping in 28 points per game.
After liquidating the league's back-to-back MVP into nothing more than some Curry reduction sauce with his career-high 41 points while connecting on 71% of his shots in Game 5, it's very clear that in order for the Cavs to have any hope of winning this game, and a Game 7 in Oakland, Irving will have to continue to be Isiah-esque.
(Photo Credit: USA Today)
The only other player to score at least 40 points while shooting that insane type of percentage was Wilt Chamberlain back in 1970. To expect him to duplicate that performance seems like a little much.
The Game 5 combo of LeBron's 41 points, 16 rebounds, seven assists, three steals and three blocks, along with Kyrie's 41 points and six assists was insane.
The first teammates in NBA Finals history to score 40 points apiece, the two of them scored or assisted on 97 points, which matched the entire offensive output of Golden State as a team. They'll have to bounce back and rock out like that again if they want to stay alive.
James and Irving are like R2-D2 and C-3P0, they're Cleveland's only hope.