Tom Brady hasnt said much about the player protests and the tug of war and honor between Donald Trump, NFL owners and the predominantly African-American NFL players. Brady is a respected voice and probably the greatest individual player of his generation and while there have been a handful of white players who have spoken out against the way Colin Kaepernick and the purpose of him taking a knee has been swallowed up by racism, corporate greed and a Nutty Professor President, hearing Brady's thoughts on the hellstorm thats brewing around him is monumental.
In a "SuperSoul" interview that will air at 11 a.m. Sunday on OWN, Brady told Oprah Winfrey that I think there were a lot of really good, healthy conversations coming out of it in our locker room.
Brady revealed that coach Bill Belichick and the team met on several occasions on how to handle the situation.
I respect why people are doing what theyre doing…I thought it was great, Brady said, in reference to the NFL protests.
Here is video of the majority of Texans players kneeling during the National Anthem. https://t.co/RnrsgaFO1k
At the Sept. 24 game against the Texans, some players took a knee while Brady and others chose to stand and lock arms. He appeased both sides of the fence and displayed a non-offensive, intellectual grasp of the situation.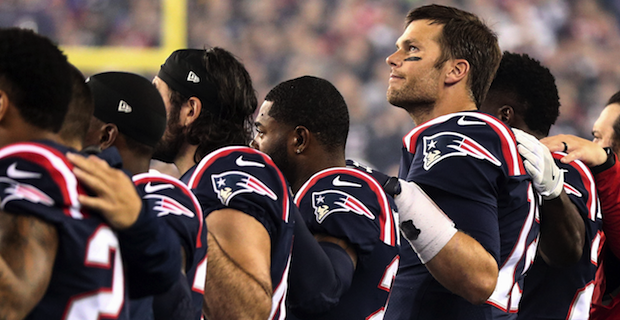 (Credit: Getty Images)
Brady also opens up to Oprah about his relationship with wife Gisele Bundchen and family life, but it was most interesting to hear him say he thought the protests were great. A few eyebrows are sure to rise with that comment.
Did Tom Brady say anything interesting in his sit-down interview with Oprah Winfrey? We'll find out this weekend when Oprah's "SuperSoul Sunday" airs at 11 a.m. on OWN. https://t.co/qDpGoi3SPQ
Brady is a Trump "friend" and supporter who represents the stereotypical image of the All-American white male with all of the privileges that stature entails. At the same time, he has developed a camaraderie and brotherhood and mutual respect with the African-American players that have helped him win those five Super Bowls and hes not blind to the disparities in opportunity for Blacks in the NFLs head coaching roles and front offices as well as in leadership and power positions across the country.
Hes sympathetic to their plight and it seems he will support his brothers in battle in any way possible during the turbulent times ahead. Hes just not going to be tweeting disparaging comments at Trump or denouncing the players for their decisions to protest against and bring attention to social injustice and police brutality.