---
The San Antonio Spurs retired Tim Duncan's #21 in July of 2016, making him the eighth Spur in franchise history to have his jersey retired, alongside franschise greats like George "The Iceman" Gervin (44), David "The Admiral" Robinson (50), Sean Elliott (32), James Silas (13), Avery Johnson (6), Bruce Bowen (12) and Johnny Moore (00). 
Duncan, Tony Parker and Manu Ginobili combined to win 126 career playoff games, the most in NBA history by any trio. In addition, at the time of Duncan's retirement, they also own the most regular-season wins in NBA history (575) and are the first set of three teammates or more to win four championships together since Magic Johnson, Kareem Abdul-Jabbar and Michael Cooper.
Duncan is the franchise's all-time leader in points (26,496), rebounds (15,091), blocked shots (3,020) and games played (1,392) and is also the owner of two regular-season MVP awards and two Finals MVP's. 
On Saturday, he was inducted into the Hall of Fame (along with Kobe & KG) in what's arguably the most elite class in NBA history. Duncan is one of the greatest players in the illustrious history of our beautiful game – a five-time champion, two-time MVP, three-time Finals MVP and 15-time All-Star.
"I don't even want to talk about rebounds, points and all that sort of thing," Spurs head coach Gregg Popovich said during Duncan's retirement ceremony six years ago. 
"This individual made it possible for everybody we brought in throughout the years to be a part of this culture and be a part of this program. As everybody said: His empathy, his ability to make people welcome, and lead quietly, but with dignity and gravitas, made him special beyond most anybody that you could imagine. This is the most important comment that I can make about Tim Duncan: I can honestly say to Mr. and Mrs. Duncan, who have passed, that that man right there is exactly the same person now as he was when he walked in the door."
In honor of Tim Duncan's HOF induction, let's rewind a story The Shadow League wrote about him upon retirement. 
***
If there's one word that comes to mind that could encapsulate who Tim Duncan was, and what he accomplished, it would be consistency. He elevated a franchise to a level of consistent excellence that is the Gold Standard in modern day sports. His San Antonio Spurs teams, with the exception of the '99 lockout season, won at least 50 games every year of his career. Just let that sink in for a second.
I could never have a serious conversation with someone who said that Tim Duncan was boring. Basketball's true aficionados will enlighten you on how breathtaking his game really was.
As an NBA rookie, Duncan grabbed 22 boards in his first game against Dennis Rodman. After hitting Charles Barkley up with his arsenal of simple but effective low-post moves and array of pump fakes, spins, up-and-unders and mid-range bank shots, along with some tough rebounding and defense, Sir Charles was moved to say, "I have seen the future and he wears number 21."
But to start there would be the wrong place to begin.
In order to fully appreciate the essence of Timothy Theodore Duncan, we must go back to the beginning, before the five NBA titles, before the brilliant 19-year pro career, even before his inauspicious debut at Wake Forest.
Because if it weren't for a destructive tropical storm in 1989, the legend might never have flourished, and the name Tim Duncan might have remained hidden under a cloak of obscurity forever. The wrath of Hurricane Hugo had one positive outcome, it flung Duncan into the welcoming arms of basketball.
Prior to that, he was a 13-year-old competitive swimmer dripping with Olympic potential in the 50-meter, 100-meter and 400-meter freestyle events. His sister Tricia was a world class athlete in her own right, who swam the 100-and 200-meter backstroke at the 1988 Olympic Games.
"Timmy was even better than me," Tricia told Sports Illustrated's Tim Crothers in 1994. "There is no doubt in my mind that he would have gone to the 1992 Olympics and held his own against the world."
His mother, Ione, was his biggest fan, often sitting poolside, holding a stopwatch and offering encouragement. A nurse/midwife who provided prenatal and postpartum care to expectant mothers, Ione re-arranged her work schedule so she could support her childrens activities, often working the 11p.m.-7a.m. shift.
Shed instilled in her offspring the mantra that would come to define Timmys internal drive.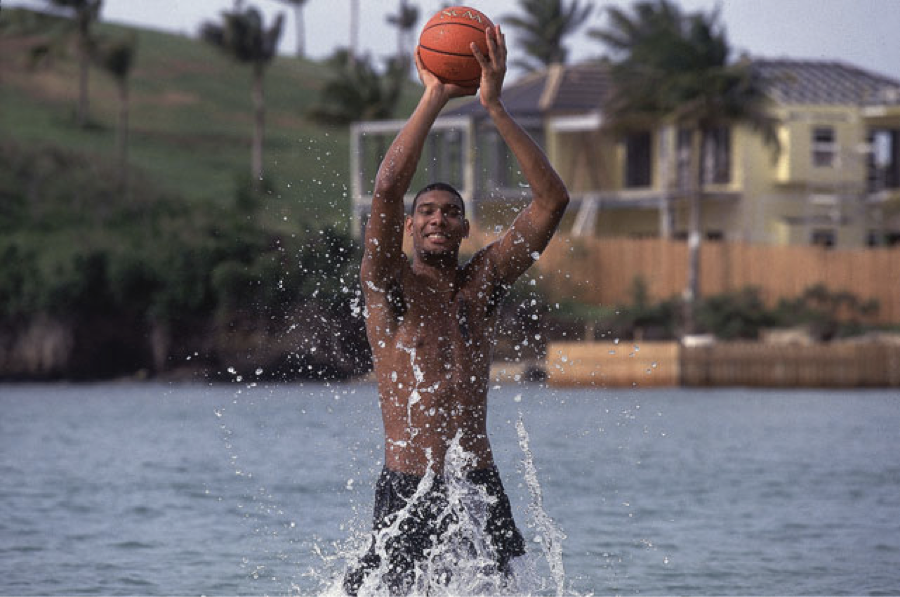 "Good, better, best. Never let it rest. Until your good is better, and your better is best," were the Duncan family words to live by. And she extracted a promise from all of her children, that they would all finish their college degree requirements.
On the day before Tims fourteenth birthday, his mom transitioned into the spiritual essence after succumbing to a brief battle with breast cancer. When Hurricane Hugo ravaged St. Croix, destroying the lone Olympic-sized pool that Duncan had trained at, he swam with his teammates in the ocean to keep sharp. But after his mom passed, he began to lose interest in swimming.
The hurricane broke Tim's routine by taking away our pool, Tricia said in SI. Then when Mom passed, he lost his motivation.
He gravitated toward the backboard that was attached to a pole right outside of his front door. His older sister, Cheryl, had given it to him as a Christmas present. His pops, a mason by trade, had secured it so firmly in the ground that even Hugos vicious stealth could not remove it from its foundation.
Cheryl moved back home to the Virgin Islands, from Ohio, after her mom died. Her husband, Ricky Lowery, a former D-III basketball player at Capital University in Ohio, would often grab his young, gangly, brother-in-law and say, Timmy, lets shoot a few.
Tim embarked on his hoops apprenticeship in games of one-on-one at his outdoor hoop. Lowery taught the 6-foot, 14-year-old Duncan the guard game and perimeter skills from the outset. Timmy was by no means a dominant force from the jump. But he became a fixture on the islands outdoor courts, slowly picking up the pieces to the games mental puzzle.
"I remember thinking that after basketball season ended, Id go back to swimming," Duncan told SI's Crothers. But then basketball season never ended.
An eight-inch growth spurt in high school transformed him into one of the tallest men on the island. He starred as a senior at St. Dunstans Episcopal High School, averaging 25 points per game, while incorporating his perimeter skills into the subtle, yet intricate manifestations of post play.
Because of where he played his high school ball and the lack of elite prep competition on the island, only Wake Forest, Providence, Hartford and Delaware State had shown an interest in offering him a scholarship. Wake Forest coach Dave Odom went after Duncan harder than any other college coach. His prescience came from a scouting report that former Demon Deacon Chris King assembled when had toured St. Croix with an NBA rookie team.
King told Odom that Duncan, then a 16-year-old high school senior, held his own against former Georgetown great, and man amongst men in the combat zone of the paint, Alonzo Mourning.
When Timmy came here, I heard stories from our coaches that he was a project, teammate Randolph Childress told SI, recalling his first impression of Duncan. So one day I walk into the gym and see this tall guy who grabs a rebound, puts the ball between his legs, dribbles coast to coast and slams. I went to see our coaches, and I told them, Hey, theres a tall kid in the gym doing some incredible things, and if hes not Tim Duncan you better recruit him fast.
Wake had actually planned to redshirt Timmy, who was a 17-year-old freshman. They thought hed need a year of seasoning in practice to get ready for the ACC. But when Makhtar Ndiaye, a big man from Senegal, was ruled ineligible, Odom had no choice but get Duncan on the court.
(Photo Credit: pinterest.com)
Take a quick mental flashback to the mid-90s, a fantastic time for college hoops, when Georgetown's Allen Iverson, UCONNs Ray Allen, St. Johns Felipe Lopez, Penn's Jerome Allen, Syracuses Lawrence Moten aka Poetry in Motion, UMASS' Marcus Camby, Villanova's Kerry Kittles, Arkansas Corliss Williamson, Michigans Jalen Rose and Juwan Howard, Kansas Paul Pierce and Jacque Vaughn, Georgia Techs Stephon Marbury, Cals Jason Kidd and Shareef Abdur-Rahim, UCLA's Ed OBannon, Arizona's Mike Bibby and quite possibly the greatest college hoops team of all time, the '96 Kentucky Wildcats aka The Untouchables were in full effect.
Wake was supposed to have a down year after losing the wondrous talents of big man and lefty shooter supreme, Rodney Rogers. But Timmy and Childress surprisingly led Wake to a 20-win season.
It only took 51 games for Duncan to set the school record for blocked shots. As a sophomore, he led the Demon Deacons to the ACC Tournament championship. In the ensuing NCAA tourney, he dominated Bryant Big Country Reeves with 22 rebounds, 12 points and eight blocks in Wakes narrow Sweet Sixteen loss to Oklahoma State.
After his superb sophomore year, where he averaged 16.8 points and 12.5 rebounds per game, the ACCs other elite second-year studs Marylands Joe Smith and North Carolinas Jerry Stackhouse and Rasheed Wallace made the jump to the pros. They were among the top four picks in the draft. And the consensus was that had he come out, Duncan would have been the #1 overall pick.
As a junior in 95-96, he put up 19.1 points and 12.3 rebounds per game and repeated his reign as the ACC Defensive and overall Player of the Year while spearheading a run to the Elite Eight.
During his final year, he posted 20.8 points, 14.7 rebounds and 3.2 assists per game while shooting 61% from the field. He won the Defensive Player of the Year for an unprecedented third straight season. He added another first-team All-American nod, a psychology degree, and the universal recognition as one of the college games greatest players. EVER!
Duncan was also the first player in NCAA history to reach 1,500 points, 1,000 rebounds, 400 blocked shots and 200 assists. Just let that one marinate for a second.
Throughout compiling his first-ballot Hall of Fame credentials, he has maintained the same mild-mannered, quiet elegance that he exhibited back at Wake Forest. Its easy to appreciate the majesty of some of the games greatest players, guys like Dr. J, Michael Jordan, Kobe Bryant and LeBron James.
But savoring the genius of Tim Duncan takes a little more of a concerted effort.
Since the minute of Timmy's pro arrival, the San Antonio Spurs contended for championships. He just went about his business of winning titles and MVPs, putting together a scrumptious resume behind a stunning, vicious arsenal of skills that was remarkably nutritious in its simplicity.
He didn't touch a ball with earnestness until he was a sophomore in high school, was nowhere to be found on the recruiting rankings, and incubated in a remote outpost that was far from a basketball hotbed. And he went on to become the greatest power forward of all time.
His career accomplishments and legacy are irreproachable, and it started with a mother who insisted he give his all to anything he did.
"Good, better, best. Never let it rest. Until your good is better, and your better is best."
Thanks for the memories, Timmay. And it wasn't just the Spurs, it was the entire game of basketball that was better because of you.