In a previous piece entitled Breaking Down The Definition Of An NBA Big Three Versus Super Teams, NBA hoops guru Champ (@Champsportsguru), Stephen A. Smith's go-to guy on a plethora of NBA basketball issues, broke down the definition of a Super Team and how Super Teams by definition were started by LeBron James going to Miami after a very successful run in Cleveland.
It signified a tremendous philosophical shift in the way NBA players handled their limited free agent opportunities.
During this pow wow, Champ and myself elaborate on why Super Teams have destroyed competition in the NBA.
In 2003, Dwyane Wade, Chris Bosh and LeBron James came out of the same draft. LeBron went No. 1 to Cleveland, Bosh went No. 4 to Toronto and Wade went one pick later to the Miami Heat.
When these three Top 5 players all came together in their prime with the Heat, they crippled the competition. Then they go and add Ray Allen, who had also been an Alpha male and the go-to guy on his past teams.
Let me tell you how suspect LeBron James resume is over the last couple of years. Lets put this in perspective.
After the 2010 season, James had won back-to-back MVP's and his Cleveland Cavs team had the best record in basketball, winning over 60 games in the 2008-09 and 2009-10 seasons. Hes the only player to have the best record in basketball two consecutive years for an 82 game season and not win a championship. In fact, he didn't even make the Finals in those seasons, but he did in '06-'07. So that Cleveland team was as good a contender as anybody.
But then, instead of trying to keep building and getting over the hump like so many greats before him, he leaves that team and goes to Miami where Wade had been the man since he came into the league. Wade made the playoffs in his rookie season with the Heat and had an NBA Championship already at this point. Then King James goes and gets Chris Bosh, who trailed only an aging Kevin Garnett as the best power forward in the East.
So you have LeBron and Wade, arguably the best two players at their position and the second best power forward in the East on one team. That cripples Eastern Conference contenders like Toronto, Cleveland and Chicago and makes Miami a Super Team.
They didn't have any legit competition. You had Boston who was on their last legs, because KG wasnt the same anymore after the injury in 2009. Chicago was overhyped with Derrick Rose. The Indiana Pacers were young.
Their first year in Miami, The Super Friends beat Boston 4 games to 1. Everybody blows up Bostons performance in the 2012 season, but LeBron and them were choking. They should have never been down 3-2 to that team.
The NBA is supposed to be the best in the world, and the best players in the world are never supposed to team up and play with each other in real competition.
NEVER!
They are supposed to go head-to-head, against each other and compete to see who's the greatest in their era.
Tim Duncan and Shaq were never supposed to play together.
T-Mac and Kobe were never supposed to play together.
LeBron and Kevin Durant were never supposed to play together.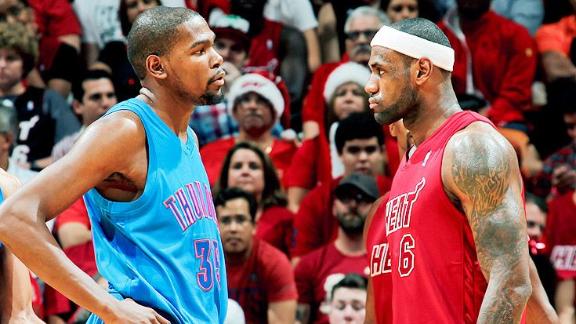 LeBron and Wade were never supposed to play together. But they did.
James, Kyrie Irving and Kevin Love were never supposed to play together. But they are now the NBA's second Super Team created by LeBron James' business of basketball bailouts.
LeBron and Wade destroyed NBA basketball. They took the competition away from the NBA. They gave it an AAU mentality. How can you fault KD for doing something that Lebron and Wade did?
They took the pureness of the game and made it commercial. The narrative became, Let's build a Super Team in the NBA and say who the greatest teams are instead of saying who's more gangster enough to in their prime, to go get a co-star and take a team and win."
When you look at LeBron and his resume, he's one of the greatest of all-time. Everybody wants to praise LeBron's stats and seven straight finals appearances since he created his first Super Team run. But how many championships would Hakeem Olajuwon have had if he chose to do that?
What if Michael Jordan teamed up with Karl Malone and John Stockton? Imagine Jordan leaving Chicago after 96 and teaming with Stockton and Malone. They probably would have gone 82-0.
Imagine if after Kobe lost to the Pistons in 2004 and became a free agent, he signed with the San Antonio Spurs. Kobe might have eight rings. BUT WOULD YOU RESPECT THE RUN OR THE LEGACY?
How can you respect a guy who curved the system to win a championship?
We're not talking football, where schemes win championships or baseball where pitching wins, were talking about offense and defense that everybody plays in basketball. LeBron cheated us.
We dont talk about Stephen Curry or Klay Thompson or Draymond Green being the best player ever. But we do talk about LeBron James and Kevin Durant in that vein. They both chose to sell out to the influence of Nike. They made a business decision and took the competitiveness of basketball out of the equation.