Florence Griffith Joyner is an all-world athlete deserving of the highest praise, reflection and preservation.
So much so that Tiffany Haddish is starring as the Track & Field icon in an upcoming biopic.
Flo Jo's dominance in sports opened up the world to her various talents and her depth as a person. She excelled in the fields of fashion design, acting, writing, sportscasting as well as being a wife and mother. One of her most impressive achievements was her appointment as co-chair of the President's Council on Physical Fitness and Sports.
She was an eloquent spokeswoman who shared her enthusiasm for fitness with the nation.
Her life was one of those made for Hollywood American Dreams. She started at the bottom, in the projects of South Central Los Angeles, raised with the values of independence and individualism.
She eventually became the fastest woman to ever run the 100 meters.
By the time she entered the track game, Joyner was years ahead of her time when it came to conditioning, speed, results, and marketing. She not only captivated people with being incomparably fleet of foot, but she is considered the most stylish athlete in the history of sports.
From her four-inch fingernails to the full-body suits to the "one-leggers" with the left leg cut off, Griffith Joyner was a walking fashionista, setting trends, breaking barriers and raising the bar. Flo Jo's edgy sex appeal combined with some mythical 1988 performances in Indiana (Olympic Trials) and Seoul, Korea set the standard for ultimate dominance and speed in women's track & field.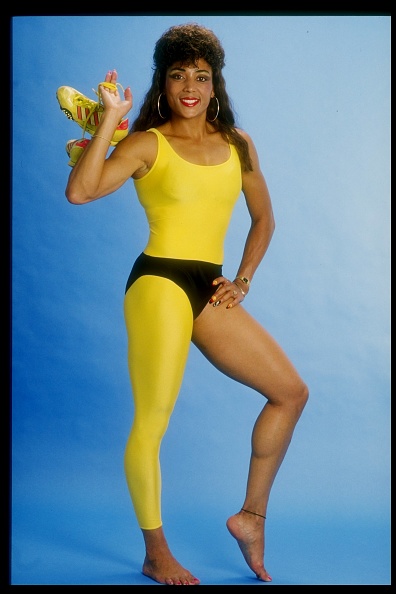 (Photo Credit: Getty Images)
Flo Jo's originality and innovative, self-promoting yet patriotic approach to marketing herself, raised the visibility of women's track & field and further erased the myth that girls who play sports can't be oozing with beauty and feminine qualities.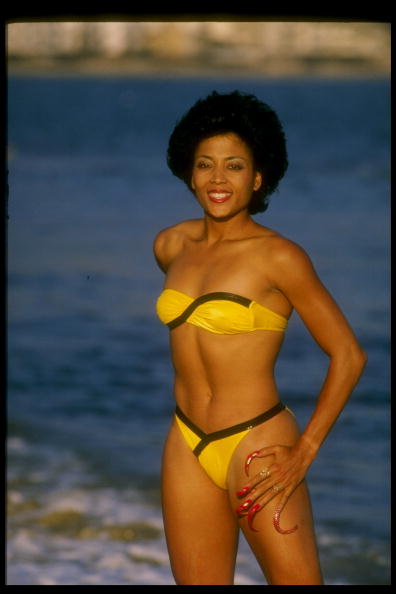 (Photo Credit: Getty Images)
While her popularity helped her transcend athletics and become an American hero, the substance of her track and field excellence exceeded the style at the U.S.Olympic trials on the campus of Indiana University and laid the groundwork for her legendary career.
Griffith Joyner, who failed to make the US team as a 20-year old in 1980, and got a silver in 1984, recorded a remarkable 100 time that has withstood the test of evolution and technology.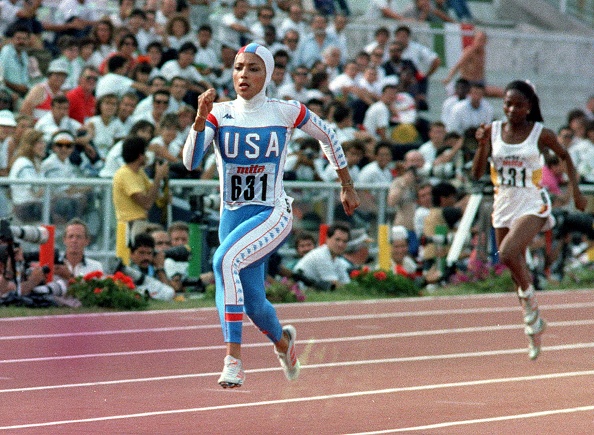 (Photo Credit: Getty Images)
On July 16, 1988, in round one, Griffith Joyner posted a stunning time of 10.60 (wind-aided). Then she blazed a time of 10.49 in the quarters shattering the world record of 10.76 set by Evelyn Ashford four years earlier.
She would go on to have one of the greatest Olympics in history, capturing gold in the 100 and 200 meters as well as the 4×100 meter relay in Seoul.
Flo Jo was the 1988 Associated Press Female Athlete of the Year and was inducted into U.S.A.Track and Field Hall of Fame three years before her unfortunate death in 1998.