Miami – The Astros have already won more games in half a season than they did over a full season in 2011, 2012 and 2013. When Bo Porter was fired in 2014 for clashing with management and posting triple digit losing seasons, his future as a manager went downhill. He was basically the sacrificial lamb. He had to eradicate a losing culture and while doing it, he endured terrible rosters void of superstars as the franchise set up a game plan for the future. Houston also struggled with attendance during those seasons as the rebuild and the losing became unappealing for fans despite the promise of a youth movement on the horizon.
Fast forward to 2017 and the Houston Astros have gone from MLB laughing stocks with a cupboard of talent as bare as a Serena Williams ESPN magazine bodyissue, to a dominant, talent-laden squad with World Series aspirations and more wins in baseball than anybody but the Dodgers, who also have 60 wins. They have already run away with the AL West, leading second-place Texas by 16 games entering the All-Star break.
Now Houston is competing against itself to see how far its band of basebrawlers can take this revival.
Carlos Correa 2016 Astros Highlights .274 BA | .361 OBP | 20 HR | 96 RBI | 153 Games Song: Gold Coast – Nate Good
Honestly, with the talent we have in here, and the way weve played, anything less than getting to the World Series would be a disappointment," Astros baby bomber Carlos Correa said about his team that has arguably the brightest future of any major league franchise, an array of young star power and a deep farm system.
I knew this team would be special, especially after getting the veterans we did in the off-season, you cant help but feel like we have the team to accomplish it. I really believe this can be the year.
Talent and star power are no longer an issue as Houston set a new franchise record for the number of all-stars in one season with six. In other words, the Astros havent been this loaded since the late '90s and early 2000s, when the team finished first in the NL Central four times in five years from 1997-2001.
Maybe it's a coincidence. Maybe firing Porter helped the team. Or maybe that 15-14 finish in Porters last month as manager in August of 2014 was a sign of great things to come because the team won 86 games in 2015 and 84 games in 2016, including a Wild Card win over the Yankees in the playoffs. It was the tip of the iceberg as this season, the youth movement has hit peak performance.
Relief pitcher Chris Devenski was recently named an All-Star and he joins second baseman Jose Altuve, Correa, left-handed pitcher Dallas Keuchel, right-handed pitcher Lance McCullers Jr. and outfielder George Springer in Houstons history making Miami appearance.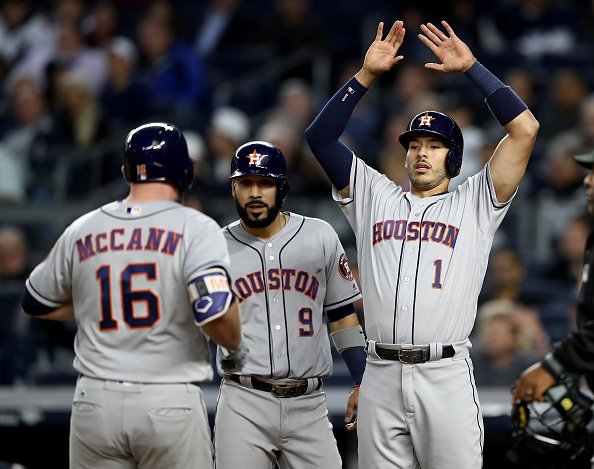 Six All-Stars is a ton for one team and Houston could have had more players named. Utility player Marwin Gonzalez and catcher Brian McCann have both played well enough to garner All-star births, but Im sure all of those guys would prefer a World Series ring and finally some damn respect from MLB fans.
Houston's powerful lineup was on full display on Sunday in a 19-1 pasting of Toronto with home runs from Yuli Gourriel, Jose Altuve, Evan Gattis and a pair from Correa. Altuve and Correa were especially dominant near the top of the order, combining to go 7-for-9 with eight RBIs. The emergence of Correa and George Springer as elite MLB forces and Altuves consistent hitting magic has sparked a new era in Texas.
At just 27 years old, Altuve is a two-time batting champion and the ninth player in MLB history (since 1913) to record three or more hits in five consecutive games, and the first since George Brett in 1976. Correa is just 22 years old and is already considered one of the premier shortstops in the game with an upside higher than a junkie with a five thousand dollar a week habit. Springer played his first full season last year and broke out for 29 homers He already has 27 this season and is the big bopper in the the Astros deadly lineup.
Best of Jose Altuve!
The sign of every great team is the ability to win on the road, and the Astros have been doing that. They are 33-11 away from Minute Maid Park and are averaging seven runs a game on the road.
Houston might be the best team in baseball at the end of the season and theyve never accomplished that in franchise history. The closest they have come is a 2005 World Series loss to the Chicago White Sox.
The young gunning Stros' will be showcasing their dopeness on Tuesday evening at Marlins Park and giving folks a glimpse into baseballs future. Dont be surprised if an Astro wins the All-star game MVP. The pick ya poison crew of baby boomers is rolling over cats like a herd of horses stampeding through the Texas plains.