Name the NBA's top current point guards.
Chris Paul? Indeed, he's the indisputable Numero Uno.
Tony Parker? Yessir.
Russell Westbrook? No question.
Steph Curry? You better believe it.
And when we look back on it a little bit further down the road, we'll point to the 2014 season as the pivotal moment when Washington Wizards point guard John Wall slipped past the velvet rope into the VIP section reserved for the league's elite floor generals.
Despite the fact that the Wizards are in the playoffs for the first time in six years, many casual fans have yet to truly comprehend how Wall has grown from a mercurial force during his one-and-done campaign at the University of Kentucky to where he now stands, at the mere age of 23, as one of the world's best point guards.
Up 2-0 and having won both games on the road in Washington's opening-round series against an always tough Chicago Bulls team, this is Wall's opportunity to dazzle a national audience in the same way that he's astounded fans in the nation's capital who've watched his maturation from talented prospect to elite floor general over the last few years.
You can talk about the fact that he was an All-Star for the first time this year, or that he's raised his three-point shooting percentage from an abysmal 17.2% over the previous two years to a very respectable 35%. You can mention that he's averaging a career-high in scoring as well, but statistical analysis will never fully capture the beauty and essence of who John Wall is as a player.
Even to the untrained eye, the first thing that stands out is the speed. He is literally a blur in the open floor. Not only does he have jets, but he also has length, strength, athleticism, explosiveness, an ability to finish at the rim with both hands, exceptional vision and passing acumen at warp speeds and magnificent ambidextrous ball-handling skills. Combine that with the fact that he is a ferocious defender that possesses an unquantifiable charisma and ability to lead, and it's time that people begin to comprehend that we could be on the precipice of something very special with John Wall.
Early on, he didn't appear destined to get here. As a child, he was consumed by a rage that often manifested itself in violence. Up until the age of eight, he looked forward to his weekend visits with his father, who had been incarcerated for most of his adult life.
When his dad was diagnosed with liver cancer in 1998, he was released from prison early when it became clear that he was terminally ill. Those last few days with his dad were among the most meaningful of his life, as the father and son spent extensive time together outside of the confines of a prison visiting room.
When his father passed away, Wall's response was a frightful descent into physical aggression.
"People had jokes, so I just said 'Forget the jokes, we can fight,'" Wall told the Washington Post's Eric Prisbell in 2010. "I had just so much anger built up. I was mad at everything. I did not trust coaches, people. Anytime somebody told me something, I just said, 'You don't know what you're talking about.' I did not want to believe nobody for some reason. That's just how it was."
When he was 10, a bigger, stronger 14-year-old boy would not move from home plate during a sandlot baseball game when it was Wall's turn to hit. He responded by hitting the older boy in the face with an aluminum bat. He was repeatedly suspended from school due to his fighting and violent outbursts.
Attitude problems dogged him throughout his high school career. Despite being considered one of the top young players in the state of North Carolina, he was cut from the Broughton High School team during his sophomore year.
But after a string of dominating performances on the summer AAU circuit, when the basketball world outside of North Carolina began to see his raw potential, something clicked. While his mom struggled and worried about her son's behavior, working multiple jobs to support her children, Wall decided to take some personal inventory and make some changes.
With the help of some coaches and mentors, although the process did not occur overnight, Wall began to formulate a behavioral change of course and a vision for his future.
"John has changed his demeanor on the court 180 degrees," the Raleigh, N.C. based national hoops recruiting analyst Dave Telep told the New York Times in 2010. "He used to be a very volatile kid and he has matured and grown up and all while that happened, his basketball ability exploded."
That explosion was manifested during his freshman season at the University of Kentucky, where Wall led the Wildcats to a #1 seed in the NCAA Tournament and an appearance in the Elite Eight. Despite being upset by West Virginia and ruining his dreams of an appearance in the Final Four, Wall ending his scintillating season with a sensational 19-point, 9-rebound, 5-assist, 4-steal and 1-block performance.
He went on to become the top overall pick in the 2010 NBA Draft and as a rookie, became the third-youngest player to record a triple-double in league history. In that game, merely his sixth as a pro, against the Houston Rockets, where he put up 19 points, 13 assists, 10 rebounds and six steals, he joined the legendary Magic Johnson as only the second rookie in NBA history to post a triple-double with at least six steals within his first six games.
Now, four years later, he is beginning to translate that immense promise into team success by delivering a playoff birth to a city and franchise that are starving for success and recognition.
If you're beginning to take an extended look at him for the first time in this opening-round series against Chicago, don't simply become enamored with his speed and passing.
Watch his on-ball defense, how he swoops into the passing lanes for steals and his proficiency as a weak-side shot-blocker. On the defensive side of the ball, he's as destructive a perimeter force that the NBA boasts today.
And pay attention to how he motivates his teammates with a competitive fire that cannot be taught, which is a direct result of having channeled the frustration and aggression of his younger days onto the canvas of the basketball court.
Normally, Chicago would have been the team most associated with intensity and toughness in this series. But it's been the Wizards, led by Wall, who have shown a resilience and composure that has been the most surprising story thus far at this early stage of the playoffs.
Last night, Wall and Brad Beal played like the best backcourt in the game, handling the Bulls normally rugged defense with ease. Wall set the early tone with his scoring, rebounding and passing, pushing Washington out to an early 17-point lead.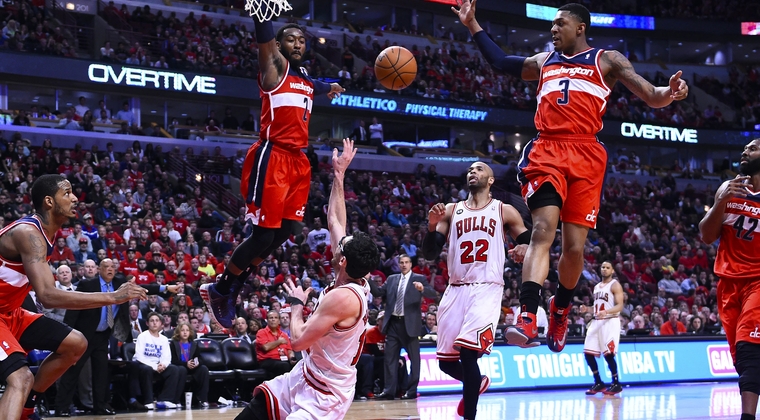 Wall, Beal and the Wizards are Rising
(Photo Credit: USA Today)
But even when they found themselves trailing by 10 in the fourth quarter, the Wizards never seemed rattled as Wall made sure that the ball found Beal, who scored 11 in the period and was hotter than fish grease down the stretch. Beal finished with 26 points.
The series is far from over but their 101-99 overtime win last night , in Chicago, served notice that they are not merely happy with a simple playoff appearance this year. With the Bulls on the ropes and Indiana looking flimsier than a Canal Street Gucci bag, they have a chance to make a deep run towards a meeting with Miami in the Eastern Conference Finals.
And Wall is becoming increasingly dangerous as more talent and a deeper bench is being assembled around him. With the likes of Beal, Nene, Marcin Gortat, Trevor Ariza and 157-year-old Andre Miller, this is the best supporting cast he's had during his four-year pro career.
"I expected him to be one of the best players in the league," John Calipari, Wall's college coach at Kentucky, said in a recent interview with the Washington Post. "There's things that he does that's outside the norm. As this team gets older, as they add talent, you're seeing him shine more."
As a rookie, Wall walked into a Wizards locker room that was flailing in its transition from the exciting but turbulent Gilbert Arenas era. But those difficult days and years of consistent failure no longer define where the franchise is heading.
"He was trying to run a team that was full of young kids," Rashard Lewis, who was one of the few veterans on the Wizards' roster during Wall's rookie season, recently told the Washington Post. "You could tell that he had the eye of the tiger, that he wasn't going to let it deny him. He kept going, kept playing. Each year, he gets better. Not only his game, but his mind. He went to college for one year. So it's almost like going from high school to the pros. You've got to give him room to grow."
That growth is now undeniable. Despite his obvious talent, Wall has always had his share of doubters, like talk-radio idiot Colin Cowherd, whose moronic and acidic rants about Wall have been well-documented. Before the Wizards-Bulls series started, the majority of the media predicted an easy Chicago victory.
But after Game 1, when Washington and Wall came back from a 13-point deficit to win 102-93, and last night's win in overtime, people are beginning to recognize how good the Wizards really are.
And in the process of that revelation, they are beginning to see how unique and valuable their young point guard is, and how he is just beginning to establish himself as a force to be reckoned with for years to come.