Zeta Phi Beta Sorority, Inc. was founded January 16, 1920, at Howard University, Washington, D.C. The five founders envisioned a sorority which would directly affect positive change, chart a course of action for the 1920's and beyond, raise consciousness of their people, encourage the highest standards of scholastic achievement, and foster a greater sense of unity among its members. These women believed that sorority elitism and socializing overshadowed the real mission for progressive organizations and failed to address fully the societal mores, ills, prejudices, and poverty affecting humanity in general and the black community in particular.
The Shadow League is about more than simply Sports and Entertainment, because those two elements intersect with every segment of society. So today, in honor of the dynamic sorority's founder's day, we honor some of the most driven and accomplished women of Zeta Phi Beta.
VIOLETTE NEATLY ANDERSON – Anderson was the first female African-American to graduate from law school in Illinois and the first to practice law in the U.S. District Court Eastern Division. She was also the first female city prosecutor in Chicago.
ZORA NEAL HURSTON Hurston co-founded The Hilltop, Howard University's newspaper, during her undergraduate days on the Washington, D.C. campus. She left Howard in 1924 and was offered a scholarship in 1925 to attend Barnard College at Columbia University, where she was the college's sole black student. A brilliant Anthropologist, her signature work of fiction, "There Eyes Were Watching God," is a timeless literary masterpiece.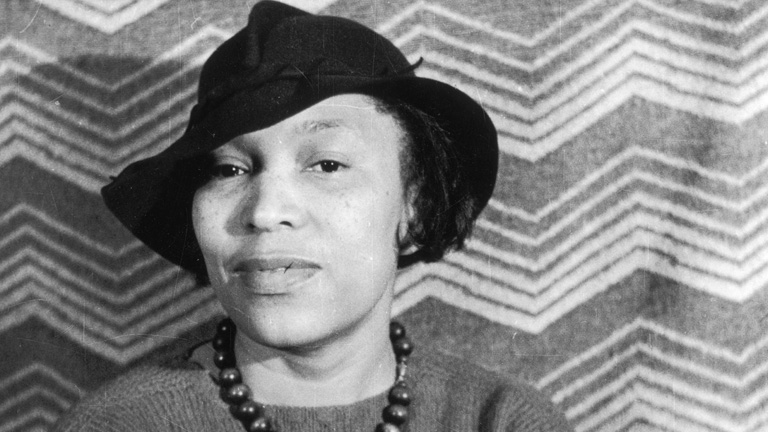 (Photo Credit: biography.com)
MINNIE RIPERTON The mother of hilarious actress Maya Rudolph, Riperton grew up in Chicago and sang backup for legendary Chess Records artists such as Etta James, Bo Diddley, Chuck Berry and Muddy Waters. In 1975, Riperton captivated the country with her timeless #1 hit single, "Lovin' You". Her other classics include "Inside My Love" and "Memory Lane".
She passed away from cancer at the age of 32 and her death remains one of soul music's biggest losses, a true songbird who was taken away just as she soared in her prime.
SHERYL UNDERWOOD Underwood, a comedian, actress and television personality is currently one of the hosts on the daytime chat show The Talk. She has been a contributor on the nationally syndicated Tom Joyner Morning and Steve Harvey Morning Shows. On Tuesday nights, Underwood hosts The Sheryl Underwood Show on Jamie Foxx's Sirius Satellite Radio channel, The Foxxhole.
JANET DUBOIS – Dubois is most noted for her role as the bold and beautiful Willona Woods in the landmark TV series, Good Times. She also composed and sang the theme song, "Movin' On Up", for the hit television show, The Jeffersons. Dubois appeared in the comedy film, I'm Gonna Git You Sucka and her voiceover work has earned her two Emmy's.
(Photo Credit: heytru.com)
She co-founded the Pan African Film & Arts Festival, which showcases global films and fine arts contributions of people of African descent.
ESTHER ROLLE Speaking of Good Times, Rolle is often remembered for playing the matriarch of the Evans family, Florida Evans, but her earlier theater work with Negro Ensemble Company, where she appeared in plays like "The Blacks," "Blues for Mister Charlie," "The Amen Corner," "A Raisin in the Sun" and "A Member of the Wedding," was credible in its own right.
Her film work includes Maya Angelou's I Know Why the Caged Bird Sings, Driving Miss Daisy and Rosewood.
SARAH VAUGHN– Her voice is considered an American treasure. Vauhn was born and raised in Newark, New Jersey and began singing in the church choir when she was little. Her Jazz recordings were inducted into the Grammy Hall of Fame, which is a special Grammy award that honors recordings that have a historical significance to American musical culture.
DIONNE WARWICK In 1974, Warwick, a native of Newark, New Jersey, reached the top of the pop charts with Then Came You, which she had recorded with the legendary Spinners. In 1979, she had another huge hit with I'll Never Love This Way Again. She also hosted the TV show Solid Gold in the early '80s. Due to her songwriting partnerships with Burt Bacharach and Hal David, she is the second-most-charted female vocalist of all time, trailing only Aretha Franklin. One of her biggest international hits, Walk On By, solidified her international stardom back in the early 1960's.
Hers is one of the signature voices, along with Michael Jackson, Diana Ross, and Ray Charles on the multi-Grammy Award winning charity song We Are the World and on the American Foundation for AIDS Research benefit single That's What Friends Are For, alongside Gladys Knight, Elton John and Stevie Wonder.