This is Part II of our feature story on former Syracuse University quarterback and college football Hall of Famer, Don McPherson. You can read Part I here.
FROM REGIONAL PLAYER TO NATIONAL POWER
During summer practices, head coach Dick MacPherson approached his star quarterback and the teams other two captains with an idea. He proposed that they take a pledge to be alcohol-free during the season.
We took this pledge, and then took it to the seniors and later, the rest of the team, McPherson said. This was part of the discipline that we were striving for. We decided to do something that required a little bit of sacrifice off the field. And it made us come together. It also helped out our practices immensely. That season, our practices were incredible. They were so competitive. We were so sharp. I remember thinking, If we play the way were practicing, we cant be beat.
(Photo Credit: syracuse.com)
Syracuse opened the 1987 season with five straight wins and walked into their home matchup with the 10th-ranked Penn State eager to prove that they were one of the countrys best teams. The Nittany Lions had destroyed them the previous year, 42-3.
Most national observers saw the game as a mere formality, as the moment when Syracuse would be exposed as a pretender, rather than a true national contender. After all, they were coming off of a 5-6 year and Penn State was the defending national champions.
On Syracuses first play from scrimmage, McPherson connected with wide receiver Rob Moore for an 80-yard touchdown pass. He threw for 336 yards and two more touchdowns that afternoon. He also ran for two additional scores. The Orangemen raced out to a 41-0 lead before eventually winning 48-21.
It wasnt a surprise to us, said McPherson. After our first few games, we realized that we could beat anybody. Once we felt good about ourselves, it was sweet and downhill from there on out.
It was the first time Syracuse had beaten Penn State in 17 years, and they improved to 6-0, which was the Orangemens best start since the 1959 national championship team went 10-0.
Penn State Head Coach Joe Paterno, after suffering one of the most lopsided defeats of his storied career, walked into the Syracuse locker room afterwards and announced, Youre a great team and this was a great victory. Keep the national championship in the east.
(Photo Credit: syracuse.com)
After the game, when asked about how good he thought Syracuse was, Paterno said, Theyre an awfully fine football team. I think Syracuse is a better football team than Alabama (which defeated Penn State earlier in the year). Syracuse can do everything as long as they keep Don McPherson healthy.
McPhersons profile was no longer restricted to football fans on the east coast as his popularity and sizzling performances exploded onto the national stage. He was being mentioned as the countrys best player and touted as one of the leading candidates for the Heisman Trophy.
Football fans in the South, the Midwest and on the West Coast were just learning that hed led his team in both rushing and passing in 1985 and 1986 before the coaching staff switched exclusively to a pro-style passing attack for his senior year.
Seldom in this age of specialized talent has one team depended so much on one player, wrote Bill Lyon of the Knight-Ridder News Service.
Donnie is the only quarterback in football who could start for both BYU (a passing team) and Oklahoma (a running team), Syracuse offensive assistant coach George DeLeone told the New York Times.
STYLE VERSUS SUBSTANCE
As the national publications flocked to the beautiful upstate New York campus to write stories about the emergence of Syracuse University as a national football power, with a heavy focus on their star quarterback, a portrait began to emerge of a dapper Don McPherson always attending classes attired in a blazer, button up shirt and tie.
I really didnt have an advanced sense of style, said McPherson. I started wearing a shirt and tie back in high school. The narrative Id heard so much was that football or basketball was supposed to be a way for poor black kids to make it out of the ghetto. I went to a predominantly white high school and I didnt want people looking at me like that because I was good at football. I didnt live in the hood. I lived in suburban Long Island and my family had a pool in the backyard.
My father was a police officer and my mom was a nurse, McPherson continued. I wasnt using football to escape some meager existence. I didnt want people to think that I was simply some dumb jock. I really struggled with that.
McPherson continued to abide by his own personal dress code in college. He never wore anything that signified that he played football, unlike most of his teammates who wore their university issued sweat pants, hoodies and turf shoes around campus as a badge of pride, which announced to everyone who saw them that they were on the football team.
He became increasingly uncomfortable with his celebrity status. As the accolades and publicity began pouring in, McPherson became more introspective and cynical with each new milestone that he achieved.
The cynicism flourished because the more successful I became, I noticed that less was expected of me off the field, and that really bothered me, said McPherson. They expected less of me as a person and as a man. This is the problem with the behavior of successful athletes. We dont care if the star player is a good person or a sociopath. People just want him to play ball, to entertain them and theyre not demanding discipline.
78% of players are bankrupt within a few years of leaving the NFL, and thats an indictment on the system of higher education that simply passed them through, he continued. People didnt expect more of them. I received all of that. I saw it every day from everyone around me.
Away from the cheering crowds, probing journalists and prying news cameras, McPherson would often seclude himself in silence, wondering why hed been given his unique talent. He loved to play ball, but his dream growing up never centered on the NFL. He wondered why hed attained celebrity status at such a formative age, when that was something that he never yearned for.
There is a paper that he wrote for a Cultural Psychology course that still occupies a space on his desk at home today. The title is, Violence and Aggression: Same Punch, Different Pay. The impetus was an actual gang fight that took place a few blocks away from a major boxing prize fight. He explored the dichotomy of the two events, where individuals were trying to beat and harm one another, and how one, in isolation, was considered criminal behavior and the other was big business.
So, back then, I was thinking about this cross-section of sports, violence and entertainment, said McPherson. Those discussions were not being had on a larger scale. A lot of that came out of being a kid who was born in 1965 during the civil rights movement, listening to my parents talk about being black in America and how messed up things were. I remember all of that. And when I was at Syracuse, the dichotomy was that I got a pass because I could play ball. It wasnt confusing to me. It was infuriating.
On game days, McPherson would ride with his assistant coaches on the drive over to the Carrier Dome. At one intersection at the top of a hill, a left turn would take you to the stadium. As the car made the turn, he would invariably look toward the right and see a ghetto neighborhood of African-Americans that was called Brick City.
I remember so many times thinking, if I got out of the car right now, Id be seen as just another N***** on the corner, McPherson said. And yet, Im going to this stadium, where Im going to be cheered by a predominantly white audience of 50,000 people. That was never lost on me. People didnt expect less of me because I was black. It was because I was winning football games. I struggled a lot with that.
Most were unaware of his inner reflections as he passed for 4,168 yards and ran for 722 more, accounting for 46 touchdowns during his junior and senior seasons.
Although most saw Syracuse as a one-man franchise, there were other developments that contributed to the Orangemens ascension.
Receivers Tommy Kane, Pat Kelly and Rob Moore snagged everything in their vicinity. The offensive line meshed quickly and were in sync for the entire season. And the young running backs corps of Daryl Johnston, Michael Owens and Robert Drummond proved formidable.
In their final regular season game of his senior year, with their unbeaten record and top-five national ranking in jeopardy, Syracuse trailed West Virginia 31-24 with 1:27 left in the fourth quarter.
I threw four interceptions in that game, said McPherson. It was the worst game I played all season. Before we went out onto the field, I told the offense, You guys carried me this game. My play has been inexcusable. But were gonna get this done right now!
McPherson led them on a seven-play, 74-yard scoring drive that sealed its undefeated season.
On third-and-two with ten seconds left in the game, he hit Pat Kelly with a 17-yard pass in the end zone, a throw that looked like it might be too high until Kelly made a fantastic over-the-shoulder catch while being draped by a Mountaineer defender. The touchdown created pandemonium in the Carrier Dome and brought the score to 31-30, in West Virginias favor.
Instead of going for the tie, Syracuse went for the win as McPherson ran an option left, pitching to halfback Michael Owens who scampered into the end zone for the winning two-point conversion. To many followers of Syracuse football, it is considered one of the most memorable moments in program history.
There was no way I was not going to catch that pass, said Kelly after the game. Donny told me it was coming, and when a player of his caliber shows that much confidence in my abilities, there was no way I was letting him down.
I came into the huddle and told Pat Kelly that I was coming to him because I knew what West Virginia was going to do, said McPherson. Thats why Im always so adamant about preparation. You win with your brain. You win before the ball is even snapped. Thats what that last drive was all about, because physically and mentally, I wasnt there, but preparation-wise, I was.
NEW DAY, SAME STORY
McPherson won the Davey OBrien and Johnny Unitas Awards after the regular season as the nations top quarterback. He also won the Maxwell Award, which is annually given to the College Player of the Year. He came in second in the Heisman voting to Notre Dames Tim Brown.
He was named the Most Outstanding Offensive Player at the Sugar Bowl, where the fourth-ranked Orangemen tied with sixth-ranked Auburn, 13-13. Despite many Syracuse fans being angry at Auburn, who went for the tie in the games closing moments instead of the win, Syracuse finished its first undefeated season since 1959.
As he made the rounds of the senior all-star game circuit prior to the NFL draft, McPherson started hearing similar questions to the ones he heard during his college recruitment.
Will you play defensive back or wide receiver? some pro scouts queried.
It was clear that I was not going to be drafted high as a quarterback, said McPherson. My response was to write a letter that I sent to all 28 NFL teams, which basically said if they didnt have any intentions of playing me as a quarterback, then dont waste a draft pick on me. My agent thought I was crazy, but I told him, Hey, Im a quarterback!
As much as there are black quarterbacks everywhere today, I came out in 1987, when Doug Williams became the first black quarterback to play in the Super Bowl, McPherson continued. That was the climate that I was dealing with.
In addition to dealing with the Black Quarterback issue, many General Managers were less than enthusiastic about a signal caller that stood six feet tall and weighed 180 pounds.
Hes a late first or second round choice as a wide receiver, supposed NFL Draft guru Mel Kiper, Jr. said at the time. The main negative is his size. The prototype NFL quarterback is 6-2 to 6-4, preferably over 200 pounds so he can take punishment. The question I have is size. He has got to get back in the pocket and look over huge linemen.
Kiper seemed to have never heard of guys like Len Dawson, Joe Theisman, Billy Kilmer or Pat Hayden, whod all found success in the NFL despite being 6-feet or shorter.
Gil Brandt, who was then the Chief of Scouting for the Dallas Cowboys, saw beyond the standard, knee-jerk reaction to McPhersons draft evaluation and the corrosive Black and Short combination when he said, Were very interested in him. Hes a winner and a very smart player. His arm is as strong as Joe Montanas.
In the early rounds, on the drafts first day, a head coach called him and said, We got your letter. Everyone here likes you. Youre a character guy and a great athlete. Would you consider contributing in other ways?
McPhersons response was, I appreciate the call. But if you dont think Im better than the guy that you have, dont draft me, because I think I can beat him out. Coach, Im not being arrogant. Im just competitive. Thats what Im going to bring. OK?
Look, I couldnt catch and I wasnt going to be hitting anybody, said McPherson. I wanted to let them know what they were going to be getting. They saw an athlete, but I was simply a quarterback. I wasnt sure what I was going to do after school. Playing in the NFL had never been my dream or my ultimate goal in life. I wanted to play. But if it didnt happen, yeah I was going to be upset, but I refused to compromise who I was.
He was eventually drafted by the Philadelphia Eagles in the sixth round shortly after receiving his Psychology degree from Syracuse. McPherson served as the incredible Randall Cunninghams backup in Philly.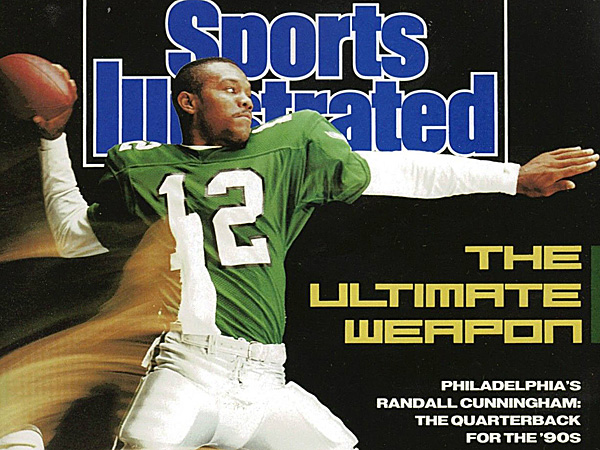 Look, Buddy Ryan brought me in and I sat behind Randall Cunningham, the guy that Sports Illustrated featured on the cover of the magazine under the caption, The Ultimate Weapon, said McPherson. I didnt see the field very much, but the experience was phenomenal and I learned some very valuable life lessons.
Five weeks into his rookie year, as he settled comfortably into his backup role, the Eagles defensive backs coach Jeff Fisher pulled him into his office.
I need you to get more competitive in practice, Fisher told him. Youre kind of hurting us a little bit. Youre not working hard enough. Youre not utilizing your talent to its maximum effectiveness. I want you to push our defense in practice because that is how we are going to get better.
When Jeff Fisher, who was one of the smartest and most intense coaches we had on staff, challenged me, that changed my entire perspective, said McPherson. I realized that I actually had two game days a week against one of the best defenses in the history of the NFL. Every Wednesday and Thursday, we had full pad practices, and those were my game days. Thats how I approached it from there on out and it was a great lesson that I now share with a lot of people.
McPherson spent three years in the NFL with the Eagles and the Houston Oilers and another four in the Canadian Football League with the Hamilton Tiger Cats and the Ottawa Rough Riders. As he walked away from pro football in 1994, after realizing that his heart was no longer in the game, he was struck by the understanding that a significant change was taking place on the sports landscape, how the business was evolving and changing.
My years in pro football were the end of an era, said McPherson. My rookie year, Michael Jordan was just a guy who played for the Chicago Bulls. He went on to become much more than one of the greatest players and corporate pitchmen ever, he usurped the team and became more important than the team. He almost became more important than the entire league. I was uncomfortable with that and didnt feel like that dynamic was necessarily good for society.
Those feelings were punctuated when, while speaking to a group of ten-year-old boys at an elementary school, they peppered him with questions about how much money he made, which he sidestepped like an oncoming rusher in a collapsing pocket.
Man, you aint no football player, one of the kids said dismissively.
What was sad to me was that they had this pro football player in their classroom and thats all they cared about, said McPherson. The money was what legitimized me in their eyes. That made me question how the games were functioning in our lives as a society.
CHALLENGING PERCEPTIONS, BELIEFS AND BEHAVIORS
Fascinated with Dr. Richard Lapchicks work around racism in sports, McPherson moved to Boston immediately after retiring from football and began working at Northeastern Universitys esteemed Center for the Study of Sport in Society.
During his first days there, he was drawn to the work of Jackson Katz, who was studying mens violence against women.
I started looking at the constructs of masculinity and got immersed in the concept, said McPherson. A lot of the things Id been struggling with in college was around my identity as a black man. But I started considering my identity strictly from the vantage point of being a man and realized that my gender had impacted my life more adversely than race. My race was so obvious. But by simply being a man, that was not so obvious.
He began re-thinking why he insisted on wearing a blazer, shirt and tie to class in college. He realized that by walking around with a briefcase, the New York Times and nice clothes, that he was attempting to mask his gender, and not his race as he initially thought.
He told the Wall Street Journal in 2011, "I was in the ultimate guy's guy position, being the star quarterback. But I didn't know what I was doing with girls, I didn't drink, I didn't think only about football, I hated violence. So I deflected not being a typical guy's guy by dressing differently, and drawing attention to the clothes instead of what people would think to be unusual behavior."
The way that power maintains itself is to not be examined, he says today. On college campuses, we have Womens studies programs, Asian Studies, African-American studies, LGBT studies, all these things that fit into The Other category, but everything is administered through a white, male lens. But patriarchy doesnt get examined at all, and therefore it doesnt get challenged.
He began seriously deconstructing the tentacles of masculinity, examining long-held and accepted statements such as, Boys will be boys.
That is the stupidest blanket statement but as a society we dont want to confront that, said McPherson. We dont want to tell the real story, and that its wrong, because what it really means is that boys become men who have power, men who have the power to be stupid and still have power.
Long before the Ray Rice domestic violence incident became the hot-button issue, McPherson was submerged in the study of gender violence.
Whats the worst insult you can hear as a boy? Being compared to a girl, right, McPherson said. You throw like a girl! But that language does a few things. It creates a narrow form of masculinity. To be a man, you have to be tough, strong, dont show your emotions. The rules around being a man are real simple. And thats problematic for a number of reasons, because the other message and the challenge in that statement is that girls are less than.
And thats why theres not only violence against women, but a collective silence that goes with it, because they are universally accepted as less than. Even when we talk about womens experiences, we say things like, She got pregnant. Well, actually, he got her pregnant, but theres no male responsibility there. Well say things like, One in four women will be sexually assaulted, Every 15 seconds a woman is abused, but the way we cite the statistics we leave the male out.
In the violence against women discussion, McPherson is looking to steer the national conversation in another direction. He wants men to start having serious discussions around a healthier and whole version of masculinity. He wants to give the next generation a different kind of masculinity that is non-violent, loving and nurturing.
With the Ray Rice thing, everyone was asking why she stayed, said McPherson. No one was asking why he was ok with being in a relationship where he was being abusive, threatening and controlling. Thats not a loving relationship. But we dont ask that question. And that goes back to the low expectations I experienced when I was a star at Syracuse.
As a man, the better I got in football, the expectations were lowered because I validated other mens desires to just be a dude, he continued. Were telling boys that they need to be a certain type of man while also telling them that girls and women are less. Thats the culture of sports. Its terrible and it needs to change.
He sees so many ways where men need to be better and respond in healthier ways. He doesnt want society to simply demand great football players. He wants them to demand whole men.
HERE AND NOW
Today, Don McPherson is much more than a member of the college football Hall of Fame, and a former player whose jersey, the #9, hangs in the Carrier Dome rafters along with Orangemen greats like John Mackey, Larry Csonka, Floyd Little, Donovan McNabb, Ernie Davis and perhaps the greatest athlete ever, the incomparable Jim Brown.
He is an activist, a feminist, an educator and an entrepreneur who delivers educational seminars, innovative community programs and lectures throughout North America, programs that have reached more than 1 million people. He also serves on the Board of Directors, Advisory Boards and as a Consultant for numerous foundations, corporate organizations and colleges and universities. He is one of the countrys leading educators and advocates for the prevention of violence against women.
Football was his platform, but he never considered himself simply a football player.
Ive never taken things at face value, said McPherson. I always have to look further. I wasnt the first black quarterback. There were many others who opened the door for me. And Im happy that I came along at the time of the sports media explosion where people could see me on a larger scale and I could inspire others. And I tell people all the time, I wasnt even the best player in my own huddle. I was simply the quarterback.
SERIES INTRO – THE BLACK COLLEGE QUARTERBACK
THE UNIVERSITY OF OKLAHOMA'S JAMELLE HOLIEWAY – PART I