This upcoming Sunday, the NBA's 65th All-Star Game will take place on foreign soil, in Toronto's Air Canada Centre.
Leading up to the league's midseason showcase, which features an astounding collection of talent headlined by Steph Curry, LeBron, Russell Westbrook, Kawhi Leonard, KD, Melo, D Wade, and of course, Kobe Bryant in his farewell All-Star appearance, we'll be sharing some of our most memorable reflections and recollections of one of American sports' premier showcases.
***
When Oklahoma City Thunder point guard Russell Westbrook was at UCLA, he showed flashes of his brilliance, but a crowded backcourt of Darren Collison and Aaron Afflallo, with PF Kevin Love in the paint, meant Westbrook had to pick his spots. After averaging only three points per game his freshman year, Westbrook improved to 12.7 points per game his sophomore year, which was capped off by a 22-point performance against future NBA MVP Derrick Rose of Memphis in a Final Four loss in 2008.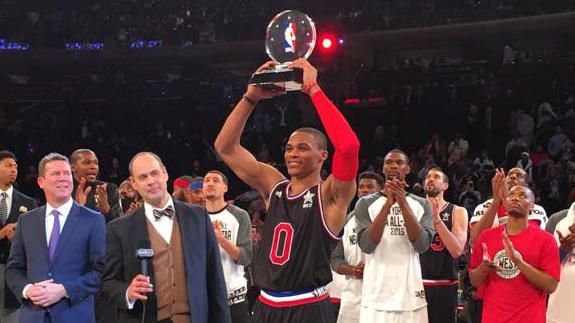 Drafted by the Seattle Supersonics/Oklahoma City Thunder with the fourth overall pick in the 2008 NBA draft, he was explosive and ferocious, but many thought he did not have the head to play point guard in the National Basketball Association citing a high assist-to-turnover ratio, a frenetic playing pace and his unwillingness to get other teammates involved.
He went from averaging 15.3 points per game and 5.3 assists to 28.1 points and 8.6 assists in 2015 last year.
Although Westbrook led the league in scoring, in large part due to teammate Kevin Durant missing a substantial portion of last season, the 2015 NBA All-Star game is where he permanently thrust his name into the conversation of top-five best players in the game. As most all-star games go, the 64th Annual NBA All-Star game started off slow with many players appearing lethargic and somewhat disinterested in the first minutes, but thats not Westbrook.
All he knows is Go!
Nobody could guard him, nobody could slow down him and nobody could match him either. They tried PG John Wall, no. They tried PG Kyle Lowry, no. They tried PG Kyrie Irving, nuh-uh. They tried SG Jimmy Bulter, better luck next time.
He finished with a near All-Star game record of 41 points on 16-28 shooting, including 5-9 from deep. Led by LeBron James 30 points, the East would eventually wake up to challenge this wunderkind of kinetic energy. But it was too little, too late as Westbrook would score eight points in the fourth quarter to seal the deal.
Russ' scoring output was just 1-point shy of Wilt Chamberlains record of 42 points set in the 1962 NBA All-Star game. Whenever youre in a sentence with Wilt for anything other than free throw percentage then youre cooking with uranium! The West would win 163-158 at Madison Square Garden.
We all knew Westbrook was nice, we all knew he was the most explosive point guard to ever play the game, we all knew he was one of the most relentless players in league history. But this game pretty much cinched it.
No longer would he be considered a second fiddle to anyone, including former NBA MVP Kevin Durant. Westbrook has been blindingly and unapologetically brilliant all along, but this is the game that made me see the light.