As we begin the new year, here are some of the dreams sports fans would love to see come to fruition in 2018.
A Reality Show From Derek Jeter.
We knew very few details about Jeters personal exploits when he was Captain of the NY Yankees. And as an owner of the Marlins, people assumed he would be more forthcoming with information and more in the public eye. Instead, Jeter didnt attend baseballs winter meetings, has turned the Marlins into a payroll-slashing garage sale, and is as inaccessible to media and fans as ever.
It would be great if he agreed to do a reality show so once and for all, people's desires to find out more about the mysterious Yankees icon turned Marlins minority owner can be quenched. What does Jeter eat? How does he interact with his wife? What does Jeter talk about when hes not discussing baseball. Does he cuss? Theres so much to learn about a guy who is one of the most popular people in the world. Maybe he will unveil one of his masks in 2018.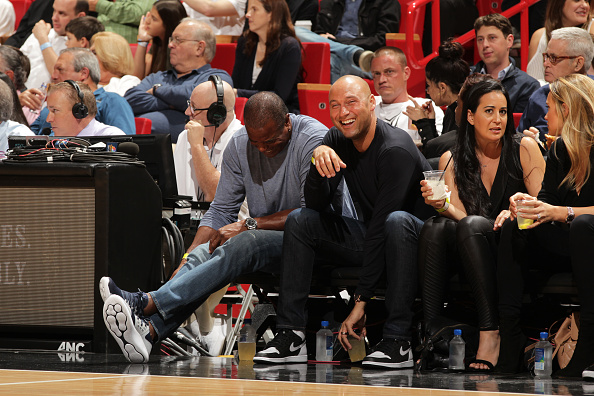 (Photo Credit: Getty Images)
A sports Emmy for Jemele Hill and Michael Smith for their groundbreaking show SC6 and her impact on journalism and how sports is now covered. Hill is a sports journalist who pushed back against a President that was crushing the spirit of minority America and gained a new allegiance of fans, friends and followers.
(Photo Credit: Getty Images)
For the first time in MLB history two teammates — Giancarlo Stanton and Aaron Judge — hit 60 homers a piece in the same lineup, in the same season. The fact that they are both African-American players further adds to their importance within the culture of the game.
DISCLAIMER – All clips property of the MLB. No copyright infringement is intended.
Another All-Back Little League team advances to Finals of Little League World Series, redeeming the scandal-ridden Jackie Robinson West LL of 2014.
The NCAA comes up with a concrete system of generously rewarding athletes for using their likenesses in any merchandising venture that they get money from, including TV and other contracts.
The Knicks make the playoffs and acquire a Top 10 player to go along with Kristaps Porzingis. Porzingis is becoming a lethal weapon and Top 10 NBA Player. He absolutely destroyed Anthony Davis on December 30th.
Become a monster. THE WORLD'S MOST ELITE JUMP PROGRAM: http://goo.gl/RctO1o —- Vintage Channel: https://goo.gl/PzMHpk My Twitter: https://goo.gl/EQbwXz My Facebook: https://goo.gl/385id5 My Instagram: https://goo.gl/1QF2zt —- All clips property of the NBA. No copyright infringement is intended. All videos are edited to follow the "Free Use" guideline of YouTube.
The Dodgers finally win a World Series and Clayton Kershaw wins MVP for his lights out pitching, shedding the playoff curse that has hurt his legacy a bit as an all-time great hurler.
Clayton Kershaw no matter what always chokes in the playoffs, what do y'all think?
Billy Hamilton hits .283 and steals 101 bases to become the first MLB player to swipe triple digit bags since Vince Coleman stole 109 for the St. Louis Cardinals in 1987. In 2012, Hamilton stole a minor-league record 155 bases, smashing Coleman's 1983 minor league record of 145.
What can I say? Billy Hamilton's speed kills… Want a video of your own? Leave a comment down below and I'll add it to the list! Instagram: @TheSportReel Song: Meek Mill – Pray For Em Thumbnail By: Andrew White
LiAngelo and LaMelo Ball become Lithuanian All-Stars. Melo wins the MVP and LaVar guarantees that LiAngelo will be taken by the Lakers in the 2019 NBA Draft. He threatens to lead a boycott of Staples Center and take Lonzo off the team if his demands are not met by Magic Johnson and Co.
According to ESPN, Gelo and Melo will make their professional basketball debuts with their Lithuanian team Prienu Vytautas on Jan. 9, where they are expected to play big roles.
"They are young, but I can promise that they will play a lot and I hope we will help them to get better and they will help us to win more games," coach Virginijus Seskus told ESPN. "We are waiting for them. Don't worry, they will play!"
Darrell "Bubba" Wallace, the 23-year-old, African-American rising NASCAR star, goes bonkers and wins his first six NASCAR series races. It would duplicate a feat matched only by Richard Petty back in 1971. No NASCAR driver has won more than four consecutive events since then.
Back in June, Wallace made his Monster Energy Cup Series debut in the Pocono 400 at Pocono Raceway, becoming the first black driver since Bill Lester in June of 2006 to run in NASCARs top series. Then In October, Wallace became the first full-time African American NASCAR Cup Series driver since 1971 when he was named as the 2018 driver of the legendary racing icon Richard Pettys No. 43.
Petty basically tabbed Wallace as the future of NASCAR and his success would be the driving force behind a new acceptance of diversity in the historically white, Southern sport.