Is Serena Williams The Greatest Athlete of the 21st Century? I asked that question with an article back in January. The very idea didn't go over well with the male audience.
But this isn't anything new. Throughout much of her career, the incredible exploits of Serena Williams have been marginalized and even blatantly forgotten by individuals who are paid to know better.
It was just a few weeks ago at the Rio Olympics that British tennis star Andy Murray had to give a info chin-check to BBC announcer John Inverdale after he incorrectly stated that Murray was the first person to win two tennis gold medals. Murray pointed out that the Williams sisters had won four apiece.
If stuffed shirt "know it alls" like Inverdale are pompous enough to totally discount the feats of women in tennis overall, then it is a pretty safe bet that the average sports fan will do the same.
Back when I penned my "wildly popular" article, one of the first things mentioned by dissenting commentators was my lack of expertise in tennis.
Maybe it was the manner in which sports figures are celebrated in the Black community, or maybe it was my love for the resolve of comic book protagonists and Saturday morning cartoon characters, I have always marveled at watching individuals physically push themselves to the very limits of what conventional wisdom says is possible. I love to watch them overcome skilled rivals, and to triumph at the end of the day. But Serena's tale is both Herculean in its athletic sphere and idealistically American in scope as well.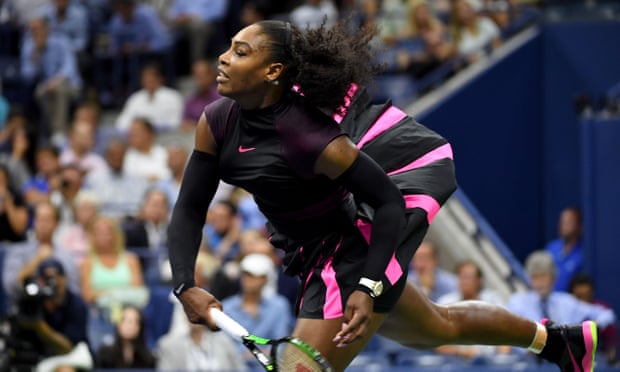 (Photo Credit: The Guardian)
It is true that the overwhelming majority of the tennis matches I have watched in my life have been of the Serena Williams. Basketball and football are my favorites to watch, and cover as well. Also few sporting events get my heart racing like watching the best sprinters in the world compete in the Summer Olympics. Heck, even sports like skeet shooting and rowing, shows I could only catch on ABC Wide World of Sports back in the day, were something to look forward to.
I say all that to say, while I may not be a tennis expert, I know what a great athlete looks like when I see one. LeBron James was nicknamed "King James" before he ever won a thing and Larry Bird once called Michael Jordan, and I'm paraphrasing, 'god in disguise.'
That compliment also came before MJ ever won anything. Though there were some who scoffed at such proclamations, most were actually entertained by them, and many fell in line with the aforementioned accolades.
However, when it comes to calling Serena Williams "The G.O.A.T.", even after all the butt-kicking she has done over her career, there always has to be this prolonged debate that is largely disingenuous, and with the ultimate goal being to dismantle claims asserting her all-time greatness.
While it is clearly speculatory to suggest, it is also quite obvious that much of the criticism against her greatness is gender bias. But her "rival" had to resort to performance enhancing drugs just to compete (Maria Sharapova). She dominates amid constantly, baseless claims that she uses PEDs herself. You know you're dominating when, despite never failing a drug test, people are still so resistant to believe they're witnessing dominance that they'd rather believe you're a cheater instead.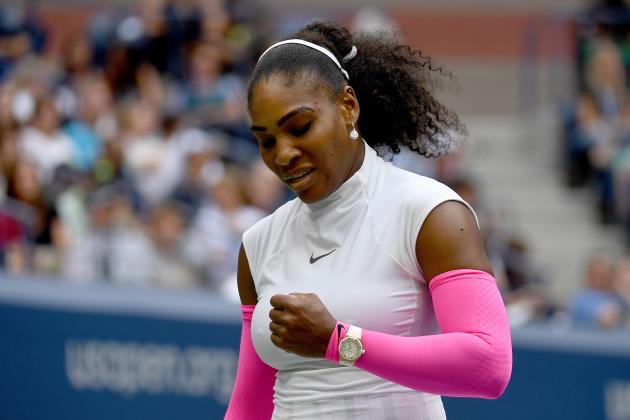 Last week Nike unveiled a new ad at the U.S. Open declaring Serena Williams as the "Greatest Athlete Ever." Not the "Greatest Female" or "Greatest Tennis Player" of all time, but the greatest athlete.
They took my prior hypothesis and pushed it all the way to the wall. In an age where hyperbole is rarely used sparingly, "ever" is still equal to "in the entire history of mankind", and "21st century" is only composed of the years between 1999 and 2099.
Her physical attributes and athletic acumen aside, Serena's 22 Grand Slam titles, four Olympic medals, her Grand Slam record 308 victories, and being the oldest woman ever to be ranked number one in the WTA rankings are all mind-boggling.
But Ms. Williams isn't done yet. Not by a longshot.
Yesterday, adorned in a pink on black Nike tennis skirt, Williams defeated fifth-seeded Simona Halep by a score of 6-4, 4-6, 6-3 in what has been her toughest match thus far at this year's U.S. Open. She moves on to face 10th seeded Karolina Pliskova in the semis. Pliskova defeated Venus in the fourth round and will attempt the rare feat of defeating both Venus and Serena in the same tournament. It was her fifth win in a row.
Competing at a peak level past the age of 30, dominating her sport, defining explosiveness and resilience for generations of girls and young women, Williams' time to shine is now. Right now, Serena has a very powerful argument for being the greatest athlete ever. No women's tennis player who has ever lived has been bestowed with such props. It has always been something of a taboo to compare male and female athletes.
The fairer sex and all that jazz aside, Serena is already more dominant than the overwhelming majority of athletes, both male and female, who have ever lived. An argument, a real argument unencumbered by political correctness or chauvinism, can be had as to whether or not she is The G.O.A.T.
That is a triumph in and of itself. But what will it take for this conversation to be taken seriously? Another five Grand Slams? Ten? What will it take for "but she's a girl" to be thrown out during discussion of the greatest athletes of all-time?