Actor Nate Parker has long been considered one of the most talented young actors in Hollywood for about seven years; however, one would not know that if leading roles or number of films were the barometer. For Parker, that measuring stick has been the ability to log role after memorable role every time he's on the big screen. Audiences have marveled at his ability to bring sincerity and dignity to every role, but it seems to be quiet appreciation. The Great Debaters, The Secret Life of Bees and Red Tails are but a small sample of his constantly expanding portfolio. Recently, The Shadow League spoke with the actor, star of director Gina Prince-Bythewood's Beyond the Lights, about how he came to be a part of this ambitious project.
"Gina Prince-Bythewood and I have a history together through The Secret Life of Bees," he explained. "My experience with her is so positive that I just basically gave her a greenlight to call me directly for anything. And, that's exactly what she did. She said she had a project she was working in with this new actress, and that she would love for me to come out and read with her. This is before I was attached. I just came, read and it went well. I didn't know I was attached. I just did it as a favor to Gina. Then I bounced. A year later she called me, and it was a quick yes. The story was about masculinity and manhood, but also sensitivity and love. Unapologetic love, and a character who has a relationship with his father, who was played so wonderfully by Danny Glover. So many things jumped out to me. There were so many things that made me want to bring this project to life with her, especially under her leadership and her attention to detail. She's a genius."
For this writer, an earmark of Gina Prince-Bythewood's directorial works has been her ability to make Black love less stereotypically apparent. Her characters are deep feelers and realistic reactors to their respective environments.
"She portrays Black Love as love. See, that's the thing, when people ask me what I want people to take away from the film, it is love. Love is the universal language. It conquers all. It's Biblical. Love breaks down all barriers. You look at the racial turmoil we're in right now. If more love, and careful consideration through the lens of love, was dispensed, a lot of our issues would be dealt with. It's the absence of love that wedges even more of a gap between people. Yeah, I don't think she wrote this from the standpoint of "This is Black Love". I think she wrote this as if to say "This is Black Love. It's going to be honest. It's going to be specific. We screened in Toronto to an all white audience. Standing ovation. We screened at Urbanworld, a pretty much African American organization. Standing ovation, you know. That's a testament to her vision of love and it having the power to transcend any racial line."
In the film, Parker plays Officer Kaz Nicol, an ambitious young police officer who has eyes on becoming a politician. But his plans change when he rescues a burgeoning young pop star from certain doom on a hotel balcony. The role of that flawed young woman is played by British actress Gugu Mbatha-Raw (Belle). Stunningly beautiful, Parker assured that she is far more than just another pretty face.
"Gugu is more than a beautiful girl. Her intelligence is off the charts, her work ethic is second to none, her talent is on another level. All those things make it really easy to be present and to be believable," said Parker. "We spent a lot of time together in rehearsal, we went to Disneyland together, and we just did fun things. Just hung out. The relationship was real when we needed it to be. We're professionals. That's the thing, people think that you have to be together in real life. Oh no, not necessarily. We just take our jobs very seriously. The casting was on another level."
Though Nate Parker isn't considered an A-list actor at this stage in his career, his fans would beg to differ. Heartthrob to some, respectable and dignified thespian to others, Nate told The Shadow League he believed his fans simply recognize game when they see it. It's not bragging if it's true.
"Maya Angelou has this one line in a poem that says 'When people show you who they are, believe them.' I show people who I am through my work. I want them to know that I'm for the people and for the community, and that I pursue justice with reckless abandon. Those are things that people can connect to. They're very real and specific. I have a line that I won't cross. There are just some things I will not do. Brothers can identify with that. You're just not going to see me in lipstick. You're just not. Too many before me were emasculated physically, mentally, spiritually and culturally for me to pretend as though it didn't happen. I think brothers connect with that. They connect with my roots. I plant my feet and I will not be moved when it comes to the integrity of my people. That's one thing, and I think that, for women, they connect with someone who refuses to be a misogynist, refuses to objectify women in roles, that values their experience without compromise, and I do so unapologetically. I don't know what people think, but I would hope that people see honesty in what I do and see that honesty is unapologetic and it comes without compromise."
Modern society often maligns unrepentant masculinity as manifested in boys and young men in its rush to sanction winners and award mediocrity in education, employment and recreation. A refreshing part of Beyond the Lights is the relationship between Parker's character Kaz and his father, played by Danny Glover.
"I had an interesting upbringing. My father passed away when I was very young. So, I was raised partly by my stepfather, but more so by my uncles. I saw things in them, things that I saw in Danny as a man," said Parker. "All you want, and this is universal, is your child to have it easier than you had it. You want your child to have more opportunities than what you had. You want them to have a better life than what you had and sometimes that comes with pressure that can be overwhelming for the child. Sometimes young men and women are just works in progress. They're just looking to find their way like we found our way. When we were rehearsing, the important thing for me to see was that it was all in love."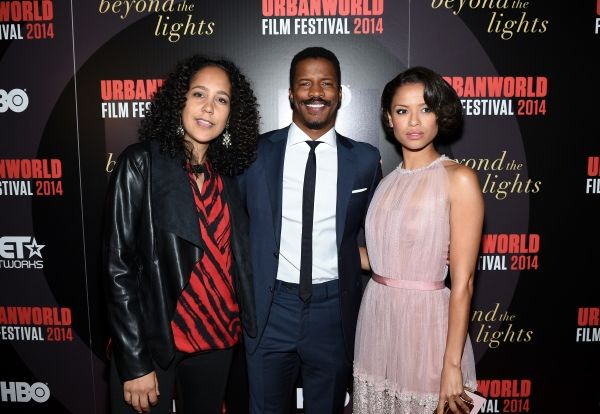 As the father and son dynamic is explored in the film so too is the mother daughter dynamic. The relationship between Noni Jean and her mother Macy Jean (Minnie Driver) though that situation is turbulent and rocky, is founded in good intentions as well.
"I would even say Macy's relationship with Noni was in love. She didn't hate her daughter. She loved her so much that she smothered her," he explained. "She was desperate for her to have a better life. So desperate that she wounded her psychologically, but it was done in love. Danny Glover's character, the root was love. He just wanted my character to achieve all that he wanted to achieve. That's all any father ever wants for his son. You really don't see enough of these relationships. I grew up in a single parent household, but there's fathers out there who want to be fathers. There are fathers out there who are doing it every day."
"I'm a big believer in role models, quiet role models. Danny Glover, whether he knows it or not, is a role model for all men. And that character that he portrayed is a role model. Not only did he want me to do well, but at the end of the day he said I still support my son with whatever decision he made. If he's not going to go into politics, fine. I still love him. All those themes meant a lot to me."
A central theme in the film is the manner in which the recording industry sexualizes young men and women for marketing purposes. In the film, Noni (Gugu) is at her wick's end as far as the music industry is concerned and has reached the point where she would rather end her life than to continue living the way that she had been. Though this is a fictional offering, it shines a much needed light of scrutiny on a seldom discussed, real life phenomenon.
"What you're talking about is really the root of this film," said Parker. "Hypersexualization of women in music, the criminalization of men, and the fact that it's normal is what's dangerous. A lot of music, I don't listen to because it's programing. I went to school a couple years, I was a computer programmer, and I had a professor who would say 'the computer is not going to do anything you don't tell it to do. It's impossible. If there's a problem with the program, you wrote it, it's your problem. Input, process, output. There's nothing that that computer is going to do that you don't program it to do. The same goes for our youth. If we're giving them images telling them it is normal for a sixteen years old girl to be naked on BET Uncut, wherever it is, whatever the medium, and we tell them that it's normal, it is wrong."
It was at this point in the interview that my line of questioning ended and Nate's line of questioning began. But I was hypothetically asked these questions as a proxy for society at large, a society that both he and I realize continually fails young girls and boys.
"But, it's like what Dante said 'The hottest places in hell are preserve for that are neutral in time of war'. We can't remain neutral. As a journalist, you can't remain neutral. You have to have a stance. These girls are your daughters. Noni is your daughter. Real talk. All girls. So, how do you evade that? You can have any channel on. Darn near cartoons. Dolls with skirts that come up to where you can see the underwear. What are we programming our daughters to believe about themselves and what are we programming our men to believe, and our young boys?"
I continued to listen intently, flashing a side eye toward my recorder to make sure I caught everything Nate had to say.
"Because, you'll watch a video and there will be six young men sitting around in a mansion they don't own. They'll be about sixty basically naked women walking around, and the men chanting 'these women are nothing, these women are nothing, these women are nothing…' they might as well just be chanting it. It's almost religious, or anti-religious, you know what I'm saying? It puts a mirror up to us as a society and saying 'This is what you're doing' and there are consequences. What are we doing? You're either participating or you're fighting against it. Either we're speaking up about it or we're participating. You can't remain neutral in this conflict. That's another reason why I wanted to be apart of this film and why I think it's so important. To cosign. We need to talk about the mental health issues that come along with this constant normalcy of objectifying and denigrating women and what it does to the psychology of young men."
Beyond the Lights stars Gugu Mbatha-Raw, Nate Parker, Minnie Driver and the incomparable Danny Glover. Directed by Gina Prince-Bythewood, Beyond the Lights opens in theaters nationwide on November 14th. Riveting, heartfelt, smart and as far from cliché has humanly possible, The Shadow League gives Beyond the Lights a solid A. It is unlike any other film in its respective genre.