A Bigger Splash stars Tilda Swinton as a world famous rock star who is trying to get away from the trappings of her life by going on a vacation getaway with her photographer boyfriend Paul (Matthias Schoenaerts) on the remote islands of Pantalareia.
Their escape is interrupted by music producer Harry Hawkes (Ray Fiennes) and his daughter (Dakota Johnson). The film recently opened in the United States after wowing audiences at the 72nd Venice Film Festival, along with others in Vienna and France as well.
Though it is beautifully shot in an exotic location that draws the eye, the main characters in the film are hard not to judge. Theyre greedy, self-important and narcissistic. But Ralph Fiennes is such a great actor that it wasnt long before I absolutely hated Harry, despite knowing full well that I probably shouldn't judge them.
The Tony Award-winning thespian has played characters that were despicable in the past, Lord Voldemort of the Harry Potter films being primary among them. However, Harry is particularly disturbing because his narcissism, petulance and gluttony just may be the reward that awaits us on the side of success.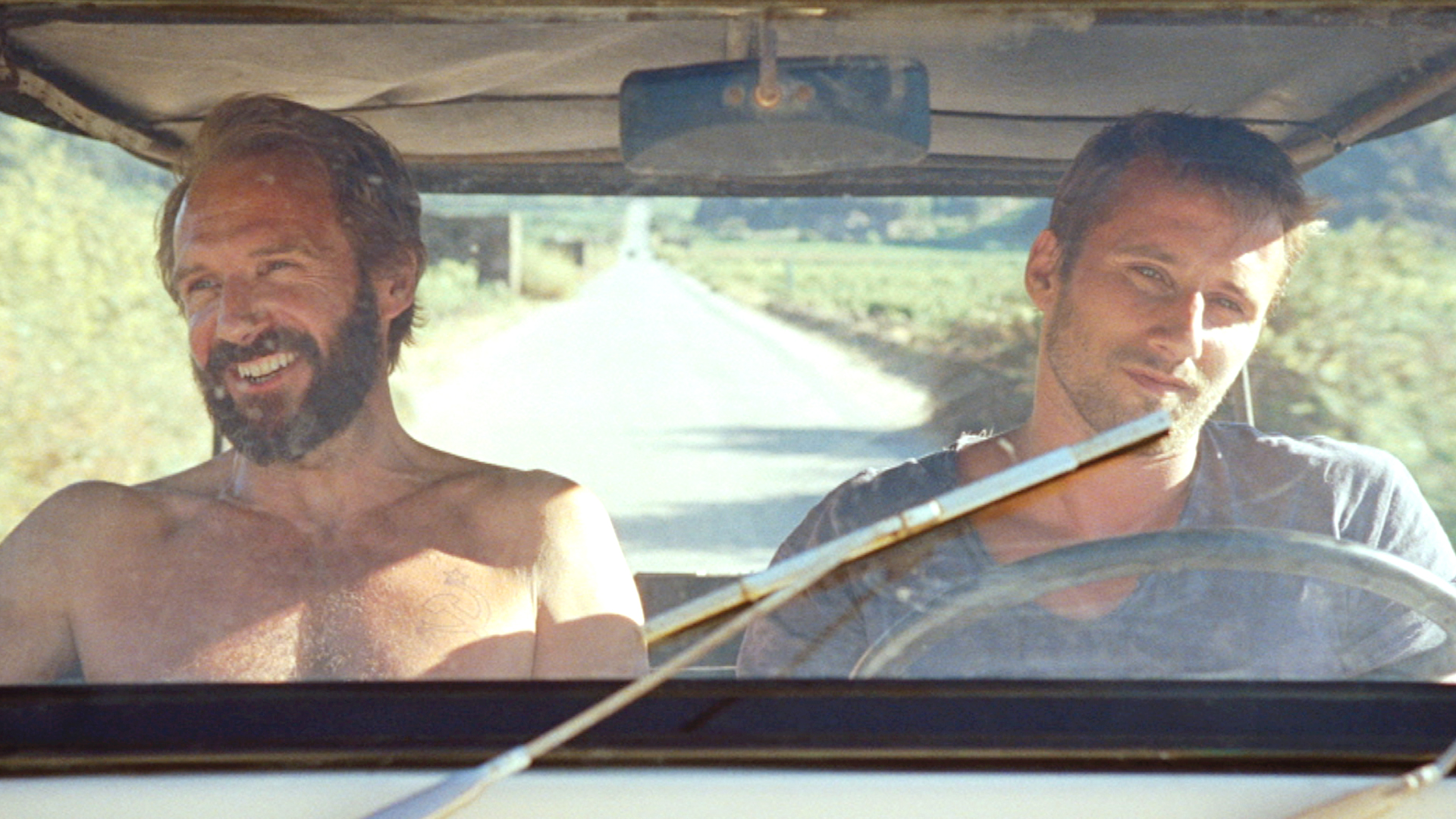 Director Luca Guadagnino chose to shoot A Bigger Splash in the Mediterranean on a volcanic island that is actually closer to Morocco in Africa than it is to Europe. At a press junket at the Park Hyatt in New York City hosted by Fox Searchlight Pictures,Fiennes was asked what it was like filming in such a unique location.
"I didnt know what I was getting into with Pantalareia. Its quite an odd place because there are no other islands around it. It's sitting on this massive finger of rock. Its quite deep around it and there are no beaches around it. Its quite windy. It doesnt feel like Italy, its closer to Africa.
Even though there is a summer holiday thing that happens in August, its only in August. Lots of wealthy Italians have their holiday homes there."
I couldnt help but ask the world-renowned actor what he thought of his character, Harry Hawkes.
It wouldnt be hard to argue that these four are privileged people sitting in their own dysfunction. Theres something slightly malign but also something mostly benign, about Harry. Hes a sort of a devil figure, a satyr.
Hes there to provoke people into their own self-recognition. He has a great line; Were all obscene, but we love each other anyway. I think thats him wanting sort of a no bullshit relationship with people. I think hes muddled.
The best of Harry is someone who is very honest, but for all of his verbosity and provocative antics, underneath hes a lost person. Thats why he sees Marianne as sort of this anchor. I think it was sort of unconscious. Intruding on someones holiday isnt exactly the norm. It occurred to me that he is unconsciously self-destructive.
The film is described as an erotic thriller so it goes without saying that theres a lot of sex and plenty of thrills.
We did talk about it, all four of us, but a lot of it just fell into place. Luca, and I think he would agree with me, is not one given to exhaustive analysis and discussions. A lot of directors like to pick away with details and backstory. I think Luca just wants to get his cast and let the energy unfold between them. He doesnt want to interfere too much.
A particularly risky portion of A Bigger Splash is not the sex that does happen, but the sex many viewers could easily discern may happen.
"I think, as I imagined it, he understands that this is his daughter as a result of an affair or fling he had 18 years before. I dont think Harry even knows her real age. Hes been in Italy for the past month or so traveling around. As he says in the scene with Tilda, of course he sees that she is a young, sexy girl but hes not trying to do anything incestuous with her.
I think because he has never had a relationship with one another that they kind of enjoy this slightly flirty vibe that they have. I dont think its fucked up in anyway.
I think me and Dakota found that space quite easily. They enjoy this vibe of flirtatious proximity but I dont think Harry is trying to get in bed with her."
A Bigger Splash opened in U.S. theaters March 4th and has been given excellent reviews from Metacritic, and Green Tomatoes. If youre expecting explosions and high speed car chases, then dont.
This is a very euro film that is driven by dialogue, lighting, music and cinematography. A good film that takes its time getting where it needs to go.
But, hey, you're in a movie theater. Not like you're going anywhere.