Rajon Rondo has never been one to mince words. He's also never hesitated to draw the line as far as his allegiances go. When he was running point for the Boston Celtics en route to winning the 2008 NBA championship, Ray Allen, Kevin Garnett and Paul Pierce comprised The Big Three who ate off of Rondos court vision and dime-dishing. Together, the quartet led Doc Rivers charge to ending a 22-year championship drought in Beantown.
Rondo, now on the Chicago Bulls, is reportedly setting up a reunion vacation with his former Celtics teammates from that history making squad to celebrate the 10-year anniversary of their title.
Allen, however, an integral part of that Celtics juggernaut, will not be invited. Apparently, Rondo and Allens other Celtics teammates are still sour about the way he jumped ship and chip-hopped his way to the rival Miami Heat. Allen agreed to a three-year, $9.5 million contract with Miami in 2012, turning down a two-year, $12 million offer from the Celtics with a no-trade clause after seeking a longer and more lucrative deal and not seeing eye to eye with Rondo.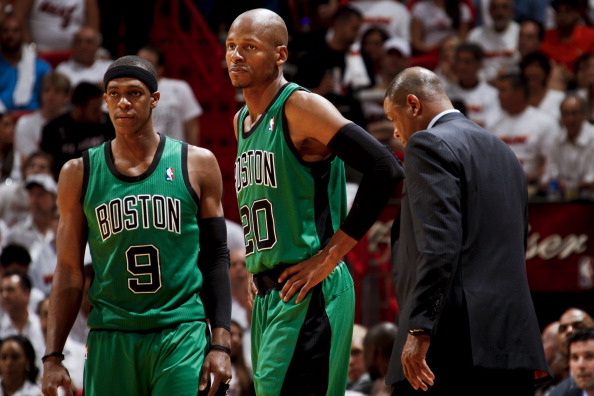 Rondo kept it a buck when asked about snubbing Allen on the celebration invite.
I asked a couple of the guys Rondo told ESPN's Marc Spears. I got a no, a no head shake.
Paul Pierce was undoubtedly one of those guys. He reflected on his feelings about Allen in a 2016 ESPN article saying, That was a tough situation because we thought it was betrayal. Thats why the whole thing evolved like it did with us not talking to him. Ray didnt really have the best relationship with Rondo anyway. That was nothing. [Rondo], me and Kevin, he didnt have any talk with us [before his Miami decision]."
I tried to call him and I didnt get any return calls before he signed with Miami," Pierce continued. "That was our rival. We were brothers. We came in together. We just wanted a heads-up or a whats on your mind? … Then, all of a sudden, he left. That was the biggest disappointment on my end. Not even getting a call back at that moment.
The Celtics eventually faded and Allen found more success as King James sharp-shooter in Miamis second of back-to-back championships. Hes been on Rondo, Pierce and Garnetts sh*t list ever since.
Some folks credit Allen with an ingenious business maneuver that allowed him to continue winning championships. His old Celtics crew obviously sees it as a sucker move. They feel like he traded the struggle of the brotherhood for the easy layup.
But you can bet your last bit of IPhone battery charge that history wont punish Allen for controlling his own destiny. Its kind of how things work now.
In reality, Ray wasnt a sucker. He was ahead of his time, but old feelings are hard to put into a modern day perspective.