To most casual fans, the name Bill Nunn Jr. isn't familiar when discussing the most impactful talent evaluators in NFL history. After being selected to the Pro Football Hall Of Fame, that should change. Nunn was an unsung hero, contributing to one particular dynasty of the 1970s.
https://twitter.com/steelers/status/1358967033069789184
Steelers President Art Rooney II, had this to say about this remarkable and well-deserved achievement for Nunn.
As a scout for the Pittsburgh Steelers and their famed "Steel Curtain" defense, he played a huge role in drafting and bringing in many of the franchise's legendary names. He also helped dozens of HBCU players gain visibility as sports editor of the Pittsburgh Courier, which at one time happened to be the most widely-read Black media outlet in the country.
Now he's the first Black man to be inducted into the Hall Of Fame as a contributor.
I am thrilled that Bill Nunn has been elected to Pro Football Hall Of Fame as a contributor. He was not only a special friend and long-time advisor to myself, my father, my uncle Art Rooney Jr., but also Kevin Colbert, Mike Tomlin, Bill Cowher and everyone he worked with during his 46 years with our organization."

"Nunn was full of knowledge, his stories and advice he sprinkled to others will always be remembered. He was a true pioneer in helping traditional HBCU players get their opportunity to play in the National Football League. If anyone is deserving of this honor it's him. We as an organization look forward to celebrating and commemorating this moment with his family this summer in Canton.
Nunn starred at West Virginia State, back when the school was a member of the CIAA. He finished his career just as the NFL was cracking open the door to Black players. Although it was slammed in his face, he used his talents to help others break down barriers. Following graduation from WV State, he began his writing career at the Courier, where his dad was the managing editor.
He played an instrumental role in getting many players from Black colleges drafted by following their progress religiously and keeping the public abreast of HBCU players with pro potential throughout the 1950s and 60s. Nunn resigned from his post at the Courier as sports editor in 1970 to become a scout for the Steelers.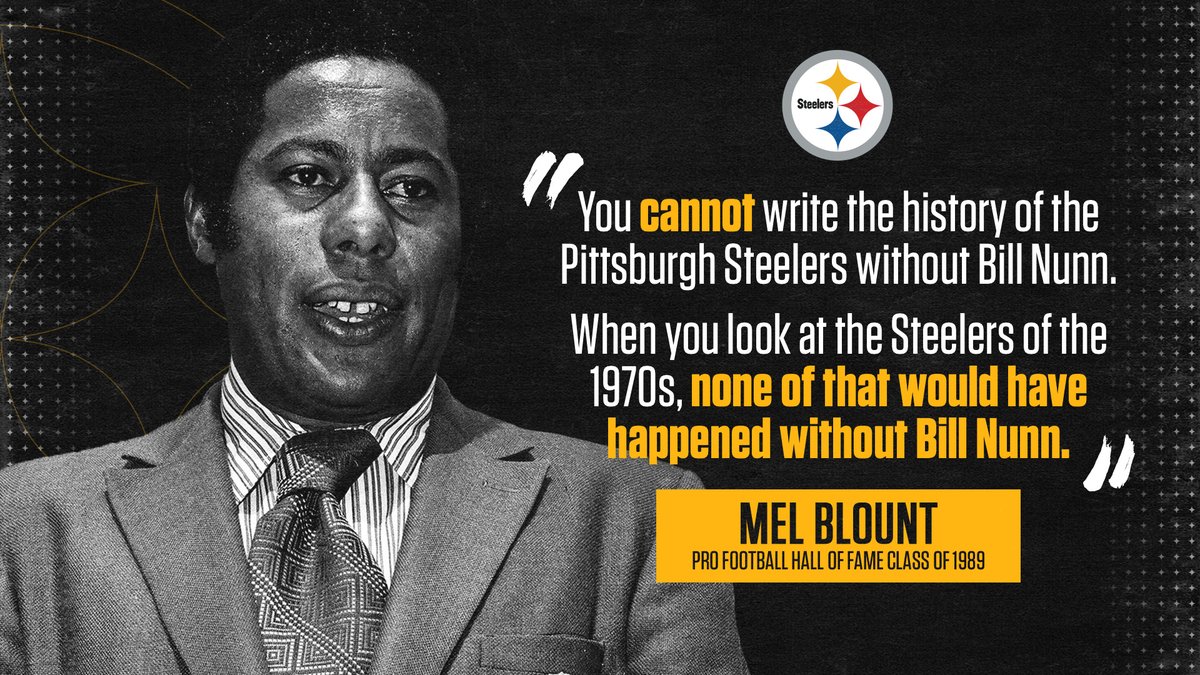 It was a move that turned out to be great for both he and the franchises, as that move opened up an "Underground Railroad" of sorts. He's credited with helping bring many players to "The Burgh."
Some of those elite players are L.C Greenwood (Arkansas AM&N) now Arkansas Pine Bluff, Mel Blount (Southern), Frank Lewis (Grambling State), Dwight White (Texas A&M Commerce), Ernie Holmes (Texas Southern), Joe Gilliam (Tennessee State), John Stallworth ( Alabama A&M), and Donnie Shell (South Carolina State). 
https://www.youtube.com/watch?v=owP1Xa7alzY
Nunn was a game-changer for players in that era who went to Black colleges. He was a force in the room for those Black athletes, unlike most of the players before this time who unfortunately didn't have anyone to vouch for them. He knew the talent, pedigree, skills, capabilities, and character of the players of that era. He also knew how they would enhance any pro football squad. 
Nunn was a long-standing voice in the room for Black players from Black colleges in the early years. His work paved the way for athletes to come, His work also helped opened doors for Black sports media members. That in itself makes him such a great ambassador and leader for the Black community.