Those who argue against this fact are living with their heads stuck in the turf, because the proof is in the numbers. And the numbers say, when it comes to football, African-Americans can bust their heads up and stay in the outhouse as players. But pro general managers, university presidents and the like comprise the exclusive White House, where you won't find an African-American making the doe-or-die decisions. 
A new study by the University of Central Florida's Diversity and Ethics in Sport released this month, shows that the top leadership positions at Football Bowl Subdivision schools and conferences remain mostly white males. The study examined the race and gender of conference commissioners and campus leaders, including college and university presidents, athletic directors and faculty athletic representatives for all 125 FBS institutions. It also included head football coaches, assistant coaches and student-athletes for the football teams.
Complied data for the 2013-14 academic year found that 88.8 percent of university presidents, 84.8 percent of athletic directors and 100 percent of conference commissioners are white. White males accounted for 75.2 percent, 78.4 percent and 100 percent of those positions, respectively,
Study author Richard Lapchick denounced those numbers as "unacceptable" and said part of the problem with getting more diversity throughout the system falls on the lack of penalties or sanctions for institutions that aren't more diverse.
"There are individual schools that do it," Lapchick told The Associated Press. "The Division I athletics director organization has suggested it, but there is no policy or sanction for schools bringing in all white guys," he said. "I think that would make the difference as it did with academic progress and graduation rates. Once coaches knew they could lose their jobs because of it, those rates started to skyrocket."
While most people agree leadership-position diversity is lagging in the football culture, certain advocates of free choice in hiring practices – particularly within privately-run institutions – feel assessing qualified candidates should be left up to the people doing the hiring. As WFAN's Richard Neer said on his Saturday morning radio show, "The problem is you can't force a person or business owner to hire somebody or fire someone to fit the criteria that "others" seek."
Lapchick sees such responses as copouts and a main reason why there were only 15 head football coaches of color in the 2013 season, down from 18 last year. The all-time high of 19 was set during the 2011-12 academic year. Ironically, as the world has gotten more progressive and inclusive, the NFL's HC numbers have also declined from a boom of five in 2011 to the three we have now.
To it's credit, the NFL has attempted to systematically address the lack of minority hires in coaching and front office positions by instituting The Rooney Rule. College has no such system of checks and balances. Lapchick says factors such as cultural comfortability and familiarity also get blacks ignored for NCAA leadership positions, so "they (universities) continue to do business the way they've always done it," Lapchick told TSL. "I think it's more of the 'old boys' network' than it is a racial thing…So the pipeline isn't full with potential candidates. I think colleges have to be more creative with how they seek job candidates and go the extra mile to make sure they have a diverse pool of candidates."
Since 2003, The Fritz Pollard Alliance has worked with the NFL to get more qualified brothers a shot at coveted coaching positions. Chairman John Wooten told The Shadow League that the "FPA is not satisfied with the overall results" but admits that the Rooney Rule, which currently requires at least one minority candidate to be interviewed for every head-coaching and G.M. vacancy, has increased diversity among the NFL's head coaches. A Rooney Rule Fact sheet, distributed by the FPA notes that almost twice as many minority HCs have been hired in the last 10 years under the Rooney Rule (12), than the six hired in the NFL's 80 proceeding years. It can be assumed that expanding the scope of the rule, will improve overall hiring numbers.
College has no designated body to seek out such candidates.There's no governing-body in place to guarantee that overlooked minority candidates get a chance, or that institutions of higher education accurately reflect the changing ethnic landscape of the country. If America is a progressive country that offers hope to anyone from any background, then college and pro football hasn't been totally reflective of this.
The FPA is still pushing everyday towards equal opportunity for African-Americans in the executive positions of NFL offices and field management. They recently asked the NFL to expand the Rooney Rule to include coordinators, assistant head coaches and team presidents in an effort to increase the pool of potential minority candidates for these plush, "leadership" gigs. Nothing has been resolved with the proposal to date. 
Similarly, Lapchick told lohud.com that he continues to advocate for an "Eddie Robinson Rule," patterned after the NFL's Rooney Rule, which would mandate at least one minority candidate be interviewed for all open college coaching and key administration positions.
One interesting dynamic revealed in the study was a slight increase in the percentage of women of color in key leadership gigs. The largest is at athletic director, which increased from 12.5 percent in 2012 to 15.2 percent. While the surge in minority, female hiring boosts the overall number of African-Americans in leadership positions, it ironically decreases the number of black males you'll find in these positions. It seems universities would rather hire black women to administrative positions (in essence satisfying unofficial diversity quotas), while ignoring black males in the positions that women are totally excluded from, such as HC. This approach favorably skews university minority hiring numbers, but doesn't address the larger issues of allotting black male coaches the opportunity to advance in their field. 
Lapchick said that there's no pipeline or true feeder system at most schools to put more women and (racial) minorities in a position to claim these leadership positions. According to USA Today, "The key feeder jobs include senior woman administrator, faculty athletic representative, associate athletic director" and other prominent positions within the President's Office. Currently these positions are more than 90 percent white. 
A similar problem can be found in the pipeline for NFL coaches which is increasingly running through the offensive coordinator/play-calling positions. Unfortunately, most viable African-American coaches are defensive specialists. In 2012, Jim Caldwell was the only black OC in the game. Pep Hamilton (Indianapolis Colts) and Harold Goodwin (Arizona Cardinals) have since joined the ranks. In a January 2013 TSL article entitled, "In The NFL Offensive Play Calling Is A White Man's Job" Bengals head coach Marvin Lewis  was quoted as saying: 
"The reason why there aren't a lot of (black) guys calling plays is that you have to have people ascending to quarterbacks coach and jobs that lead to coordinator positions. And that's simply not happening."
Wooten believes that's nonsense and says that most of the coaches that are considered elite today such as Bill Belichick and Pete Carrol, were known as defensive gurus first. "If you can coach, you can coach. We don't get caught up in those things. They tried to use that excuse last year but it's really not relevant, " Wooten told TSL on Monday. 
Even when a black HC defies the odds and finally gets a crack, glory road usually only lasts a couple of years because they are often dealing with shabby resources and unrealistic expectations. If they're not putting up Kevin Sumlin win totals, the proverbial leash is short. TSL touched on this in a Nov. 30th, 2012 piece "Black College Football Coaches Only Get One Shot:"
Just as quickly as these coaches get hired, they often get fired. The snake pit of played-out cultural philosophies and improbable odds can require a superhuman coaching effort for them to keep these jobs. It looks like it's going to take a Jackie Robinson of college coaches to win it all for these attitudes to change. It's not blatantly visible until an incident like the firing of Colorado coach Jon Embree, thrusts race into the forefront.
Ty Willingham, Turner Gill…the list of former hot-shot college coaches that were run out of some high-stakes, fanatical college town after seasons that didn't meet unrealistic expectations is endless. Promising NFL coaches such as former Tampa Bay Bucs HC Raheem Morris (2010-2012) didn't make it to year four, despite posting a 10-win season in his three-year tenure.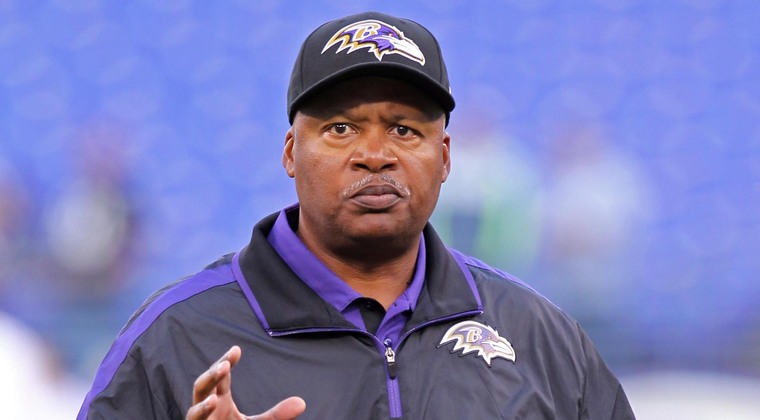 Fritz Pollard Alliance's "Ready For NFL" List
Now the guessing game can end as to which black candidates are qualified to be a HC or front office big wig.
Some might say, the recent hiring of Lovie Smith by the Bucs "is a good start," with five openings still up for grabs. It's unlikely, however, that we'll see one of the less experienced, "new" black coaching candidates get a real look, even if they get an interview as required by The Rooney Rule. Smith is a proven entity that was fired off a 10-6 season in a move that many Bears fans and players detested. He may be black, but his experience and Super Bowl pedigree makes him a part of an "old boy network," that would more easily advocate for an O.G, even-keeled black coach like Lovie over a young, highly-opinionated and aggressive cat like Ray Horton or Hue Jackson. Caldwell is also expected to interview with Washington and the Detroit Lions. His age, experience, Super Bowl success as QB coach with Joe Flacco and the Ravens in 2012- as well as his HC experience with Peyton Manning and the Colts –  makes him a likely hire for one of the remaining positions. 
Wooten says it doesn't matter who's hired or why. "There's a larger point and reason why we think its oustanding. Lovie's getting a second second shot at this thing. One of the things w'eve been very conscious of  is the fact that minority coaches dont get the second shot. Now Ray Rhodes did and so did Dennis Green, but there was a long drout in between. Even more important is that Lovie was given full authority to have the last word in the personnel department, so this is extremely relevant as far as what's going on."  
Despite the troubling finds in the Lapchick report, the college game actual broke some major diversity ground this month. After former Louisville general Charlie Strong was anointed HC of the Texas Longhorns, TSL staff member DJ Dunson's lede in his article, "Texas Longhorns Hooking Charlie Strong Crosses Diversity Rubicon," read: 
"It's a new day in Texas for black men embedded within college football's coaching world. It's not enough of a social tectonic shift for the RNC to start another #RacismEndedWhen hashtag, but the watershed moment should be noted. On a Friday night 53 years ago, the jagged racial epithets and slurs directed on the field by Longhorns' players towards Syracuse's Ernie Davis, as well as a brawl that ensued as a result in the first half of the 1960 Cotton Bowl represented one of the darkest periods in the program's history. Flash forward and the night of the 2013 Cotton Bowl served to open a radically different chapter in the Longhorns annals."
The pomp and circumstance of Strong's arrival is well-deserved, and you have to respect its place in college football's distinguished list of game-changing coaching moments. But to assume that he will last five years if he's not winning double-digit games and kicking BCS playoff-ass is foolish. We know what it is already. Texas has no allegiance to Strong. They have a business contract that is predicated on his ability to recruit heavy hitters and return the Longhorns to national prominence
If he can accomplish that then his next stop might be a NFL HC gig. If he fails, it could drop his stock as the "next great black coach." In this case I should say the "first" great black coach, because to be great at anything takes time. If you're not getting the opportunity to strut your stuff on the big stage, then you remain a hidden gem, which aren't worth a damn until they are discovered.
When looking at the dismal diversity numbers in college football, it's no coincidence why the NFL isn't much better. Not one African-American was picked to fill the 15 HC and front office openings that came about last season. This season, we've had seven HCs fired and black coaches are 1-for-2, as Smith's hire lifts the number of African-American coaches to three out of 32 teams.
The FPA personally sent The Shadow League its "official" list of qualified minority candidates for HC and front office positions. The list is totally the opinion of the mass body of shrewd football minds that comprise the organization, but its in the hands of every NFL team. Wooten says there's a philosophical agreement between the NFL and the FPA, giving the list genuine credence during the hiring process. The list also serves to widen the pool of choices for owners who may be willing to give a young black coach a shot.
It's better than hoping as they do in college football. Wooten says that should be acknowledged. 
"Whether any minorities are hired or not, we're headed in the right direction," Wooten said. " The process is going the right away and we want our guys to be seen and have a shot to show what they are capable of. I was really upset last season when Green Bay defensive coach Winston Moss didn't even get an interview. At least the process is working this season."
Several coaches on the FPA's list have either been interviewed for one of the NFL's current HC openings or are in the process. NFL Network reported on Tuesday that the Redskins will also interview Vanderbilt HC James Franklin this week and the Minnesota Vikings organization (known for their willingness to hire discarded black QBs and black HCs) will meet with Arizona defensive coordinator Todd Bowles on Monday and Browns DC Horton on Tuesday. 
Pittsburgh Steelers Mike Tomlin, a Super Bowl-winning HC, remains the shining star of the "Black HC Bunch" and proof that The Rooney Rule works. In just two years, Tomlin went from an obscure Tampa Bay Bucs assistant coach to the first black head coach in Pittsburgh's 74-year history at age 38. As the story goes, the Steelers organization never intended to hire Tomlin, but he crushed the interview and was hired without prior experience.
Wooten says there are more Tomlins coming down the pike at every level of football. It's up to organizations like the FPA – with their coaching symposiums, newly introduced play-calling curriculum and dedication to enhancing the leadership skills of prospective candidates –  to create a pipeline of talent that's undeniable. Winning will cure the rest. 
Having been a head coach at the college level also helps a black coach position himself for a leadership gig at the next level. So guys like Sumlin, David Shaw at Stanford and a few other college coaches mentioned on the FPA's "ready" list, should get their shot in the near future. But timing is everything and you can't always force people to do the right thing.  
With all of these rare HC gigs available and Sumlin's name being touted as a sure-shot selection for some NFL squad, it was somewhat surprising to see the 49-year-old coach re-sign with Texas A&M, especially with Johnny Football leaving. It seemed like a natural leap for Sumlin to follow his Heisman winner to the next level. Maybe he knows something we don't. As a guest of ESPN's Jemele Hill and Michael Smith during the college football title game on Monday, Manziel refused to reveal his NFL plans for next season. Even if Manziel does bounce, maybe Sumlin has to carry the torch and put the final nail in any doubts concerning minority coaches by winning a National Championship. You know he wants to wet his coaching chops on the new playoff system that's coming next season. College football's finally taking No. 1 rankings out of the hands of voters automatically changing it from a fashion show to an undeniable brawl between the best squads and the finest coaches. Sumlin let it be known early that he wasn't on the market, basically saying "Forget FPA policy. Don't interview me. I'm not showing up."
Even without the super-sexy college guys shopping their services "the talent is there to fill a number of HC positions available and there should be a couple of more general manager jobs opening up" Wooten said. "We tell our guys not to turn down any interviews but (ultimately that's their choice)… anybody we put on that list, we feel, is qualified and fulfills all of the requirements to do the job successfully."
***Don't forget to check out the FPA's exclusive coaches and front office candidates  "Ready List For NFL." We are the only publication to print the actual list in its entirety.