MLB Draft continues to highlight more elite Black baseball talent.
The MLB season kicked off on somewhat of a sour note, with a media-driven agenda highlighting the statistical decline of African-American players. As we celebrated Jackie Robinson Day, we also quietly debated the lasting impact of his legacy.
We know the numbers all too well at this point.
The African-American population in MLB has dwindled from 17.2% in 1994, according to the Society for American Baseball Research (SABR) to just 7.1% of players on this years opening-day rosters, the lowest percentage since 1958, according to a study by USA TODAY Sports.
There were 62 African-American players among the 868 on active rosters and disabled lists. Eleven teams had no more than one African American on their roster, and the San Diego Padres and Colorado Rockies had none. On top of that, there are only two African-American skippers; Los Angeles Dodgers Dave Roberts and Washington Nationals legend Dusty Baker.
Few have actually acknowledged the fact that MLB has spent millions of dollars and invested a significant amount of time doing research, instituting new initiatives and directly targeting underserved African-American communities here in the United States to increase those low numbers and erase the prevailing thought that the Black baseball player, once so prominent in the growth and popularity of the sport, is becoming extinct.
Commissioner Rob Manfred was surely excited as he's dedicated to continuing former commissioner Bud Seligs last great contribution to the game; a focus on bringing Blacks back to the ballparks.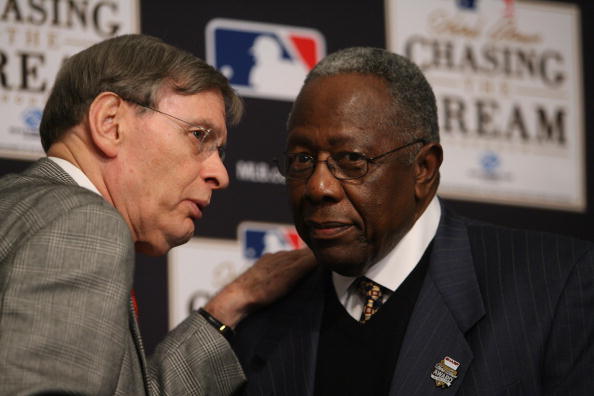 We do believe we are seeing a lot more productivity," Manfred said in a statement. "Prior to this year, about 20 percent of our first-rounders were African-American, and (our Youth) Academies have been built in communities largely African-American. Almost all of those kids had some touch with one of our Academy programs or with the Elite Development Invitational, and we believe that the bigger we make those programs, the more diversity we will attract to the game.
Right now, the buzz is all about diversity and the slew of Black Knights who were drafted in the 2017 MLB draft. The progress is slow but evident as three African-American ballers were chosen in the first 10 picks.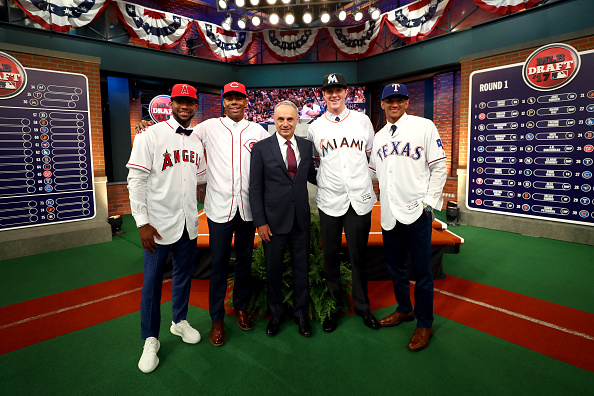 We told you about the two-way phenom Hunter Greene from Sherman Oaks, California. The Reds selected the Sports Illustrated cover star with the No. 2 pick in the draft.  Both of his parents are black.  Hes trying to revolutionize the game with his ability to pitch 100 mph heaters and launch 450-foot moon shoots at the dish.
With the dearth of African-American pitchers in baseball and the non existence of black catchers, Greene could serve baseballs diversity goals better as a pitcher. Major-league rosters on Opening Day included just 13 African-American pitchers and one African-Canadian catcher, the Blue Jays Russell Martin. It's still no better at the minor league level. The 30 major-league teams opened the season with a combined total of 54 African-American pitchers in the minors, or less than two per team.
Highlights for Blue Jays Starter Marcus Stroman Song: These Days Remix -Mike Stud(Feat. Marcus Stroman) Thanks For Watching Subscribe All Clips Belong To Major League Baseball
The Minnesota Twins selected Royce Lewis, a shortstop/outfielder from Aliso, Calif., with the No. 1 pick in the 2017 MLB draft. Lewis is a righty stick who hit .388 and stole 25 bases last season for JSerra Catholic High School.  Lewis Dad is black. Everybody is touting Greene, but Royce has that soul power too.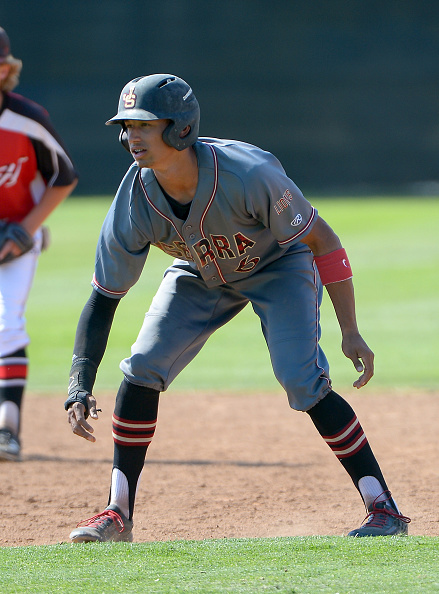 Another black knight,  centerfielder Jo Jo Adell, went to the Los Angeles Angels with the 10th pick. Scouts say Adel arguably has the dopest collection of tools in the Draft. Speed and power is his game, sort of like another Angels Draft pick who is now a two-time MVP for the squad. The 18-year-old slugger batted .562 with a nation-leading 25 home runs, 61 RBIs, 22 stolen bases and 53 runs in his senior season and was named the Gatorade Kentucky Baseball Player of the Year.
As the Angels attempt to restock a porous farm system, new amateur scouting director Matt Swanson made Adell the first pick of his regime. Adell, a product of Ballard High School in Louisville, Ky. is ranked by MLBPipeline.com as the No. 21 prospect in this year's class. He also has pro pedigree as his father Scott Adell is a former New Orleans Saints lineman.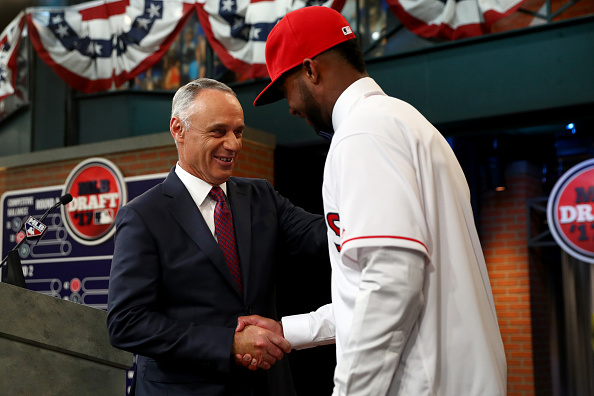 "He's a really special, young kid off the field as well as everything that he does on the field," Swanson said. "It's amazing. We were holding our breath kind of all along, hoping he was going to get to us."
Over the last five years more than 20 percent of first-round picks have been black, so if we chose to look deep enough we would have seen this rise coming. Its damn near impossible for players of any race to make it to the major leagues, so to see Lewis and Greene go Nos. 1 and 2, for only the fourth time in history, after 1980 (Darryl Strawberry and Garry Harris), 1991 (Brien Taylor and Mike Kelly) and 2003 (Delmon Young and Rickie Weeks), is a watershed moment for the revitalization of African-American talent and a replenishing of a diversified talent pipeline in baseball.
According to MLB PR Director Steven Arocho, "This Draft featured over 30 players" that honed their baseball skills in at least one of MLBs programs geared towards identifying, developing and encouraging minority talent: RBI (including RBI World Series), Youth Academy, Breakthrough Series, Elite Development Invitational and DREAM Series.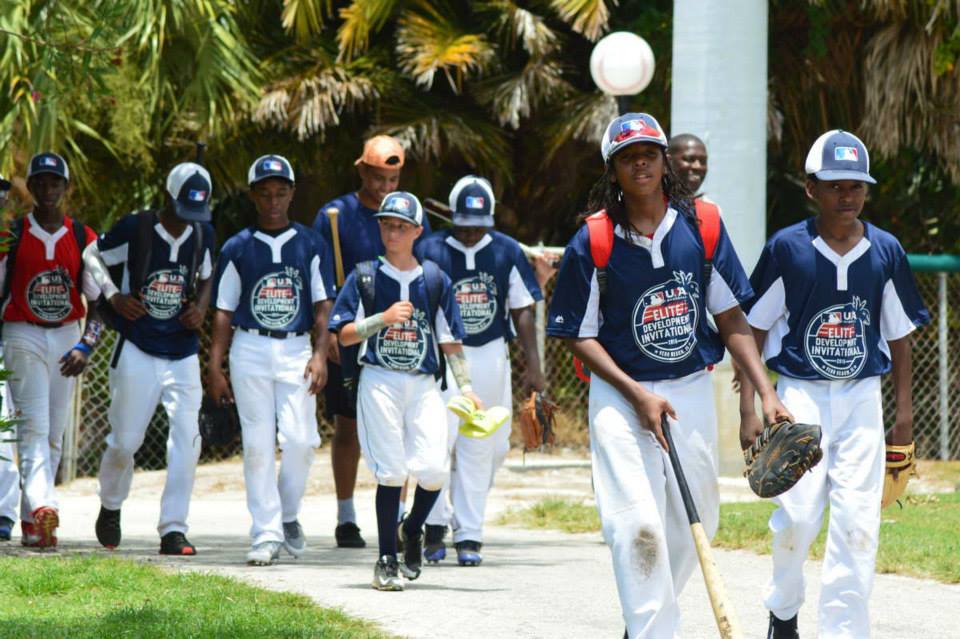 This Draft success is a direct reflection of the people leading the charge. Former Angels GM Tony Reagins who is now MLBs Senior VP for Youth Programs and MLB's Senior Director of Baseball Development, Del Matthews work in perfect harmony to accomplish MLBs diversity goals. Reagins oversees the leagues intensified focus on youth baseball development and participation, particularly among African-American kids.
Matthews hit the ground running in 2016 and oversees the execution and function of MLBs Urban Youth Academies across the globe. Matthews told us that leading these programs, was a chance for me to hopefully impact the next generation.
Hes certainly doing that and the numbers are only going to increase as participation explodes at the grassroots level all around the world. The rise of the Black Knight in MLB is officially underway.