Get to know this ball-bashing Black Knight.
At the age of 8, Oakland As outfielder Khris Davis told his dad that he was going to be a Major League Baseball player. The road to stardom hasn't been an easy one. Cracking an MLB lineup can be a long, harsh ride from one minor league squad to the next. But Davis made it, and though still a work in progress, his impact as a rising star wielding a resounding bat has been felt in the 2016 season.
thx for 600
According to athleticsnation.com, when Davis slugged his 40th home run of the season on September 18th off Rangers reliever Keone Kela, he became the fifth player in Oakland history to reach that mark, joining some legendary names in the annals of baseball dopeness; Reginald Martinez Jackson, "Big Mac" McGwire, Jose Canseco, and Jason Giambi.  Davis season is the eighth total 40-homer campaign by an Oakland bomber.
The last A's player to reach 40 was Jason Giambi back in his PED-enhanced MVP season of 2000. Mark McGwire leads the way with three seasons of at least 40, including his rookie record of 49 set back in 1987 — the days of The Bash Brothers. Just missing the list was Hall of Famer Frank Thomas (39 in 2006) and one-dimensional blaster Matt Stairs (38 in 1999).
      (Photo Credit: pinterest.com)
Davis grew up in Lakewood, California, played high school ball as a two-time All-State player in Glendale, Arizona and played his collegiate baseball at powerhouse California State University, Fullerton, where the 5-foot-10, 195-pound outfielder/DH hit .328 with 16 home runs and 58 RBIs in his junior season before eventually being drafted by the Milwaukee Brewers in the 7th-round of the 2009 MLB Amateur Draft.
Tony Reagins was general manager of the Los Angeles Angels of Anaheim from 2007-2011. He was the fourth African-American General Manager in MLB history and graduated from Cal State Fullerton in 1991. He has known Davis since he was a boy and is not shocked by his power surge.
"I knew him as a youngster. His dad worked for me with the Angels and Khris was 10 when I first met him," Reagins told The Shadow League. "And he's grown into a player that's very talented. When I first met him, he was just a kid trying to get reps at the BP cage before our pro workouts. Now, look at him. To have 40 homers in that ballpark is pretty impressive."
The raw power was always evident. Its the one part of his ever-evolving game that remains consistent. He mashed out in the Milwaukee Brewers minor league system for a few years and then hit 11 homers in 136 at-bats as a Brewers rookie in 2013.
In his two full seasons with the Brewers (2014-2015), Davis hit 49 homers and drove in 135 runs. He didn't hit for a high average and he's struck out 122 times in each of those seasons, but his dangerous yardstick provided a power bat that could change the game with one swing.
thx for 600
Those who criticized Davis as he fought through a torn meniscus in 2015, ridiculing his weak arm and less than impressive defensive prowess in the outfield, are now double-taking and head-shaking because out of the brothers balling in MLB this season, he has assumed the role of power king.
From Josh Gibson to Hank Aaron and Frank Robinson to Frank Howard to Ken Griffey Jr, Barry Bonds and the like, power has always been a potent aspect of the supreme black knights of baseball.
This season, Davis has blossomed into an all-out assassin. His 40 dingers are good for fifth in all of baseball and just two behind league-leader Mark Trumbo of the Orioles. He's also the first African-American player to smash 40 since The "Grandy Man" hit 41 and 43 in back-to-back seasons (2011-2012) for the Bronx Bombers.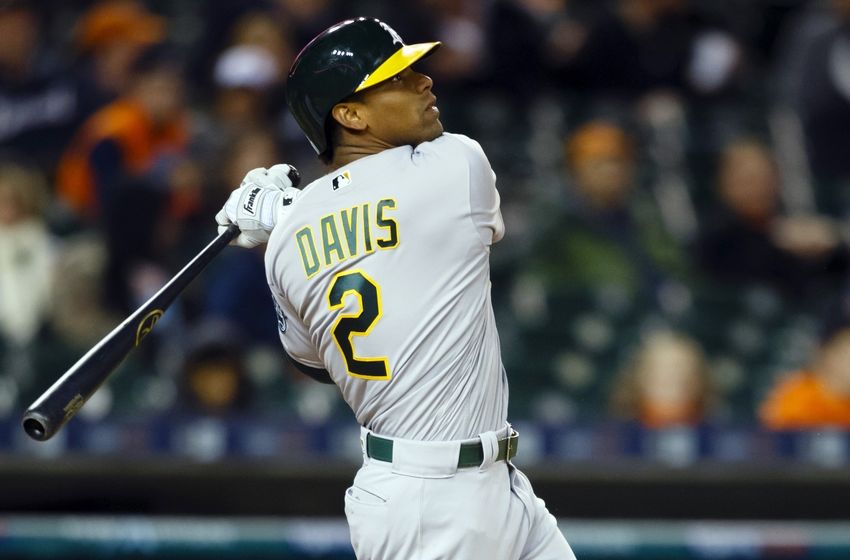 (Photo Credit: athleticsnation.com)
With five games left in the regular season, Davis is confident that he can jack a couple more out of the park before retiring to his offseason workouts.
"I don't know why 45 is out of the question," he told mercurynews.com a week ago.
Davis has proved to be another low risk, high-value return for Executive VP Billy Beane's Oakland As. After all, Davis only 28, played at the league minimum this year and despite his monster season, can be controlled for three more seasons thereafter via arbitration.
Can anyone say contract dispute or 2017 spring training holdout on the horizon?
Besides for being the lone killer and top run-producer on a team that ranks 25th out of 30 MLB teams in batting, Davis has been one of few bright spots in another terrible As season. At 67-90 and in last place in the AL West, Oakland has guaranteed consecutive losing seasons for the first time since 2007-09. He's also softened some of the sting from last winter's last winters Josh Donaldson trade.
The A's watched their best player get traded on the cusp of an MVP season. Though his all-around potency doesn't match Donaldson's, Davis was able to replace Donaldson's power and run-producing capabilities.
It's rough right now for a fan base that is used to competing, regardless of payroll or roster names. At the very least, they have a formidable building block in Davis to construct a lineup around and get back on the winning side of things.