Before the main event of UFC 212 unfolded in dramatic fashion on Saturday, you couldn't tell me that Jose Aldo wasn't going to beat Max "Blessed" Holloway. After all, the stage was set to solidify Aldo's greatness in his native Rio de Janeiro at the Jeunesse Arena. The fiercely loyal crowd roiled when their champion walked out and Aldo's signature stoic confidence was on full display belying the greatness he was about to show.
However, UFC featherweight Max Holloway (18-3) spoiled Aldo's affirmation of greatness and took that top spot for himself when he stopped Jose Aldo (26-3) in enemy territory. The bigger statement is that in MMA the champions change with the weather constantly keeping it fresh and unpredictably engaging. There are less guarantees when the best truly fight the best, regardless of a previous history of dominance. That was proven during Aldo's unexpected first round, 13-second loss to Conor McGregor and now against Holloway.
Jose Aldo vs. Max Holloway Highlights (HD) UFC 212
In fact, Aldo, has now gone from being a dominant champion with a unparalleled featherweight history to a springboard towards success for cocky MMA youngsters looking to make a name for themselves. Case in point is McGregor, who became a bonafide star off Aldo's back. In this case, Holloway had more time to show his superiority by effectively baiting and switching Aldo through three rounds.
Round one began as a feeling-out process, which slowly escalated into a typical Aldo display of crisp accurate striking. Holloway was patient , strategic and tactful, while displaying his steel chin throughout.
Round two was more of the same, but towards the end Holloway channeled his inner Nate Diaz, taunting Aldo by dropping and then raising his open hands. The move seemed foolish but its effects paid off as Holloway's confidence grew and the pace of the fight switched Holloway's way in the third round. Holloways combinations came together fluidly and he drenched the fire in Aldo by the end of the third.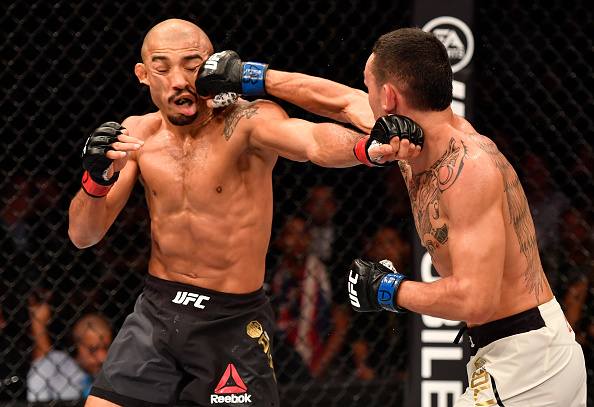 When the choke presented itself, Holloway attempted to finish Aldo off, but the Brazilian legend seemed to wake him and he defended the submission attempt. However, the positioning was enough and Holloway never gave up pounding Aldo until he was defenseless and referee JohnMcCarthy had no choice but to call a stop the scheduled 5 rounds of action at the 4:13 mark of the third round. The win extended Holloways winning streak to 11-straight and boosts his image as a king slayer.
Many believe this may be the end of the dominant Aldo era in MMA. That premise will only be substantiated if Aldo has truly lost the drive to compete. Either way, we are now in the "Blessed" era and if McGregor is any primer of what happens after an earth-shattering win against Aldo, then we are about to see an amazing rise of the Hawaiian champion.
Holloway has an interim belt which he'll unify with champ Aldo at UFC 212 in June. He says he's been a fan of Aldo for years, but plans to usher in a new era at featherweight.
He's paid in his dues defeating names like a Cole Miller, Ricardo Lamas, Cub Swanson and former champion Anthony Pettis en route to dethroning Aldo. Perhaps in the circus like MMA absence of Irish icon Conor McGregor, who isseeking celebrity riches in a boxing exhibition against Floyd Mayweather, the fans are blessed to have a new tatted up gregarious champion from a different island to capture MMA's biggest prize.