LeBron James is up to his old tricks again. It shouldnt come as a surprise to anyone that three years after returning to Cleveland and fulfilling his promise of leading the city to its first NBA title, his free agent future is up in the air. Especially considering he was eliminated from the playoffs without a ring this season. When that happened in Cleveland, he bounced to Miami. When he lost in his fourth finals appearance with Miami, he bounced back to Cleveland.
Bron is not only the master of constructing Super Teams and handpicking his roster, but no one is better than him at bailing out right before the ship sinks and plushly landing in an upgraded situation. No player in the history of the game has gotten rewarded for championship failure as much as him. Few players in history have earned that right in the first place.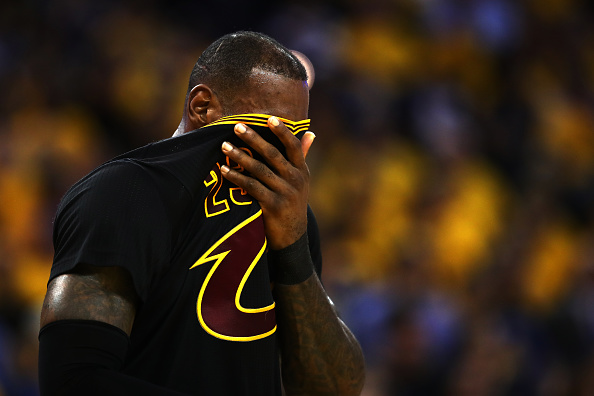 Last summer, the NBA world was drunk off of James as he signed a three-year, $100 million deal with the Cavs with a player option for the third year in 2018. The move gave Cleveland fans major hope that Bron would be home to stay.
If you know LeBron, then you knew better. Rumors over James' free agency is picking up, and it revolves around him leaving the Cavs to join the Los Angeles Lakers.
According to aol.com, The talk recently surfaced when The Ringer's Kevin O'Connor reported that some people around the NBA think James may leave Cleveland for the Lakers or Clippers. James owns a house 30 minutes from the Staples Center (where both teams play) and has off-court interests that would benefit from being in LA.
On Wednesday, Yahoo's Adrian Wojnarowski said on his podcast that James' championship in Cleveland in 2016 has "liberated" him to leave again, and that many people think he is "likely" to pursue one of the LA teams.
"Not only is there no guarantee he's coming back, I'm not sure there is an expectation he's re-signing there. I think within Cleveland and around the league they feel that he is very much in play to leave again and likely head out West to one of the two LA teams. The Lakers could very well be a target.
"I think the focus, a lot of LeBron's business interests, his Hollywood aspirations, his media ventures are based out there. And I wrote this last year and said it and believed it the minute he won that championship in Cleveland, he was liberated to leave again. Now, if he had not won a title in Cleveland and left again, I think there would be tremendous backlash again. But the fact that he came back and did what he set out to do, which was bring a title to Cleveland [could allow him to leave again]."
Wojnarowski also said a reunion with Dwyane Wade in Miami, depending on the shape of the team, could be in play.
A return to Miami is something that I dont see, but you know Bron doesnt like the idea of going against another Super Team like Golden State again next season. Kevin Durant came to Dub Nation and beat LeBron at his own game. The King loves to play chess, so it will be interesting watching LeBrons latest Decision. Hes got to do something to even out the playing field.
Lakers fans are surely pissing in their pants with excitement. If they add Lonzo Ball and King James to the mix, with Magic running the front office, then Showtime in LA could be back on short order. It would also be typical LeBron. He doesnt stick around when the championship odds arent totally in his favor and fans and media alike have co-signed this approach. Cleveland fans should prepare for another departure by their native son.