ESPN reports that the Knicks quietly picked up Phil Jackson's option on the remaining two years of his contract as team president this spring. It was not something the team wanted to announce during the season, in the midst of another nightmare and with Jacksons approval rating being as low as a NYC gutter.
Jackson and the Knicks each had an option to walk away at the end of this season, but obviously misery loves company — and huge paydays. There were rumors of a mutually agreed upon split at the end of this season, but those rumors were put to bed months ago. Dolan said he planned to honor his five-year contract with Jackson "all the way to the end" during a Feb. 10 radio interview on The Michael Kay Show on ESPN New York 98.7 FM.
The Knicks finished another dismal season with a 31-51 record as Phil's Jackson Five compilation eventually flopped. The Knicks have missed the playoffs for four straight seasons and have lost at least 50 games in the past three under Jackson who has an unimpressive 80-166 record in his tenure.
Jackson and the Knicks have $20 million in cap space and hope to rebuild the roster this summer via the draft and free agency, but there are a ton of questions, with the most impactful on being whether or not Carmelo Anthony will be a Knick in 2018 or traded away in the offseason. Its a question that will dominate the Knicks summer.
NY tried to trade him prior to the trade deadline but there were no real takers. Melo makes a grip and his production has dropped in recent years. He could still be a dangerous piece for a championship caliber squad looking for another lethal offensive option.
With New York committing to Phil months ago, theres a good chance Melo will be playing elsewhere next season. The two simply don't like each other and Phils public shots at Melo have made it hard for them to coexist.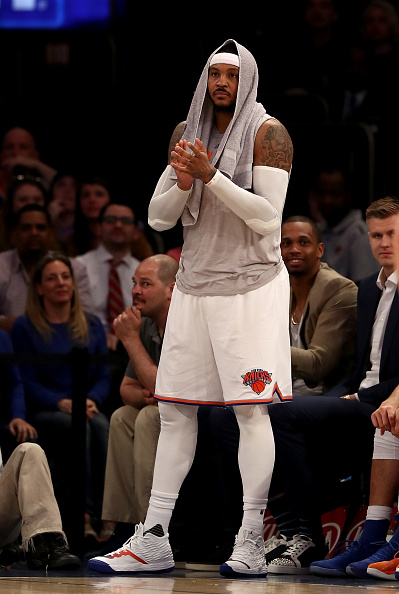 (Photo Credit: Getty Images)
What happens next season is up in the air, but what Knicks fans do know is that when the smoke clears in three season, Phil Jackson and Carmelo Anthony will be a memory in Madison Square Garden. And that might not be a bad thing.