In the month of December, Joe Johnson has seen his minutes and usage within Brooklyn's offense spike. The Nets offense is firing at all cylinders with Williams manning the point and last night Johnson was the spark. Walking onto the floor at halftime, Johnson had just eight points. Twenty-nine points later, the Nets were blowing out their starters and Johnson had tied Michael Redd's NBA record for three pointers made in one quarter.
This is beginning to become part of a pattern for Philadelphia which has allowed opponents in consecutive games to set franchise records in three-pointers. They've been slow on rotations, shown a penchant for over helping on penetration drives, and were beat in transition by the Nets. By the Nets!
The 42 three-pointers they've allowed in the past two games is also an ignominious NBA record.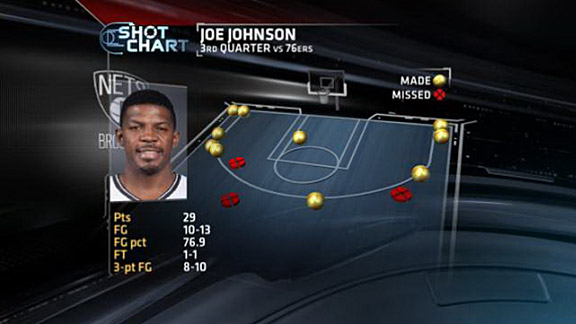 Here's an idea of what Lawrence Frank probably had jotted down in his daily notes.
Via a facsimile of Lawrence Frank:
–Shared defensive notes with Brett Brown before the game. I think he's using a few of my concepts
– Great job finding the bottom of the net Joe. Let's do that 58 more times and we'll be right back in the thick of things.
– Joe Johnson from deep > Justin Tucker from long range
– Word is there might be an opening with the Knicks. Frederick Kidd pulls starters Spent the fourth quarter calling my agent.
– Shaun Livingston even hit his 10th career three-pointer in his 414th game. Ladies and gentleman, our backup point guard. Proof that our offensive coordinator has the toughest job in the NBA.
– Evan Turner calling Joe Johnson dad in the first half riled Joe up, but in Evan's defense Joe did come out and play the epitome an old man's game in the third quarter.
– Has anyone ever noticed a diagram of the free throw line extended from an aerial view resembles Plankton from Spongebob?
Joe Johnson's third quarter shot chart.