Brandon Ingram was bred to play in the National Basketball Association. His time playing under coach Mike Krzyzewski at Duke University has revealed him to be an incredible prospect who appears to be worth all the hype.
Averaging 17.3 points per game as a freshman, Ingram has been compared to Kevin Durant since he was 14 years old. Those are heavy expectations to place on a kid that young.
He was deemed the next Chosen One from his hometown of Kingston, North Carolina, the town that had previously produced the likes of Jerry Stackhouse and Cornbread Maxwell.
Prior to announcing that he was going to sign with Duke, many assumed that he would follow in Stackhouse's footsteps at the University of North Carolina. But Ingram and his brothers had been Duke fans since grammar school.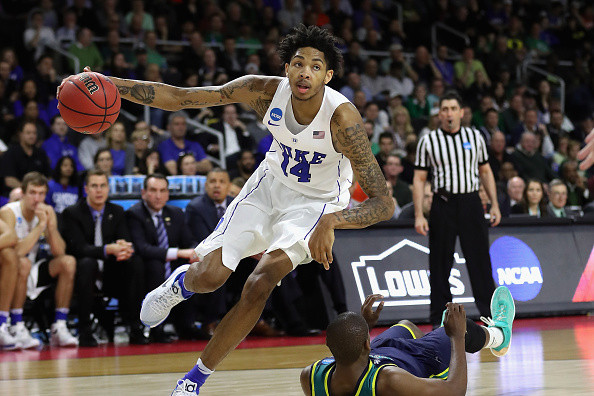 (Photo Credit: USA Today)
Despite the Blue Devils' spirited but ultimately futile run through this year's NCAA Tournament, it was clear that Ingram's gifts were best suited for the next level.
Most people believe that he is a prototypical small forward of the 21st century, with long arms, a great touch from three-point range and a slithery elusiveness that allows him to get to the basket with grace and ease. Many of the knocks levied against him are the same ones Durant faced coming out of the University of Texas. They said Durant was too thin and they questioned his demeanor.
LSU freshman forward Ben Simmons has long been projected as the number one overall pick in the 2016 NBA draft. But now, many are thinking that Ingram has more upside.
To Duke fans who have watched Ingram all year, they understand the depth of his rare gifts. He made 42% of his three-point attempts and converts 50% of his shots in the forgotten art of the mid-range game.
Standing close to seven feet, he has a wingspan of 7-foot-3 and shoots from a release point that is virtually impossible to block. He's also an excellent offensive rebounder.
When he begins to refine his game, scouts are salivating at what he can one day become, because he's merely scratched the surface at this point.
Over the next few years, the rest of the world will realize what Duke fans already know, that Brandon Ingram's potential is through the roof. Perhaps those early comparisons to Kevin Durant weren't so absurd after all.