Steph Curry missed Games 2 and 3 of the Golden State Warriors' first round playoff run against the dysfunctional Houston Rockets. Then he missed the entire second half of Sundays Game 4, a 121-94 thrashing of the Rockets.
Hero worshipers, groupies and celebrity jock riders would have predicted a tighter series if they knew Steph would be a spectator for the most part in this opening round.
But how wrong they would have been.
With the final seconds of the first half winding down on Sunday at the Toyota Center, Curry who was making his return from a two-game chill to nurse his ailing ankles, slipped and took an awkward fall while guarding the Houston's Trevor Ariza on the perimeter.
It was a fall similar to the spill Curry took in Game 4 of the 2015 Western Conference Finals against Houston, when Curry flipped over Ariza while lunging for a rebound and banged his head. A visibly upset Curry was unable to return for the second half.
At least it wasnt the ankle this time. Warriors coach Steve Kerr said that Curry will have an MRI on his knee on Monday. Currys ankle is reportedly good money, but for how long?
To tell you the truth, Golden State hasnt really missed a beat without their Mr. Everything.
Having Klay Machine Gun Funk Thompson, a guy who some consider to be the second best shooter in the NBA, take over the scoring reigns while Curry rests his various injuries is a heck of a luxury. He led Golden State in scoring with 23 points in Game 4.
Having Draymond Green, one of the most intense and multi-talented ballers in the sport as your third-option (another Top 10-15 player) is also a benefit 100 percent of the other teams in the league wish they had. Shaun Livingston is also a monster as a backup point guard and, well, you get the picture.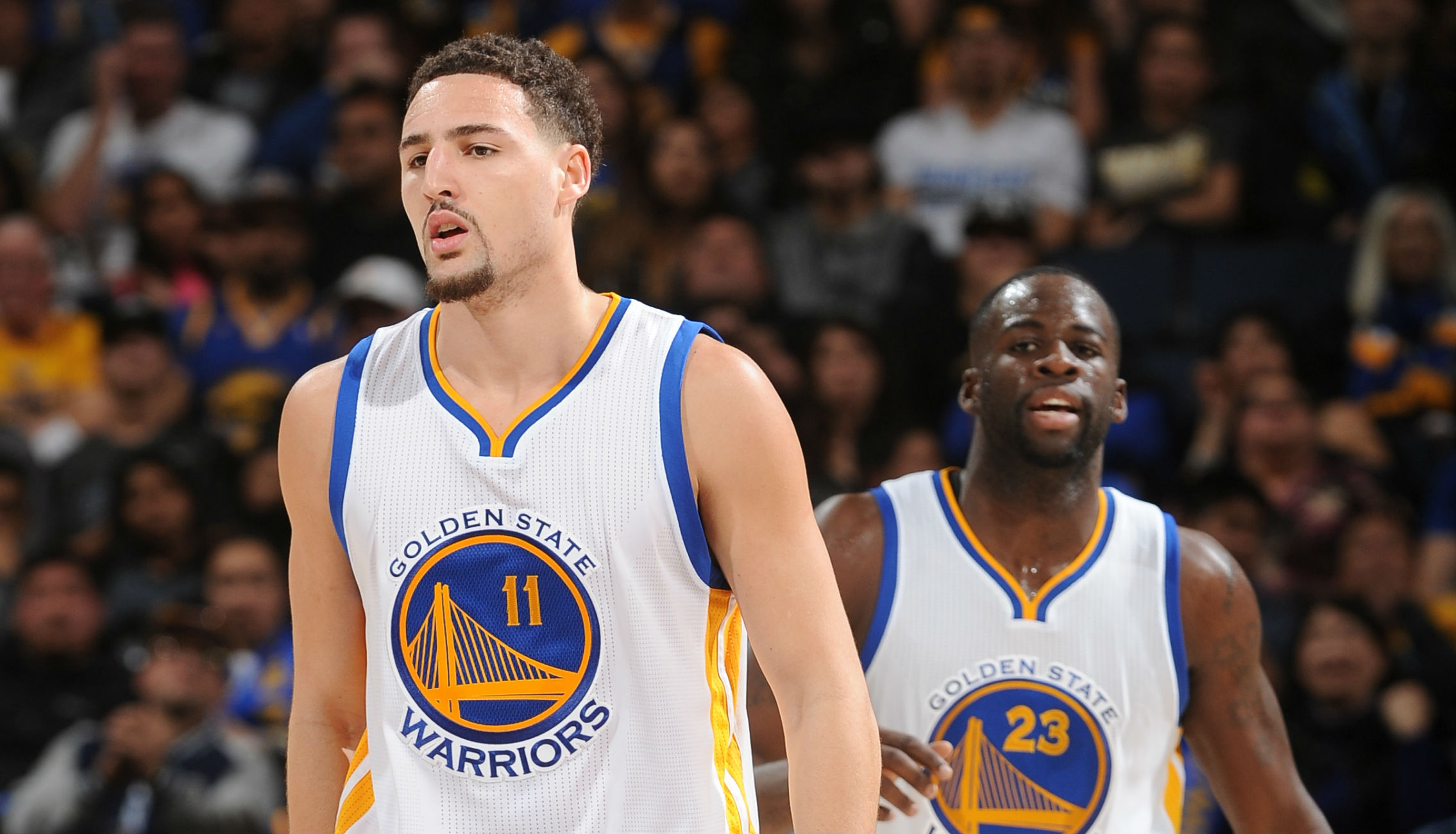 (Photo Credit: sportingnews.com)
In fact, without Curry, Golden State still managed to hit a playoff record 21-treys. If you didnt think it before, its obvious now that Golden State is loaded and by no means a one-man show.
Curry has certain skills that he executes better than any player in the league. His combination of long-range bombing, ill handle, quickness to the hole and deft passing abilities make him a problem for anyone who dare test. Sin bredren?
Curry-as-God supporters maintain that the squad keeps winning because Houston stinks and James Harden and Dwight Howard havent checked their egos at the stadium gate. However, I see a loaded squad who is mythical WITH Curry, but certainly talented, well-coached and in tune enough to reach the Finals without Steph at 100 percent. We remember how Iguodala saved Stephs bacon in last years Finals, winning the MVP award right?
(Photo Credit: dailynews.com)
Basketball is a team game first, regardless of the way the NBA markets it to make the billions it does and paint players as superheroes of sorts. The fallacy of Golden State as a one man team is exposed in times like these. Scottie Pippen didnt win a chip when Jordan quit basketball to play baseball, but he took the Bulls to the Eastern Conference Semis twice, proving that he was a franchise-type player and solidifying the fact that he was at the very least Robin to Jordans Batman.
The Bulls, however, didnt have the multitude of players with the various skill sets that Golden State has, but the chemistry among the players is similar.
Warriors Coach Steve Kerr put it best in the post-game news conference:
When you have a team that's together as ours is and cares about each other like ours does, you tend to pick it up, Kerr said. There wasn't any rallying cry. Our guys sensed they had to come together. It's just a group that plays hard for each other.
And its a group that is demonstrating that collectively they have more assassins than the video game They epitomize the word team. Nobody is fighting for shine and there's no debate that the best player is Steph, but to boost him and dismiss the other game changers he makes history with is disrespectful to what this team is accomplishing with or without Steph at 100 percent.