Last night was the first time I've watched an entire broadcast of the Oscars since Denzel Washington and Spike Lee got the shaft, despite their brilliant work in Malcolm X, in 1992. Quite honestly, the event has never meant much to me, as I don't feel the need for anyone else to tell me, through their lens, what the best films and who the actors that gave the top performances are.
I'd rather make those decisions by myself. I've seen far too many actors of color ignored by the Academy Awards over the years to have any true affinity for the Oscars. Quite honestly, I've grown tired of Hollywood's insistence on ignoring diversity.
The fact that Will Smith (Ali, The Pusuit of Happyness), Denzel Washington (Hurricane, American Gangster, Malcolm X and others), Don Cheadle (Hotel Rwanda), Laurence Fishburne and Angela Bassett (What's Love Got to Do With It), Samuel L. Jackson (Pulp Fiction), Derek Luke (Antwone Fisher) and so many others who never got their just due irks me to no end.
But I'm beyond glad that I tuned in last night, and not simply because Moonlight took home the Oscar for best picture, Viola Davis and Mahershala Ali won for their phenomenal performances in Fences and Moonlight respectively, and that the Academy gave out its most awards ever to people of color.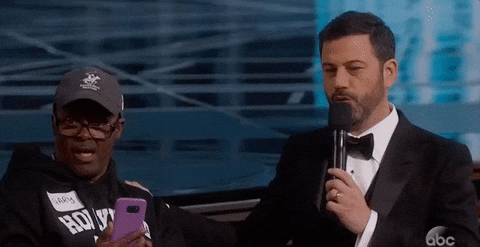 While host Jimmy Kimmel tried to make a quick joke by bringing a group of unsuspecting tourists into the ceremony, Gary from Chicago walked into a packed house of Hollywood royalty and proceeded to steal the show and own the evening. For a minute, I thought he was about to bounce with Mahershala Ali's Oscar!
While everyone was clowning Gary, I saw something symbolic in his joy and spontaneous honesty.
Yes, the brother looks like he has the barbershop hookup on the clearest bootleg copy of Cooley High ever known to man, along with a cousin named "Foots" who'll hook you up with a 20-pack of Nike socks for $5. And those Twitter jokes that came fast and furious made him the unequivocal winner of the blackest Oscars ever.
But there was something symbolic in his energy and gestures, especially when Kimmel saw him running to his favorite black actors and said, "I feel like you're ignoring all the white celebrities," to which Gary responded, "Yes, I am."
Jimmy Kimmel: "I feel like you're ignoring all the white celebrities"

Gary from Chicago : "Yes, I am"

#Oscarspic.twitter.com/cIEEvCzjpT

alex medina (@mrmedina) February 27, 2017
Like the rest of us, he couldn't front on Meryl Streep. But in the funniest case of life imitating The Oscars in reverse discrimination, it was nice to see the shoe on the other foot, with so many white folks being ignored.
Thank you, Gary, for keeping it real, and delivering the funniest moment of turnabout in Oscars history.