This is Part III of the final installment of our series entitled, "Ivy League Hoops: Ahead of the Curve in Coaching Diversity."
PART III
PRE-GAME
Allen leaves his office for the 30-second walk over to The Palestra, still wearing his black Nike sweat suit and matching sneakers. He has his pressed shirt and suit in hand and is quick to share a smile while speaking to everyone he passes: alumni, students, professors and fellow athletic administrators, who all wish him luck prior to the game. As he walks through the corridors of the venerable gym, he realizes that he left his shoes in his office.
Approaching the ramp that leads down to the court and the teams locker room, he stops to talk to a set of female security guards that are stationed by the nearest arena entrance.
What up? How yall doin tonight, he says. You remember me, right? he says to one in particular. You was acting like you aint know nobody the other day.
His ability to instantaneously code-switch between the formal Kings English and the Philly urban vernacular is flawless.
Naw, I didnt recognize you the other day, thats why I was scared when I saw you, she responds.
Scared? he asks, slightly tilting his head to the side, feigning perplexity. In the local dialect, the word is phonetically pronounced Skeered. Where you from, what part of the city?
Im from Souf Philly, she answers, with plenty of emphasis on the word Souf.
See, thats why you was skeered, he says with a grin. If you was from uptown like me, you wouldnt a been skeered, he playfully says before walking down the ramp.
In the team lounge, prior to the Quakers taking the floor against Harvard, Allen is writing notes on the large whiteboard, points of emphasis that hell cover in his pre-game talk. His penmanship is meticulously neat as he jots down his thoughts
Defense:
No middle penetration
Closeouts: Know personnel
5 guys in the action
Box out/Rebound/Finish the possession
Transition D (The most important aspect of the game)
Point/Talk/Flood, Stop the ball, Find the shooter
Know the objective
Communicate: help on back screens
Offense:
Inside/Out
Ball/Body Movement
Be patiently aggressive Trust the system
Good Shot Selection
As the words spill out onto the whiteboard in blue ink, hes bobbing his head while listening to Phillys unofficial Hip Hop anthem, Schoolly Ds classic cut, PSK, on his iPod.
His oldest son, Jerome Allen III, walks into the lounge, after having just spent the day on campus with his twin sister as part of an orientation session for incoming early-acceptance admission students that will enroll next year. He exchanges jokes with Assistant Coach Ira Bowman, who compliments him on the Air Jordans that match his stylish red and white gingham shirt. The older Pooh asks the younger one about his day on campus: what he saw, what he liked, what was boring. The love embedded in the fathers face, and laced within his words, is perceptible. Before he leaves, young Pooh asks his dad for a few dollars.
Hey Sam, can you give me my wallet? Allen asks Phil Samko, the team trainer.
You remind me of my third wife, Samko says as he playfully glares at the younger Pooh after retrieving the wallet from a locked cabinet. Gimme-gimme-gimme. Thats all she ever said.
Hey Sam, whatever happened to the first and second wife? Allen asks with a wide grin as he swivels his head while lounging on one of the comfy chairs. His lengthy arms are outstretched, resting on the tops of the four chairs that sit to his left and right.
And just like he did at the pre-game meal at Smokey Joes, Samko either doesnt hear him, or pretends not to.
After he addresses the team and goes over the game notes on the whiteboard, the players file into the adjacent locker room as the coaches take a few moments among themselves. Allen, Pera, Samko, along with assistant coaches Jason Polykoff and Mike Lintulahti, then walk into the locker room, and join hands with the players in a circle. They bow their heads. One player says, Our father, who art in heaven, and the circle quickly repeats the phrase, strongly, in unison.
When they finish the Lords Prayer, Allen, dapperly attired in a slim cut, European-style suit and a crisp pink shirt, firmly shakes everybodys hand. He puts on his glasses for the first time all day, before walking onto the court as the horns and drums of the Penn band reverberate throughout the arena.
Its time to play ball.
BIG MAN ON CAMPUS
Under Dunphys tutelage, not only did Allens game flourish, but his understanding of it bloomed as well. In the shadow of Michigans Fab Five, Nolan Richardsons Forty Minutes of Hell dynamo at Arkansas and the brilliance of what Grant Hill was accomplishing at Duke, Jerome Allen was quietly putting in work on the college hoops scene.
Everybody talked about how Matt Maloney and I were such a great backcourt, but Scott Kegler was the Ivy Leagues leading three-point shooter, he kept defenses honest, said Allen. That allowed me to get into the gaps. If Shawn Trice didnt commit to getting rebounds and setting screens, Id never get the ball. If the other guys didnt have the right understanding, Matt and I couldnt function.
In order for us to be who we were capable of being, every guy had to be engaged in the action, he continued. I had great teammates. I had an unbelievable leader in Coach Dunph. They helped me become who I was capable of becoming. And Im not sure if we would have won anything if the spirit of humility among that group wasnt present.
During his junior year, Penn made its second consecutive trip to the NCAA Tournament. As a #11 seed, they defeated Nebraska, 90-80, in a game that wasnt as close as the final score suggested. Allen dazzled under the national spotlight with a majestic 18-point, 10-assist performance. In the second round, he scored 23 points in the Quakers 70-58 loss to the University of Florida.
As he approached his final season at Penn, Allen began to think that he had a legitimate chance to make it to the NBA. Over the summer, two events gave nuance and texture to those thoughts. The first was when he participated in a workout with one of his idols, former LaSalle point guard Doug Overton, and performed well.
Doug had been in the league for a couple of years, said Allen. He was with the New Jersey Nets at the time as I was heading into my senior year. I remember being in high school, staying after some workouts just to watch Doug play in the Sonny Hill college league. I was like, Damn, thats Doug Overton. I love his game. I wanna play just like him hard, steady, run my team, make jumpers, distribute the ball, play D.
To this day, when you hear Jerome talk about Overton, his voice skips an octave. Its evident that he reminisces with a sense of wonder as he reflects on what Overton meant in his own basketball journey.
So hes in the league, Im in college, were in this workout, and Im going at him, said Allen. Im defending, pushing the ball and having some success against him. That changed my whole mentality. Thats when I knew that I had a chance to make some money playing the game.
That thought was solidified when he was selected to play for Team USA in the 1994 Goodwill Games that were being held in St. Petersburg, Russia that same summer. His Goodwill Games teammates included Tim Duncan, Damon Stoudamire, Tyus Edney and Michael Finley, among others.
They won a bronze medal in Russia, but the true highlight of the experience was when he got to test his skills against Shaq, Derrick Coleman, Joe Dumars, Kevin Johnson, Larry Johnson, Shawn Kemp, Dan Majerle, Reggie Miller, Alonzo Mourning, Mark Price, Steve Smith and Dominique Wilkins when they played a game against Dream Team II.
It was apparent to everyone that he belonged on the same floor as those guys.
When we went to training camp, I saw all the NBA scouts, said Allen. Kevin McHale and Isiah Thomas were watching me, and I got a chance to see where my game was at. I came home from that experience and said, I think I have a chance to be drafted.
His modesty quickly surfaces when hes asked to recall his favorite moment from playing against the future Hall of Famers. Watching my man Tim Duncan give Shaq some serious work in the low post, he says without hesitation.
Im not surprised at all that Jerome is coaching, said George Raveling, the legendary former college basketball coach who was Team USA's head coach at the Goodwill Games. He had the highest basketball I.Q. of any player on that team. He really was a player-coach when he was on the floor. And he represented all that was good about the game as a true student-athlete.
I couldnt have asked for a better player to coach, Raveling continued. When you put a team like that together, you value leadership. And it was obvious to me that he possessed very strong leadership qualities. Jerome could transform my thought-process as a coach and imbue it inside of the other players on the floor with the way he ran the team.
After leading Penn to another NCAA Tournament after yet another undefeated run through the Ivy League, Allen was picked in the second round of the 1995 NBA draft by the Minnesota Timberwolves.
THE SHOW
In Minnesota, he was a fellow rookie along with a promising young phenom named Kevin Garnett. The team was centered around the young nucleus of Garnett, J.R. Rider, Christian Laettner and Tom Gugliotta. But it was the wisdom of some of the teams veterans that still resonates with him today.
Terry Porter and Sam Mitchell in particular, those guys had been around the game for a while and they knew what the experience was all about, said Allen. They made me carry their bags and get their water, but they always set the right example and gave me the right advice about how to be a real professional. They told me how I should eat, the things to avoid and how to save my money.
Allen peppered Porter with questions about playing with Clyde Drexler and being the floor general on those excellent Portland Trail Blazers teams of the early 90s.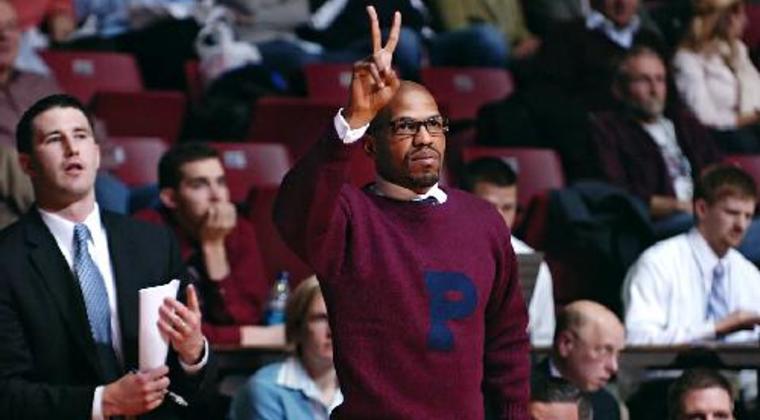 T.P. would come out to the club with us and hed have his ODouls, his non-alcoholic beverage, said Allen. He talked to me about how he had to keep everybody happy in Portland, how he had to handle the fact that Kevin Duckworth, Jerome Kersey and Clyde Drexler all wanted the ball. He taught me that a point guard has to be the ultimate psychologist, in terms of getting guys to understand why its the simple things they do that will be essential to winning.
And yet, despite the mentorship and advice, Pooh Allen will be the first to admit that he initially let the NBA lifestyle go to his head.
Fame can consume you, Allen said. It was like, Finally! I Made it! Im on planes every night and eating steak and lobster every day. Thankfully, I had guys around me to make sure that I was focused and as successful as I could possibly be, because I was only playing on a one-year deal.
Some of those lessons didnt sink in right away, though. He took a bunch of his cousins and a crew of homies from North Philly to party in Cancun, dropping 10 to 15 grand in a night popping bottles. He splurged on cars and clothes. Despite the fact that he studied at the Wharton School of Business, and the prescient advice of the team vets, some of his spending habits were incongruous with how he knew he should have been handling his money.
African-Americans like me that come from impoverished environments, we try to validate ourselves and our sense of self worth by trying to purchase status, said Allen. Im going out, buying Gucci shoes and trying to dress up the exterior, because people believe what they see. Thats the power of the eye. We try to make sure that people know that we have arrived.
When he drove up to Harlem over the summer, to play a game at the famed Rucker Park, as he eased his gleaming Range Rover into the back parking lot, he reveled in the stares and looks of admiration that he received, in the love that he was getting from the streets.
Jadakiss and Fat Joe were in the parking lot, and they were looking at me like, Yo! Who is this dude? said Allen. My whip was all white, right, with peanut butter guts. Everybody was clockin me. But my mom was still living in an apartment on Osage Avenue back in Philly. I also had a Mercedes CL 500 Coupe. But I had two young children. So why am I riding around in a coupe?
That was just selfish, he continued. I eventually came to my senses. I did a whole lot of frontin back then. But I eventually came out of it with a sense of myself. And I feel like today, I would be doing somebody a disservice if I didnt share my testimony. You go through things in life, and I feel like Ive lived and done enough to be able to help somebody out.
He met his next significant coaching mentor at his next stop, playing for the Indiana Pacers under Hall of Fame head coach Larry Brown. He noticed that, like Dougherty and Dunphy, there was no discrepancy in Browns discipline. The cantankerous coach would ride superstar Reggie Miller and other players like Dale Davis with the same abrasive effect that he rode Allen and the teams budding young star, Jalen Rose.
Larry Brown rode Jalen like crazy, said Allen. We thought he was trippin, because hed be complaining about a screen that wasnt set right, even when we scored a bucket. But he always said that when you do the wrong thing and still have success, thats the thing that would beat us in the end, when we played a really good team. Hed always say, Im preparing you guys to play against the best.
As I reflect back on that, I realize that I do the same things today, he continued. Ill stop practice and say, NO! This aint right! I was always taught to respect the game and to respect my opponent. Its no coincidence that the guys I played for throughout my career, the ones who had longevity and success, they all taught the game the same way. Its all about the details. In a successful 3-on-1 fast break, the most important man in that transition segment is not the guy who made the pass or the guy who scored the bucket. Its the guy who didnt get the ball, because he committed to running just as hard as everybody else, which made the play work.
Allen began to grasp the business aspects of the NBA after being traded to the Denver Nuggets. Heading into his the third pro season, he was tired of playing on one-year contracts. He was looking for a guaranteed deal. The Cleveland Cavaliers flirted with him, as did the Dallas Mavericks. Teams continued to call, saying they wanted him on the roster, but they werent promising multi-year deals for guaranteed cash.
It was November, I have two kids and a great offer comes up, said Allen. But it was overseas. That was something that I didnt want to do. But I had people depending on me, a family to support, and I couldnt afford to sit around and wait. Thats how I ended up going to France.
To Be Continued
From Humble Beginnings, The Journey of Penn Coach Jerome Allen – PART IV
Series Intro: Ivy League Hoops, Ahead of the Curve in Coaching Diversity